Muree school delegation in India to celebrate
A 20-member Pakistani delegation, led by Mr Farooq H. Kiyani, Principal, Lawrence College, Murree, arrived in India to participate in the 146th founding anniversary function to be held at Sanawar, Himachal Pradesh, on October 3 and 4.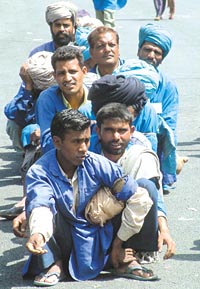 Indian porters wait for their turn to carry baggage arriving from Pakistan at the Wagah joint check post. — A Tribune photograph
My City
Amritsar has lost things, but retains charm
Amritsar, despite quite a few works on its face, is a very adorable city. Its contours have 'constantly changed since its inception but its charm remains intact, rather it is for keeps.
Punjab needs infrastructure to boost exports
Exporters from Punjab voiced concern over lack of proper infrastructure during the seminar on 'Export Promotion from the State of Punjab' organised by the Federation of Indian Export Organisation (FIEO), Northern Region, and sponsored by the Indian Institute of Industrial Economics and Development Society here.
Khalsa Diwan pilgrims return from Pak
A delegation of 100 pilgrims, including students and members of the Chief Khalsa Diwan (CKD) returned to India after visiting various religious places in Pakistan on the occasion of the death anniversary of Guru Nanak Dev.
New spine surgery heals faster
A new technology which involves minimal invasive procedure and also lesser loss of blood during surgery has come as boon for patients suffering from spinal injuries.