ADVERTISEMENT

CHANDIGARH

LUDHIANA

JALANDHAR
New

DELHI

HIMACHAL PLUS
New

AMRITSAR PLUS

LIFESTYLE
New

BRIDES WANTED

GROOMS WANTED

OTHERS

HOW TO PLACE ADVTS
HOROSCOPE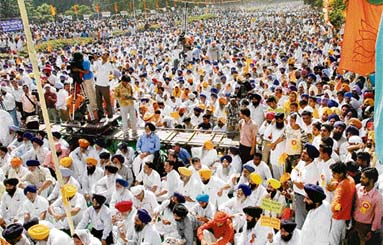 A sea of humanity at the SAD-BJP rally at Matka Chowk in Chandigarh on Monday. — Tribune photo by Manoj Mahajan
Shoaib, Asif in dope net
Withdrawn from Champions Trophy
Karachi/Jaipur, October 16
Pakistan cricket plunged into another scandal today with its spearhead fast bowlers Shoaib Akhtar and Mohammad Asif testing positive for a banned drug after which they were recalled home from Jaipur and now face the risk of being banned for two years.

File photo of Shoaib Akhtar and Mohammad Asif (right).
— Reuters photo
Sports page: ICC toughens stand on dope menace
Cop Pinky surrenders
To appear in Yamunanagar court today
Fatehgarh Sahib, October 16
Setting aside speculations about his whereabouts, controversial cat-turned-encounter specialist Gurmeet Singh, alias Pinky, currently Inspector with the Fatehgarh Sahib police, surrendered in the court of Chief Judicial Magistrate here this morning.
Bush phones PM, discusses nuclear deal
New Delhi, October 16
United States President George W. Bush today telephoned Prime Minister Manmohan Singh and discussed a whole range of issues, including the Indo-US nuclear deal and nuclear weapon test conducted by North Korea.

India: The Tasks Ahead

SPECIAL SUPPLEMENT

125TH ANNIVERSARY CELEBRATIONS,
INAUGURAL SESSION

E - Revolution 2005:
A Two-day IT conclave

Assembly Elections - 2005

Turbans

Chandigarh is 50

EARLIER FEATURES
In Education Tribune today

Navy Chief calls Barak "incomparable"
Missiles selected after extensive trials
New Delhi, October 16
Navy Chief Admiral Arun Prakash today came out strongly in support of the controversial Barak missile saying it was a "very good and incomparable"system.
No derogatory remarks on Kalam, explains Fernandes
New Delhi, October 16
NDA Convener George Fernandes is of the view that Prime Minister Manmohan Singh has been a silent spectator to the gross and unprecedented misuse of the CBI by his government to browbeat political opposition.
Sinha rejects Pervez claim
New Delhi, October 16
BJP leader Yashwant Sinha today rejected Pakistan President Pervez Musharraf's claim that his famous handshake with former Prime Minister Atal Bihari Vajpayee at the Kathmandu Summit had the "desired effect" in Islamabad two years after the failed Agra Summit.


Scheme in Ganga basin to help HP
New Delhi, October 16
Himachal Pradesh is one of the beneficiary from the government-approved sanction of a revised scheme amounting to Rs 305.03 crore for anti-erosion work in the Ganga basin.

Debate against death penalty picks up momentum
October 16, 2006
UN slaps sanctions on N. Korea
October 15, 2006
Gujarat HC nullifies Banerjee Committee
October 14, 2006
I got offers to underplay: Gibbs
October 13, 2006
Clemency powers: SC warns Executive
October 12, 2006
FIR against Fernandes, Jaya, ex-Navy chief
October 11, 2006
North Korea conducts N-test
October 10, 2006
PM visits dengue patients at AIIMS
October 9, 2006
New infrastructure policy soon: PM
October 8, 2006
Venod Sharma quits
October 7, 2006