11 children missing from Tarn Taran
Tarn Taran, January 12
The Nithari and Muktsar incidents involving brutal killings of children are giving sleepless nights to the parents of 11 children who have been missing from the district for the past almost two years.
Mann to contest from Dhanaula
Ludhiana, January 12
The Shiromani Akali Dal (Amritsar) today released the second list of 16 candidates here today.
Poll kiosks get rolling
Chandigarh, January 12
As Punjab Assembly elections draw near, members of different political parties are casting ballot in favour of Chandigarh - for equipping them with election material, unanimously converting the city into the state's supply capital.
DAMAGE CONTROL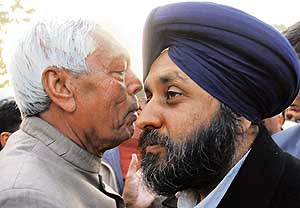 Former Akali minister Chiranjee Lal, who is unhappy at not being given the SAD ticket, explains a point to Mr Sukhbir Badal in Bathinda on Friday. — Photo by Kulbir Beera
BJP list: It's blend of old & new
Chandigarh, January 12
The BJP tonight released its first list of 15 candidates for the coming Assembly elections in Punjab. The BJP will contest 23 seats and so far relied on its old hands, including five former ministers and a Deputy Speaker.
More power is what traders want
Chandigarh, January 12
A rehashed tax structure, abolition of the inspector raj and a greater role in policy-making is what traders in Punjab expect from the government that comes to power after the Assembly elections. Cutting across political affiliations, they look forward to a new more systematic tax regime and less paperwork. They want facilities and concessions on a par with those in the neighbouring hill-states of Himachal Pradesh, Jammu and Kashmir and Uttaranchal.
Amarinder, Centre want to kill me: Badal
Jalandhar, January 12
The Shiromani Akali Dal (Badal) supremo, Mr Parkash Singh Badal, has alleged that the Chief Minister, Capt Amarinder Singh, the Congress-led Central Government, the Akali Dal (1920) chief, Mr Ravi Inder Singh, and former Akal Takht Jathedar Bhai Jasbir Singh Rode, want to eliminate him and his son Sukhbir Singh Badal.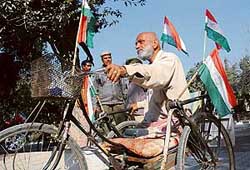 SLOW AND STEADY: Campaigning is gradually picking up steam in Punjab. — Tribune photo BY Pradeep Tewari

TALKING HEADS
Debt trap on big minds
Chandigarh, January 12
Agrarian crisis is the darkest chapter ever written on the heart of Punjab. Defined by a massive rural debt of Rs 23,000 crore and a shrinking rural economy, it is the top concern for the intelligentsia which has been drawing the attention of the authorities towards the plight of farmers and their crumbling support system.

Time for Wadala to regain Doaba base
Jalandhar, January 12
The ensuing Assembly elections have provided an opportunity to member of political affairs committee of the Shiromani Akali Dal (SAD) Kuldeep Singh Wadala to restore his lost base.

For them, a bridge too far
Kaniya Hussaini (Jagraon), January 12
Residents of 25 villages on either sides of the Jassowal drain and falling in three Assembly segments - Jagraon, Dakha and Dharamkot (Moga) - are eagerly awaiting visits of candidates for seeking votes from them.

Hindu Suraksha Samiti keen to contest poll


Mohali, January 12
The Punjab unit of the Akhil Bhartiya Hindu Suraksha Samiti has sought permission from the national president of the unit , Mr Sanjeev Bhardwaj, to allow the party to contest the forthcoming Punjab Assembly elections. ZSTAND




EC orders fresh probe against officers
Chandigarh, January 12
The Election Commission of India has taken the Punjab Government to task for not taking appropriate action against five officials, including two PCS officers, for violation of the code of conduct during the last elections to the Lok Sabha in 2004.

Farmer leader Prof Qadian dead
Ludhiana, January 12
Prof Manjit Singh Qadian, secretary-general of the Bharti Kisan Union, died in a hospital here this noon. He was 64 and leaves a wife, two sons and a daughter. Born in 1943 at Chak 48 village in Montgomery district of Pakistan. He was a son of late Partap Singh Qadian, a former MLA.