Loan: Singla 'pressurising' banks on one-time settlement
Chandigarh, January 12
Fearing a backlash from the farming community, the Punjab Government has reportedly "pressurised" commercial banks in the state to introduce a one-time settlement scheme for debt-ridden farmers.
DAMAGE CONTROL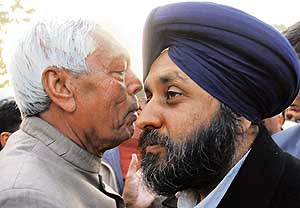 Former Akali minister Chiranjee Lal, who is unhappy at not being given the SAD ticket, explains a point to Mr Sukhbir Badal in Bathinda on Friday. — Photo by Kulbir Beera
No let-up in SAD's fight against Virk
Chandigarh, January 12
Unruffled by the Chief Election Commission's rejection of its demand for shifting the Punjab Police chief, Mr S.S. Virk, the Shiromani Akali Dal (SAD) has fired yet another salvo at him, accusing him of seeking a "plethora of favours from the ruling party in return for services to be rendered during the Assembly elections."
Mann to contest from Dhanaula
Ludhiana, January 12
The Shiromani Akali Dal (Amritsar) today released the second list of 16 candidates here today.
Poll kiosks get rolling
Chandigarh, January 12
As Punjab Assembly elections draw near, members of different political parties are casting ballot in favour of Chandigarh - for equipping them with election material, unanimously converting the city into the state's supply capital.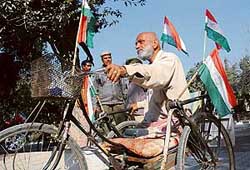 SLOW AND STEADY: Campaigning is gradually picking up steam in Punjab. — Tribune photo BY Pradeep Tewari
BJP list: It's blend of old & new
Chandigarh, January 12
The BJP tonight released its first list of 15 candidates for the coming Assembly elections in Punjab. The BJP will contest 23 seats and so far relied on its old hands, including five former ministers and a Deputy Speaker.
More power is what traders want
Chandigarh, January 12
A rehashed tax structure, abolition of the inspector raj and a greater role in policy-making is what traders in Punjab expect from the government that comes to power after the Assembly elections. Cutting across political affiliations, they look forward to a new more systematic tax regime and less paperwork. They want facilities and concessions on a par with those in the neighbouring hill-states of Himachal Pradesh, Jammu and Kashmir and Uttaranchal.
Amarinder, Centre want to kill me: Badal
Jalandhar, January 12
The Shiromani Akali Dal (Badal) supremo, Mr Parkash Singh Badal, has alleged that the Chief Minister, Capt Amarinder Singh, the Congress-led Central Government, the Akali Dal (1920) chief, Mr Ravi Inder Singh, and former Akal Takht Jathedar Bhai Jasbir Singh Rode, want to eliminate him and his son Sukhbir Singh Badal.
Debt trap on big minds
Chandigarh, January 12
Agrarian crisis is the darkest chapter ever written on the heart of Punjab. Defined by a massive rural debt of Rs 23,000 crore and a shrinking rural economy, it is the top concern for the intelligentsia which has been drawing the attention of the authorities towards the plight of farmers and their crumbling support system.
Time for Wadala to regain Doaba base
Jalandhar, January 12
The ensuing Assembly elections have provided an opportunity to member of political affairs committee of the Shiromani Akali Dal (SAD) Kuldeep Singh Wadala to restore his lost base.
For them, a bridge too far
Kaniya Hussaini (Jagraon), January 12
Residents of 25 villages on either sides of the Jassowal drain and falling in three Assembly segments - Jagraon, Dakha and Dharamkot (Moga) - are eagerly awaiting visits of candidates for seeking votes from them.
EC orders fresh probe against officers
Chandigarh, January 12
The Election Commission of India has taken the Punjab Government to task for not taking appropriate action against five officials, including two PCS officers, for violation of the code of conduct during the last elections to the Lok Sabha in 2004.
Hindu Suraksha Samiti keen to contest poll
Mohali, January 12 The Punjab unit of the Akhil Bhartiya Hindu Suraksha Samiti has sought permission from the national president of the unit , Mr Sanjeev Bhardwaj, to allow the party to contest the forthcoming Punjab Assembly elections.
ZSTAND
Natives chip in
NRIs flock back home to canvass for their candidates, writes Saurabh Malik
As the Assembly elections draw near, overseas wings of parties have started campaigning for their stakes in the state. A delegation comprising around 25 non-resident Punjabis has landed in the state to drum up support for their "candidates". Otherwise also, the candidates and their supporters have launched the process of dropping a line to their acquaintances in alien lands.
poll opera
As usual, sons and sons-in-law
Chandigarh, January 11
Punjab's power politics is a dynastic soap opera - the main characters of which are a few leading families. A handful families have established their monopoly over the state's political craft. While these families dictate terms, lesser political mortals abide by their diktats.

home aids
Bibi squads for that one 'yes'
Jalandhar, January 11
Families of candidates are deeply involved in the campaign business. Kin of SAD candidates have been following hectic schedules ever since the names were announced last week.

Faithful Bairagis feel ignored by Congress
Sangrur, January 11
The Bairagi community, having around eight lakh votes in Punjab, is apparently unhappy with the Congress over the non-allotment of party ticket to any leader from the community for the past several decades.

Migration cuts numbers
Chandigarh, January 11
Is Punjab's population declining ? Probably no. However, the voters list for the state shows that the number of voters in Punjab has declined when compared to last year.

Students fight drugs-for-vote policy
Amritsar, January 11
With drug abuse already spreading its tentacles in the holy city, residents of Maqboolpura, which has been losing its men to intoxicants leaving behind widows and orphans, have decided to launch a campaign against the distribution of any type of intoxicants to lure voters.


The two-day ultimatum, served by supporters of Mr Alwinderpal Singh Pakhoke, a former acting chief of the SGPC to change official nominee from Tarn Taran Assembly constituency has expired and the supporters have adopted a 'wait and watch' policy.

SAD (Longowal) to put up 25 candidates
Chandigarh, January 11
The President of the Shiromani Akali Dal (Longowal), Mr Inderjit Singh Zira, said here yesterday that his party would put up candidates on 25 seats in the state and enter into an electoral alliance with like- minded parties on the remaining seats.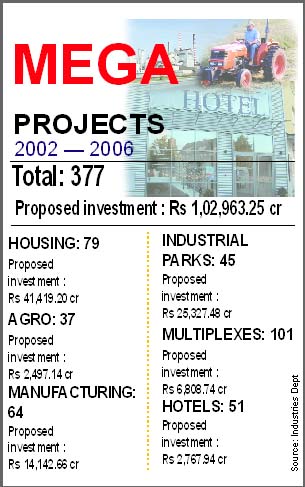 High stakes, big nerves
Chandigarh, January 10
Mohali is Chief Minister Capt Amarinder Singh's flagship of success in Punjab. Lured by exemptions and benefits offered by the Congress government's mega project policy, a group of companies have poured crores into the area.
BSP's Second List
A mix of caste and religion
Chandigarh, January 10
The Bahujan Samaj Party today announced names of 30 more candidates for the coming Assembly elections in Punjab. With this the number of candidates announced by the BSP has gone up to 73.
Ticket claimants stumped by Cong observer's visit
Chandigarh, January 10
A surprise visit by one of the three members of the Congress election committee yesterday left aspirants for the Congress ticket and their supporters in Gurdaspur and Amritsar aghast.
In quest of win, politicians throng temples
Jalandhar, January 10
Historical temples at Baglamukhi and Kamakhiya Devi in Himachal Pradesh have turned out to be the latest spiritual resorts for politicians of all hues, who, are not only thronging the two shrines in a big way, but have started organising yajnas either to secure party tickets or for their victory in forthcoming polls in the state.
1,034 polling stations 'very sensitive'
DCs, SSPs told to register FIRs against violators
Chandigarh, January 10
All Deputy Commissioners and SSPs of districts in Punjab have been told to immediately file an FIR on noticing any election-related offence in their respective areas.
The melody war is on
Crores being spent on campaign through music albums
Chandigarh, January 10
Traditional rivals are ready for war. And as always, both are relying heavily on the power of music to boost their reputation and bring down that of the foes.
Badal case: Court reserves order for January 15
Ropar, January 10
The arguments exchanged between the defence and state counsel during the proceedings of the corruption case involving SAD chief Parkash Singh Badal and his son and SAD general secretary Sukhbir Badal came for hearing before the Special Court Judge, Mr G.S. Saran, here today.
BUZZSTAND
Like they say, hope never dies
With Assembly elections round the corner, voters have fresh hopes. Demanding a check on inflation, better job opportunities and infrastructure development, they say they will cast their vote for the party most likely to fulfil their aspirations.


It's just 80 cents a voter in Canada
It is 80 cents a candidate can spend on a voter in provincial elections in Canada. And on an average, the budget of a Canadian candidate for election to the provincial assembly varies between $ 80,000 and $1,00,000.

Cong poll observer has ticket aspirants in a tizzy
Gurdaspur January 9
The sudden arrival of the Congress Election Observer here today had the party ticket aspirants in a tizzy. The Election Observer, Mr Santosh Pargadia, who is a Rajya Sabha member from Rajasthan, arrived here even as many ticket aspirants complained that they were not informed about his visit.
JD(U) to contest 11 seats
Hoshiarpur, January 9
The Janta Dal (United) (JD-U) will field candidates from 11 Assembly segments in alliance with the non-Congress and non-SAD (B)-led front in Punjab.

If I win ...
'Economy top priority'
Putting Punjab economy back on the rails will be my first priority. The five-year misrule of the Amarinder Singh government has put the economy on the downslide with growth rate in state only about 2.4% as against the 8.5% national growth rate.
Capt Kanwaljit Singh, former Finance Minister and candidate from Banur
Disqualify Tota Singh, ex-Cong MLA says
Moga, January 9
Buoyant by his recent success in getting a fine imposed on sitting Akali legislator Tota Singh by the Supreme Court, Mr Vijay Saathi, former Congress MLA, now has sought Mr Tota Singh's disqualification for six years for the violation of election laws of the country.
Probe sought into code violation
Sangrur, January 9
The district unit of the Democratic Teachers Front (DTF), Punjab, on Monday submitted a complaint to the district administration demanding an inquiry into the alleged "violation of election code of conduct" some days ago in the local Government Senior Secondary School for boys at the time of a farewell party of a teacher who had taken voluntary retirement recently.
Who is watching voters' interests?
Chandigarh, January 9
Will a registered voter with a photo identity card be allowed to cast his or her vote on February 13?
Khadi — The clear winner so far
Chandigarh , January 9
Just over a month before the Assembly elections in Punjab, so many supporters of different political parties across the state are exercising franchise in favour of khadi.
'Mulajams' gear up to grill politicians
Chandigarh, January 9
A beginning is being made by the Punjab Mulajam Sangharsh Committee to ask questions from politicians who will be in the Assembly election fray with regard to their vision and approach to various issues being faced by the state.