Sushma wants three tickets for women
Chandigarh, January 16
The top BJP leadership is considering tickets to three women aspirants on the insistence of senior leader Sushma Swaraj. She has told the party high command that it should nominate at least three women candidates for the Punjab Assembly elections.
Badals cajole rebels
Ballian mellows, Pakhoke too
Tarn Taran, January 16
The Shiromani Akali Dal supremo, Mr Parkash Singh Badal, today visited the residence of Mr Alwinderpal Singh Pakhoke, a former working president of the Shiromani Gurdwara Parbandhak Committee, in an effort to stop him from contesting as a rebel against the official nominee, Mr Harmit Singh Sandhu.
At last, Ballian mellows
Sangrur, January 16
Mr Ranjit Singh Ballian, a former minister in the SAD-BJP government who has been denied the SAD ticket from Sangrur this time again, today decided not to contest as a rebel from Sangrur.
Bhajan's no disappoints Cong men
Abohar, January 16
Congress workers in the Balluana Reserve constituency are dismayed over the decision by the Bhajan Lal family not to campaign in favour of party candidates in Punjab.
Dharam, Hema to pitch in for BJP
Chandigarh, January 16
The "muscleman" of the Hindi cinema Dharmendra, and the "dream girl" of yesteryear, Hema Malini, will be among several star campaigners and top leaders of the BJP, who will be wooing voters in Punjab.
EC allows teachers to join service
Chandigarh, January 16
The Chief Electoral Officer, Mr Sundaram Krishna, has allowed hundreds of teachers, appointed before December 29 when the Model Code of Conduct was enforced, to join service.


poll chase
Personal touch — Jr Mann's style
Fatehgarh Sahib, January 16
Mr Emman Singh Mann, SAD (Amritsar) candidate from the Sirhind Assembly constituency, has launched his election campaign, but in a different style. A graduate from an American university, Mr Mann goes to the people alone early in the morning and attends small corner meetings.

SAD (A) candidate Emman Mann holds a corner meeting with voters of his constituency.
— A Tribune photograph
DSGMC FALLOUT
Bhai Ranjit Singh not to campaign
Amritsar, January 16
Virtually stung by the drubbing in the Delhi Sikh Gurdwara Management Committee elections, Bhai Ranjit Singh, former Jathedar of the Akal Takht, has decided not to campaign in the Punjab Assembly elections and the byelection to the Amritsar Lok Sabha seat.


The twice cursed
Thousands of border farmers are facing starvation. The compensation of Rs 2,500 per acre given to them by the Central Government in 1998 has been stopped. There are no takers for such land while land prices elsewhere in the state have skyrocketed. They want their voice heard in the cacophony of electioneering, say Varinder Walia and Gurbax Puri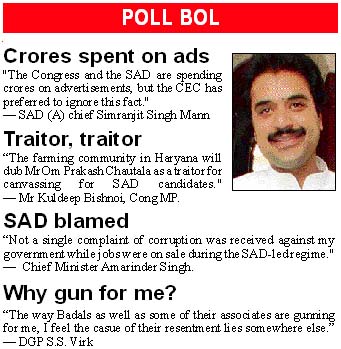 Parties get the dollar boost
Jalandhar, January 16
This winter is witnessing the maximum homecoming of NRIs to their native villages in Punjab. They are back not just to meet their kin, take care of their land or marry off their children, but to take part in the election process by donating funds to political parties and canvassing.
Weary voters say 'yes' to all
Gurdaspur, January 16
Political parties are raising the issues of development and job promises and levelling charges of corruption against each other as their main poll planks.
Poll khol
Babus vanish
Chandigarh, January 16
Even as the state gears up for the elections, senior bureaucrats in Punjab have decided to take it easy and wait for the results to pour in. What otherwise can explain the scant presence of babus in their offices located in the Punjab Civil Secretariat.
All they want — A bridge over the river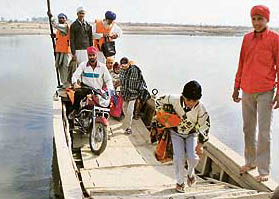 Muthianwala (Tarn Taran), January 15
In the state revenue record, this non-descript village on the banks of the Sutlej falls in the newly created district of Tarn Taran. However, for the Election Commission, the village is part of the Ferozepore Assembly constituency. For any administrative work, the residents of the village, located near Pakistan border, go to Tarn Taran while they have to cross the river by boat to vote, risking their lives.


In the absence of a bridge, residents of Muthianwala are forced to use the ferry to reach the mainland. — A Tribune photograph

Nirmal, Makhan to get tickets: CM
Chandigarh, January 15
Names of almost all Punjab ministers have been recommended by the Congress screening committee for renomination as party candidates for the Assembly elections in the state.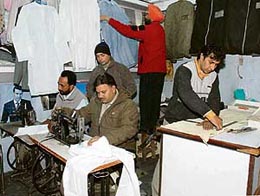 Tailor-made candidate
Ludhiana, January 15
White is the colour of the election season. Politicians of all parties have switched over to white. And those with sound business sense are making hay while the sun shines - tailoring white kurtas and pyjamas for politicians and their supporters. Harvinder 'Happy' has been doing just this for so many elections. Come elections, and he gets down to business. Tailoring white kurtas for the politicians to give them that immaculate white appearance.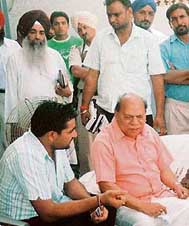 Tainted: United colours of Congress, SAD
Jalandhar, January 15
The Congress and the SAD certainly have one thing in common- tainted persons. This is evident from the case of Nijjar village sarpanch Tejinder Singh, who was declared a proclaimed offender in October last. He was arrested from his house in the wee hours on Saturday, hours of his joining the SAD after quitting the Congress.




Sarpanch Tejinder Singh with Punjab minister Chaudhary Jagjit Singh at Nijjaran village. — A file photo

This MLA takes to digging votes
Installs tubewells for encroachers
Ludhiana, January 15
A Congress legislator is doing all to install tubewells for slum dwellers - potential vote bank - on land worth crores under litigation in the HC.
Angry ones Dasuya: 14 BJP bigwigs quit
Hoshiarpur, January 15
The BJP has received a big jolt with four of its block presidents, along with 14 office-bearers, in the Dasuya segment quitting the party. They have resigned from the party membership in protest against Mr Avinash Rai Khanna, state BJP chief, not taking them in confidence while deciding on the candidature of Mr Amarjit Singh Shahi for their constituency.
Ram Lal is Uma party nominee
Chandigarh, January 15
Mr Ram Lal, a former MLA from Narot Mehra in Gurdaspur, who left the Bharatiya Janata Party yesterday, figures in the first list of 12 candidates released by the Bharti Jan Shakti Party of Ms Uma Bharati here today.
Left rules out tie-up with Cong
Chandigarh, January 15
The CPI has said flat "no" for an alliance with the ruling Congress in the Punjab Assembly elections.
Mann raps EC on Virk
Moga, January 15
The president of the Shiromani Akali Dal (Amritsar), Mr Simranjit Singh Mann, has flayed the role of Election Commission stating that it has failed to check violation of the code of conduct in the state.
Divided we fall: Bhatti
Fatehgarh Sahib January 15
The election campaign of Mr Didar Singh Bhatti SAD candidate from the Sirhind constituency, is at its peak, the delay in the Congress list has been a boon for the SAD. All factions of the SAD have declared support for Mr Didar Singh Bhatti and are campaigning for him full steam- holding workers' meetings, corner meetings and visiting residences of prominent persons in Sirhind and Bassi Pathana towns.
Cong panel clears 101 names
Sonia to give final nod; efforts on for tie-up with Left
Chandigarh, January 14
While names of 101 aspirants have been cleared by the scrutiny committee of the All-India Congress Committee for the Assembly elections in Punjab, the party high command has opened the channels of communication with the top leadership of the Left parties to look into the possibility of a tie-up with them on certain seats in the state.
Cong delay — Advantage SAD
Chandigarh, January 14
An unwarranted delay in finalising candidates for the coming Assembly elections by the all-powerful Congress high command has been keeping the ticket aspirants unsure of themselves. The party has virtually been staying away from the electoral battle field since the announcement of the elections more than 16 days ago.
Kanwaljit promises new 'urban development policy'

Zirakpur, January 14
Bringing economy to the forefront of electioneering in Punjab, the Shiromani Akali Dal(SAD) general secretary and the former Finance Minister, Capt Kanwaljit Singh, today promised a new "urban development policy" if the SAD-BJP alliance was voted to power in the February 13 Punjab elections.
Former Finance Minister and SAD-BJP candidate from Banur Capt Kanwaljit Singh during election campaign at Zirakpur on Sunday. — Photo by J.S. Virdi

Jobs' issue: Kanwaljit dares Amarinder for debate
Mohali, January 14
SAD general secretary and former Finance Minister Capt Kanwaljit Singh today challenged the Congress to release the list of 20 lakh youth who it had promised to give employment before December 31.
Chahal's entry a shot in the arm for SAD
Jalandhar, January 14
The success of the SAD chief, Mr Parkash Singh Badal, in persuading a prominent SAD leader, Mr Gurmeet Singh Daduwal, not to oppose the official SAD candidate from Nakodar, Mr Kuldip Singh Wadala, and the entry of a Kapurthala Congress leader, Mr Malwinder Singh Chahal, into the party fold has brightened the SAD's poll prospects in the Doaba region.
Dhillon remains Faridkot nominee
Chandigarh, January 14
President of the Shiromani Akali Dal (SAD) Parkash Singh Badal today announced that Mr Kushaldeep Singh Dhillon, sitting MLA from Faridkot, would be the SAD candidate in the coming Assembly elections.
Badal opens poll office
Lambi (Muktsar), January 14
Shiromani Akali Dal supremo Parkash Singh Badal today formally launched his election campaign on his home turf. He expressed his resolve to dislodge the Congress government in the state.
Khanna convenes meeting
Chandigarh, January 14
The president of the Punjab unit of the Bharatiya Janata Party, Mr Avinash Rai Khanna, has convened a meeting of all 15 candidates along with their district secretaries, mandal presidents and office-bearers of the state unit of the party in Chandigarh tomorrow.

BJP faces revolt in Gurdaspur
Sujanpur (Gurdaspur), January 14
The BJP faced a revolt in the Sujanpur constituency today with the former minister, Mr Satpal Saini , holding a meeting of supporters and demanding a change in the party nominee. The BJP in its list announced recently had named Mr Davinder Thakur as party candidate from Sujanpur in place of Mr Satpal Saini.

Mr Satpal Saini
OSD to CM throws hat into the ring
Gurdaspur, January 14
The Officer on Special Duty (OSD) to Punjab Chief Minister, Mr Amardeep Singh Manaepur, has staked claim to the Congress ticket from the Dhariwal Assembly constituency.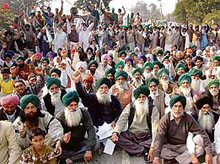 GROUNDSWELL
Kisan's no-confidence
The Kisan Sangharsh Committee (KSC) leadership has unanimously decided not to support any party in the coming elections. In debt trap, thousands of peasants are disappointed by mere promises and hollow claims of various political parties, says Mr Kanwalpreet Singh Pannu, convener of the committee. " We are not going to support any party. But this does not mean that we will boycott the elections."

Banking on family name
A greenhorn in politics, Mr Bikram Singh Majithia (31) promises the voters of Majitha that he would make his constituency as important as Badal- the home constituency of Shiromani Akali Dal supremo Parkash Singh Badal- if the SAD-BJP comes to power! Reason-he is the brother-in-law of Mr Sukhbir Singh Badal, general secretary of the SAD.

Bikram Singh Majithia, SAD nominee from Majitha
AICC elicits MPs' views
New Delhi, January 13
The AICC screening committee, tasked with shortlisting the Congress nominees for next month's Assembly elections in Punjab, had an extended meeting yesterday and specially took the suggestions of members of Parliament from the state on the strategy and criteria for zeroing in on the candidates.


CM: We will wipe out Badals
Muktsar, January 13
The Punjab Chief Minister, Capt Amarinder Singh, here today stated that the Congress would go for the political kill of the Badals and ensure that their political existence was wiped out in Punjab in the coming Assembly elections.

Mr Jagmeet Singh Brar, Capt Amarinder Singh and Mr Shamsher Singh Dullo at the Maghi Fair in Muktsar on Saturday. — A Tribune photograph
We are all in it together

Out of father's shadow
Chandigarh, January 13
Mr Sukhbir Singh Badal, a shy politician until recently, has emerged as a different kind of rabble-rouser on the state's political scene. For years, he grew politically under the shadow of his father, Mr Parkash Singh Badal, a man with infinite patience. However, he has now moved beyond his father's shadow and virtually calls the shots in the SAD.

I call the shots now, papa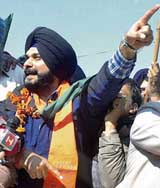 Freed, Sidhu plays the hero
Warns 'hankari' Raja 'hun mein aagya han'
Patiala, January 13
Attired in clothes he wore when he entered the jail 36 hours ago, former Amritsar MP Navjot Singh Sidhu walked out of the Patiala Central Jail a free man this afternoon after his lawyers completed formalities in the court of the Chief Judicial Magistrate. A special courier brought the Supreme court bail documents at midnight, but Mr Sidhu had to wait till this morning to make his exit from the jail. His lawyers submitted a bail bond of Rs 25,000 and a surety of the like amount in the court.
Virtual revolt in SAD
Ticket refusal to Ladal
Ropar, January 13
SAD President Parkash Singh Badal's announcement to grant party ticket to SAD patron Sant Ajit Singh from Anandpur Sahib Assembly constituency led to a virtual revolt here today by party workers.
SAD harps on police atrocities
Muktsar, January 13
The Shiromani Akali Dal today again highlighted the already set agenda for the elections, promising highly subsidised atta and pulses, filling of all vacancies within six months of coming to power and also a health insurance scheme for farmers, among a slew of other things, at a rally here today.
Rajpura: Khurana's exit deepens suspense
Rajpura, January 13
With the Congress high command delaying the release of even the first list of party nominees, the race for ticket from the Rajpura Assembly constituency has intensified.


Shambhu on poll tandav
Ludhiana, January 13
Shambhu Singh is bitterly angry. Let down by the Congress for which he claims to have given his blood and sweat, he now wants to get the party defeated from Ludhiana (rural).

Shambhu Singh, Jan Morcha candidate from Ludhiana (Rural)

'Migrant labourers from Uttar Pradesh and Bihar have contributed in great measure to the phenomenal growth of Punjab, and Ludhiana in particular. Still we are not held in esteem.'
For change, Independents on young minds
Chandigarh, January 13
Disenchanted by political giants contesting Assembly elections on promises alone, many electors across the state, particularly youngsters, are this time dabbling with the idea of exercising their franchise in favour of change through Independent candidates.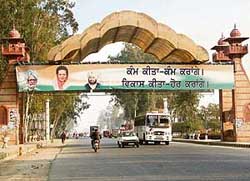 Hoardings mock poll code
Amritsar, January 13
Big hoardings with pictures of Prime Minister Manmohan Singh, Ms Sonia Gandhi, and Capt Amarinder Singh, promising development in the border state dot the main road, eclipsing the city landmarks, in gross violation of the Model Code of Conduct. Even the entrance gate to the city has not been spared. The 'Welcome' board stands covered with a hoarding of the government, boasting of development works.
BKU (Lakhowal) to back SAD
Abohar, January 13
The BKU led by Mr Ajmer Singh Lakhowal has resolved to support Mr Gurtej Singh Ghuriana, a SAD candidate from the Balluana (reserve) constituency.
Land mafia gets active
Abohar, January 13
With electioneering gaining momentum, land mafia has become active in the region.
Cong victory in Patiala predicted
Patiala, January 13
Mr Gopal Singla, general secretary of the District Congress Committee (Urban), claimed here yesterday that the Congress would win the coming Assembly elections with a big margin from Patiala.
Loan: Singla 'pressurising' banks on one-time settlement
Chandigarh, January 12
Fearing a backlash from the farming community, the Punjab Government has reportedly "pressurised" commercial banks in the state to introduce a one-time settlement scheme for debt-ridden farmers.
DAMAGE CONTROL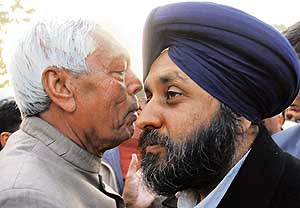 Former Akali minister Chiranjee Lal, who is unhappy at not being given the SAD ticket, explains a point to Mr Sukhbir Badal in Bathinda on Friday. — Photo by Kulbir Beera
No let-up in SAD's fight against Virk
Chandigarh, January 12
Unruffled by the Chief Election Commission's rejection of its demand for shifting the Punjab Police chief, Mr S.S. Virk, the Shiromani Akali Dal (SAD) has fired yet another salvo at him, accusing him of seeking a "plethora of favours from the ruling party in return for services to be rendered during the Assembly elections."
Mann to contest from Dhanaula
Ludhiana, January 12
The Shiromani Akali Dal (Amritsar) today released the second list of 16 candidates here today.
Poll kiosks get rolling
Chandigarh, January 12
As Punjab Assembly elections draw near, members of different political parties are casting ballot in favour of Chandigarh - for equipping them with election material, unanimously converting the city into the state's supply capital.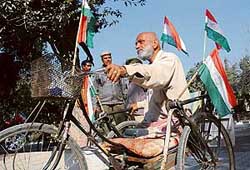 SLOW AND STEADY: Campaigning is gradually picking up steam in Punjab. — Tribune photo BY Pradeep Tewari

BJP list: It's blend of old & new
Chandigarh, January 12
The BJP tonight released its first list of 15 candidates for the coming Assembly elections in Punjab. The BJP will contest 23 seats and so far relied on its old hands, including five former ministers and a Deputy Speaker.

More power is what traders want
Chandigarh, January 12
A rehashed tax structure, abolition of the inspector raj and a greater role in policy-making is what traders in Punjab expect from the government that comes to power after the Assembly elections. Cutting across political affiliations, they look forward to a new more systematic tax regime and less paperwork. They want facilities and concessions on a par with those in the neighbouring hill-states of Himachal Pradesh, Jammu and Kashmir and Uttaranchal.

Amarinder, Centre want to kill me: Badal
Jalandhar, January 12
The Shiromani Akali Dal (Badal) supremo, Mr Parkash Singh Badal, has alleged that the Chief Minister, Capt Amarinder Singh, the Congress-led Central Government, the Akali Dal (1920) chief, Mr Ravi Inder Singh, and former Akal Takht Jathedar Bhai Jasbir Singh Rode, want to eliminate him and his son Sukhbir Singh Badal.

Debt trap on big minds
Chandigarh, January 12
Agrarian crisis is the darkest chapter ever written on the heart of Punjab. Defined by a massive rural debt of Rs 23,000 crore and a shrinking rural economy, it is the top concern for the intelligentsia which has been drawing the attention of the authorities towards the plight of farmers and their crumbling support system.

Time for Wadala to regain Doaba base
Jalandhar, January 12
The ensuing Assembly elections have provided an opportunity to member of political affairs committee of the Shiromani Akali Dal (SAD) Kuldeep Singh Wadala to restore his lost base.

For them, a bridge too far
Kaniya Hussaini (Jagraon), January 12
Residents of 25 villages on either sides of the Jassowal drain and falling in three Assembly segments - Jagraon, Dakha and Dharamkot (Moga) - are eagerly awaiting visits of candidates for seeking votes from them.

EC orders fresh probe against officers
Chandigarh, January 12
The Election Commission of India has taken the Punjab Government to task for not taking appropriate action against five officials, including two PCS officers, for violation of the code of conduct during the last elections to the Lok Sabha in 2004.

Hindu Suraksha Samiti keen to contest poll


Mohali, January 12
The Punjab unit of the Akhil Bhartiya Hindu Suraksha Samiti has sought permission from the national president of the unit , Mr Sanjeev Bhardwaj, to allow the party to contest the forthcoming Punjab Assembly elections. ZSTAND






Natives chip in
NRIs flock back home to canvass for their candidates, writes Saurabh Malik
As the Assembly elections draw near, overseas wings of parties have started campaigning for their stakes in the state. A delegation comprising around 25 non-resident Punjabis has landed in the state to drum up support for their "candidates". Otherwise also, the candidates and their supporters have launched the process of dropping a line to their acquaintances in alien lands.
poll opera
As usual, sons and sons-in-law
Chandigarh, January 11
Punjab's power politics is a dynastic soap opera - the main characters of which are a few leading families. A handful families have established their monopoly over the state's political craft. While these families dictate terms, lesser political mortals abide by their diktats.

home aids
Bibi squads for that one 'yes'
Jalandhar, January 11
Families of candidates are deeply involved in the campaign business. Kin of SAD candidates have been following hectic schedules ever since the names were announced last week.

Faithful Bairagis feel ignored by Congress
Sangrur, January 11
The Bairagi community, having around eight lakh votes in Punjab, is apparently unhappy with the Congress over the non-allotment of party ticket to any leader from the community for the past several decades.

Migration cuts numbers
Chandigarh, January 11
Is Punjab's population declining ? Probably no. However, the voters list for the state shows that the number of voters in Punjab has declined when compared to last year.

Students fight drugs-for-vote policy
Amritsar, January 11
With drug abuse already spreading its tentacles in the holy city, residents of Maqboolpura, which has been losing its men to intoxicants leaving behind widows and orphans, have decided to launch a campaign against the distribution of any type of intoxicants to lure voters.


The two-day ultimatum, served by supporters of Mr Alwinderpal Singh Pakhoke, a former acting chief of the SGPC to change official nominee from Tarn Taran Assembly constituency has expired and the supporters have adopted a 'wait and watch' policy.

SAD (Longowal) to put up 25 candidates
Chandigarh, January 11
The President of the Shiromani Akali Dal (Longowal), Mr Inderjit Singh Zira, said here yesterday that his party would put up candidates on 25 seats in the state and enter into an electoral alliance with like- minded parties on the remaining seats.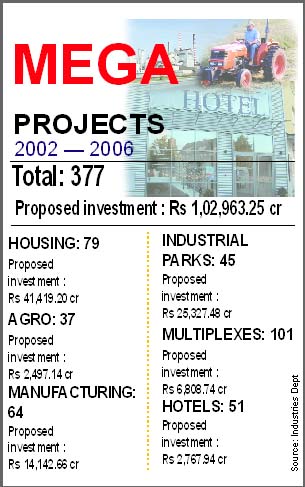 High stakes, big nerves
Chandigarh, January 10
Mohali is Chief Minister Capt Amarinder Singh's flagship of success in Punjab. Lured by exemptions and benefits offered by the Congress government's mega project policy, a group of companies have poured crores into the area.
BSP's Second List
A mix of caste and religion
Chandigarh, January 10
The Bahujan Samaj Party today announced names of 30 more candidates for the coming Assembly elections in Punjab. With this the number of candidates announced by the BSP has gone up to 73.
Ticket claimants stumped by Cong observer's visit
Chandigarh, January 10
A surprise visit by one of the three members of the Congress election committee yesterday left aspirants for the Congress ticket and their supporters in Gurdaspur and Amritsar aghast.
In quest of win, politicians throng temples
Jalandhar, January 10
Historical temples at Baglamukhi and Kamakhiya Devi in Himachal Pradesh have turned out to be the latest spiritual resorts for politicians of all hues, who, are not only thronging the two shrines in a big way, but have started organising yajnas either to secure party tickets or for their victory in forthcoming polls in the state.
1,034 polling stations 'very sensitive'
DCs, SSPs told to register FIRs against violators
Chandigarh, January 10
All Deputy Commissioners and SSPs of districts in Punjab have been told to immediately file an FIR on noticing any election-related offence in their respective areas.
The melody war is on
Crores being spent on campaign through music albums
Chandigarh, January 10
Traditional rivals are ready for war. And as always, both are relying heavily on the power of music to boost their reputation and bring down that of the foes.
Badal case: Court reserves order for January 15
Ropar, January 10
The arguments exchanged between the defence and state counsel during the proceedings of the corruption case involving SAD chief Parkash Singh Badal and his son and SAD general secretary Sukhbir Badal came for hearing before the Special Court Judge, Mr G.S. Saran, here today.
BUZZSTAND
Like they say, hope never dies
With Assembly elections round the corner, voters have fresh hopes. Demanding a check on inflation, better job opportunities and infrastructure development, they say they will cast their vote for the party most likely to fulfil their aspirations.


It's just 80 cents a voter in Canada
It is 80 cents a candidate can spend on a voter in provincial elections in Canada. And on an average, the budget of a Canadian candidate for election to the provincial assembly varies between $ 80,000 and $1,00,000.

Cong poll observer has ticket aspirants in a tizzy
Gurdaspur January 9
The sudden arrival of the Congress Election Observer here today had the party ticket aspirants in a tizzy. The Election Observer, Mr Santosh Pargadia, who is a Rajya Sabha member from Rajasthan, arrived here even as many ticket aspirants complained that they were not informed about his visit.
JD(U) to contest 11 seats
Hoshiarpur, January 9
The Janta Dal (United) (JD-U) will field candidates from 11 Assembly segments in alliance with the non-Congress and non-SAD (B)-led front in Punjab.

If I win ...
'Economy top priority'
Putting Punjab economy back on the rails will be my first priority. The five-year misrule of the Amarinder Singh government has put the economy on the downslide with growth rate in state only about 2.4% as against the 8.5% national growth rate.
Capt Kanwaljit Singh, former Finance Minister and candidate from Banur
Disqualify Tota Singh, ex-Cong MLA says
Moga, January 9
Buoyant by his recent success in getting a fine imposed on sitting Akali legislator Tota Singh by the Supreme Court, Mr Vijay Saathi, former Congress MLA, now has sought Mr Tota Singh's disqualification for six years for the violation of election laws of the country.
Probe sought into code violation
Sangrur, January 9
The district unit of the Democratic Teachers Front (DTF), Punjab, on Monday submitted a complaint to the district administration demanding an inquiry into the alleged "violation of election code of conduct" some days ago in the local Government Senior Secondary School for boys at the time of a farewell party of a teacher who had taken voluntary retirement recently.
Who is watching voters' interests?
Chandigarh, January 9
Will a registered voter with a photo identity card be allowed to cast his or her vote on February 13?
Khadi — The clear winner so far
Chandigarh , January 9
Just over a month before the Assembly elections in Punjab, so many supporters of different political parties across the state are exercising franchise in favour of khadi.
'Mulajams' gear up to grill politicians
Chandigarh, January 9
A beginning is being made by the Punjab Mulajam Sangharsh Committee to ask questions from politicians who will be in the Assembly election fray with regard to their vision and approach to various issues being faced by the state.