Natural farming is his passion
P. K. Jaiswar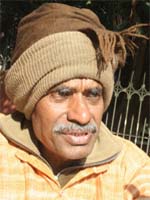 Subhash Palekar
Mr Subhash Palekar, popularly called 'Krishi Ka Rishi', is a man with a mission.
A pioneer and strong supporter of natural farming, he had been instrumental in popularising 'Zero Budget Farming' using natural means and process in Maharashtra and South India.
Acknowledging his contribution to agriculture, the Karnataka Government honored him with prestigious "Basavashree' award in 2005 while the Maharashtra Government approved his zero-budget technology and the Agriculture Department was introducing0 this technique to the farmers.
He spread out this technology to each and every village of Karnataka and Kerala. A graduate in agriculture, he developed 'Zero Budget Farming' technique (which he used to term as spiritual farming) after observing 'mechanism of forests' and eight years of his research in that field.
Bring Sahiwal back
Mr Subhash Palekar said the Punjab lost its treasure of Sahiwal (desi) cow breed, which was in abundance in this part of country before the advent of pesticides. The 'Krishi ka Rishi' said it should be brought back as its milk had more nutritional and medicinal value.
He said its waste like dung and urine had more characteristics important from agricultural point of view than Jursy and Holastin (foreign) breed of cows currently in use.
During this period, he had to sell the ornaments of his wife, lost all money and even his land to meet the research expenditure.
"Initially it was very hard. People used to call me insane disapproving my technology. All relatives, friends and people have virtually ex-communicated me and my family," said Mr Palekar.
But after seeing the amazing results of this technique, more and more farmers started to follow his technique and later it became a farmers' 'Andolan' he said.
Mr Palekar was recently here on the invitation of Kheti Virasat Mission- Vatarvarn Panchayat, an NGO, to participate in the seminar of 'Zero Budget Farming' held in Pingalwara Society here.
Sharing his experiences with The Tribune, he said nature had created vegetation and since million of years, this vegetation was living without any assistance of mankind.
He said forests gave a large number of export-quality fruits every year without cultivation, without manure, fertilisers, spraying, hybrid seeds and irrigation and without any human assistance.
He said God had established his special self-developing, self-nourishing and self-sufficient technology to grow and to give in severe famine also. "That is why I decided to conduct research in this field," he said.
Mr Palekar said for 12 years, he experimented in his own farmland and after getting results, he asked other farmers to follow.
After successfully started his voyage in the southern states of the country, spreading his concept of natural farming, he has now turned towards the North, especially in Punjab, which was major contributor of country's food stock.
He expressed hope over getting good response from the farmers of northern states. He said he had started with 25 models in various villages of Punjab and hoped that it would swell manifolds in near future.
He was very critical of the agriculture universities, which, he said, were inculcating inadequate and dangerous education by advocating chemical and now organic farming.
He said during the so-called 'Green Revolution', production increased. However, after 1985 production decreased drastically.
He said he experimented with all such techniques but the production decreased while input increased.
Mr Palekar said by practicing the chemical farming and organic farming we are destroying the soil, polluting water, atmosphere and total environment.
Mr Palekar said there should be a debate in Parliament and political debate over the issue of chemical and organic farming as majority of people were falling prey to the diseases due to pesticides and chemical fertilisers. Unfortunately there was no debate at all at any level, he rued.