MANIFESTO
Farmers SAD's main focus
Jalandhar, February 3
The manifesto of the Shiromani Akali Dal (Badal) released here today promises comprehensive recast of economic priorities, putting the rural and urban poor at the core of a "bold and futuristic vision" for growth.
Report: Rajan fired 13 rounds
Beas SHO suspended
Beas, February 3
The district police chief of Majitha, Mr Lok Nath Angra, today suspended Mr Malkit Singh, SHO of Beas, on the recommendation of the Special Investigation Team (SIT) for having failed to arrest the suspects involved in the poll violence here.
CM promises more water; RO told to send report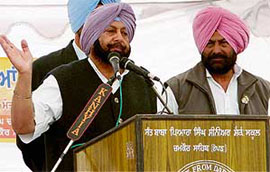 Chamkaur Sahib, February 3
In spite the Model Code of Conduct, Chief Minister Capt Amarinder Singh today promised more water to the people with the construction of Dashmesh Canal Project worth Rs 1,200 crore on coming back to power.



The Chief Minister, Capt Amarinder Singh, addresses a rally at Chamkaur Sahib on Saturday. — A Tribune photograph

Chahal quits
Chandigarh, February 3
Mr B.I.S. Chahal, media adviser to the Punjab Chief Minister, has resigned from his post. Sources said Mr Chahal was asked by the Chief Minister to put in his papers as his continuation on the post was leading to a lot of controversy.
POLL CHASE
CM's campaign gets aggressive
Patiala, February 3
The Punjab Chief Minister, Capt Amarinder Singh, is trying to put the Akalis on the backfoot by his aggressive style of campaigning and witty remarks.
Capt, Badal leave it to sons
Mansa, February 3
With MP Sukhbir Singh Badal, son of Akali stalwart Parkash Singh Badal, heading the campaign for SAD-BJP candidates and Mr Raninder Singh, son of the Chief Minister, Capt Amarinder Singh, managing the party's poll strategy, sons are virtually battling it out for their fathers in the elections.
Faridkot: Four CMs, yet no development
Faridkot, February 3
This region continues to be socially and economically backward despite the fact that it has given the maximum number of four Chief Ministers to Punjab since 1966.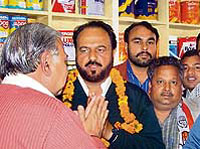 Chautala poaching on Jassi vote bank
Bathinda, February 3
This constituency is hogging the limelight less because of key contestants and more due to their Haryana connection. While the stakes are high for Dera Sacha Sauda, Sirsa, as the dera head's close relative Mr Harminder Singh Jassi is contesting on the Congress ticket, the INLD supremo, Mr Om Prakash Chautala's family has thrown its weight behind the SAD-BJP candidate, Mr Sarup Chand Singla.

The Congress candidate from Bathinda, Mr Harminder Singh Jassi, campaigns in his constituency on Saturday. — Tribune photo by Kulbir Beera

Kohli will be made minister, says SAD chief
Patiala, February 3
The SAD Chief, addressing a gathering at Quila Chowk here late last evening in support of SAD candidate Surjit Singh Kohli, said the Akalis would romp home to victory in the coming elections and announced that Mr Kohli would be made Cabinet Minister if he won from this Assembly segment against Capt Amarinder Singh.
SAD seeks transfer of DC, SSP
Kapurthala, February 3
Former minister and SAD candidate for the Kapurthala seat Raghubir Singh has alleged that Congress workers, at the behest of the Jalandhar MP, are intimidating voters and the complaints in this regard have fallen on deaf ears.
Jasjit promises help to lawyers
Mohali, February 3
In violation of the rules the SAD-BJP candidate, Mr Jasjit Singh, went to the district court complex in Phase III B 1 to woo voters here today.
CVM pledges support to SAD-BJP alliance
Chandigarh, February 3
The Chandigarh Vikas Manch today declared its support to the BJP-SAD alliance for the upcoming Punjab Vidhan Sabha elections. Addressing a joint press conference Mr Harmohan Dhawan, president of the CVM, with Capt Kanwaljeet Singh, general secretary, SAD, stated that they had already sounded the victory bugle for the state with winning the Mayor's seat in the capital.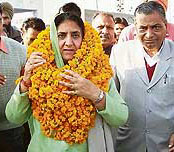 No smooth sailing for Bhattal
Sangrur, February 3
Deputy Chief Minister and Congress candidate from the Lehra Assembly constituency Rajinder Kaur Bhattal is facing a fierce challenge from SAD candidate Prem Singh Chandumajra. Ms Bhattal has won thrice from Lehra in a row. For the first time, she won in 1992 when the Akalis had boycotted the Assembly elections.


Ms Rajinder Kaur Bhattal with her supporters at Lehragaga.
Cong MLA joins BJP
Jalandhar, February 3
Sitting MLA from Jalandhar and district Congress president Raj Kumar Gupta joined the BJP here today.
Congress councillor joins BJP
Abohar, February 3
Mr Harjit Singh Garewal, vice-president of the farmers' wing of the BJP, has blamed the Congress for placing Abohar on the top of crime cities in the North.
SAD, Cong workers clash at debate
Barnala, February 3
Supporters of Mr Malkiat Singh Keetu, MLA of Barnala and SAD nominee for this Assembly seat, and Mr Kewal Singh Dhillon, Congress nominee, clashed at a debate organised by Star News TV channel here yesterday.
Flag march in Kharar
Mohali, February 3
In order to create a sense of security among voters of the Kharar constituency, a flag march was organised by the police in the town today.
Rajpura: Independents hold key
Rajpura, February 3
A keen contest is in the offing in the Rajpura constituency of Patiala district, the home turf of Chief Minister Capt Amarinder Singh even as the Independents hold the key to the results.
Haryana-made voter cards
Chandigarh, February 3
Strange as it may sound, all voter ID cards for the coming Punjab elections are being made in Haryana. The project involving online processing of electoral cards and lists is being handled by the Haryana's Electronic Development Corporation (HARTRON).
Candidates canvass on cable networks
Gurdaspur, February 3
Local cable networks have leased channels to candidates which show speeches by local leaders and sarpanches round the clock. These also run advertisements and messages of candidates. One of the channels shows the Transport Minister as the 'Lord of the destitute, Raghunath'.
Sales at liquor vends on a high
Chandigarh, February 3
Liquor may not be the only thing which candidates may be using to woo voters. However, going by the excise policy the department has for to its licensees, revenue gets precedence over national sentiments.
Take me on if you can, CM to Akalis
Patiala, February 2
Punjab Chief Minister Amarinder Singh launched his campaign in this constituency late last evening by addressing a roadside rally in the Badungar area. He proved a crowd-puller with people coming on the rooftops of nearby houses to listen to him.
Lambi: Win or lose, there will be a Badal
Lambi (Muktsar), February 2
It is Badal versus Badal in this high-profile constituency. The SAD supremo, Mr Parkash Singh Badal, faces his cousin, Mr Mahesh Inder Singh Badal, who happens to be the son of his mentor, Teja Singh, in a fiercely contested poll battle.

'Gapori' versus 'tyrant'
Dera Bassi/Rajpura, February 2
As the date of polling draws near, the election scene is turning dirty with candidates hitting below the belt.
Sonia to target Badal borough
Chandigarh, February 2
Congress president Sonia Gandhi will concentrate on the cotton belt of Malwa. Notably, she is will address a rally in the pocket borough of the Badal family, Gidderbaha, on February 7 and 10.
Not in race for CM slot: Dullo
Abohar, February 2
PPCC president Shamsher Singh Dullo has categorically denied being in the race for chief ministership. During a visit to the Balluana reserved constituency last evening, Mr Dullo was apparently disturbed over allegations levelled by the party candidate, Mr Ravinderpal Singh Sandhu, against the DCC president, Mr Gurnaib Singh Brar, accusing the latter of supporting the SAD candidate, Mr Janmeja Singh Sekhon, in the Ferozepore Cantt constituency,
'Kanwaljit Singh will lose poll'
Mohali, February 2
"Capt Kanwaljit Singh, SAD general secretary, will lose the Punjab Assembly elections from two constituencies because he is fighting a proxy battle in Kharar and neglecting Banur ," said Mr Balbir Singh Sidhu, Congress candidate contesting the elections from the Kharar constituency.


Democracy under threat: Bardhan
Bathinda, February 2
Lashing out at the Congress as well as the SAD-BJP alliance, the CPI general secretary, Mr A.B. Bardhan, today said democracy was in danger in Punjab. He urged the electorate not to reduce the state to one having a two-party system.
The CPI general secretary, Mr A.B. Bardhan, addresses a rally in Bathinda on Friday.
— A Tribune photograph
Shekhar pitches in for Congress
New Delhi, February 2
Former Prime Minister Chandra Shekhar today appealed to the people of Punjab to vote for the Congress in the Assembly elections. Mr Chandra Shekhar, who has not been well for some time now, issued a written appeal extending the Samajwadi Janata Party's support to the Congress for "peace, prosperity and stability in Punjab."
Party fields two from one seat
Bathinda, February 2
If their election campaign in anything to go by, two candidates have been contesting the elections on the General Samaj Party ticket from Bathinda. Both of them have got their election symbols too.
Disabled and discarded
Chandigarh, February 2
"Since we are already rejected by society at large, various political parties, too, have ignored us," rue disabled and handicapped persons who roughly account for 3 per cent of the total votes in Punjab.
Acquisitions a thorn in Raghunath's path
Gurdaspur February 2
The BJP greenhorn, Mr Dinesh Babu, is facing Congress strongman Raghunath Sahay Puri from the Sujanpur Assembly constituency. Though this constituency comprising kandi areas of the state bordering Jammu and Kashmir has been a Congress stronghold, the young BJP candidate is posing a tough challenge.


ME & MYSELF
His battle is against graft
Dasuya, February 2
Mr Amarjit Singh Shahi was expelled from the Congress in 2002. Having built a mass base over the past five years, this Doon School product knows the Dasuya constituency and its problems like the back of his hand. There are no jobs because there are no avenues. Economic growth and development are therefore his priorities.
Something fishy about Khangura's affidavit
Chandigarh, February 2
Serious doubts have arisen about the veracity of affidavits filed by a Congress candidate for the ensuing elections. While filing his papers before the Returning Officer for the Qila Raipur constituency, the Congress candidate, Mr Jasbir Singh Khangura, submitted two affidavits as is mandatory under the directions of the Election Commission of India.
Notice to Khanna, Mittal
Nangal, February 2
The BJP MP, Mr Avinash Rai Khanna, a former BJP minister and party candidate from Nangal, Mr Maddan Mohan Mittal, and the SE (Headquarters, BBMB), Nangal, were served notice for violating the Model Code of Conduct.


Rajpura rally: SAD-BJP show of strength
Rajpura, February 2
In its first show of strength here ahead of the February 13 elections, the SAD-BJP alliance today gave a clarion call to voters to throw out the "corrupt and inefficient" Amarinder Singh government.


BJP leader Sahib Singh (left) and SAD supremo Parkash Singh Badal at a rally in Rajpura on Friday.
Kang seeks divine blessings
Mohali, February 2
Congress candidate from Morinda constituency Jagmohan Singh Kang visited Mata Jayanti Devi temple with his family members to pay obeisance at the temple. Hundreds of people from the area and other devotees also accompanied Kang.
Independent, 3 others held for defacing public property
Mohali, February 2
The police arrested an Independent candidate who is contesting Punjab elections from Kharar constituency and three others on a charge of defacing public property. Mr Gurinder Singh Dhillon, SSP, said Bhajan Singh Shergill and three others were arrested and later released as the offence was bailable.
Keen tussle in Samana
Samana, February 1
The Samana Assembly segment can neither be called a predominantly rural constituency because of the fact that 19 out of 50 municipal wards fall in Patiala district nor it can be termed an urban segment as 107 villages fall in Samana tehsil.


Surjit Singh Rakhra


Brahm Mohindra
Sukhbir intimidating SSP, Cong tells EC
Chandigarh, February 1
The Punjab Congress today petitioned the Election Commission of India against Shiromani Akali Dal MP Sukhbir Badal for allegedly threatening the SSP, Majitha, yesterday.
Kang blames it on stress; EC notice to Johar
Chandigarh, February 1
The Animal Husbandry, Fisheries and Sports Minister, Punjab, Mr Jagmohan Singh Kang, has blamed "natural stress on mind" and "hectic election schedule" for the alleged violation of the election code of conduct on January 26.


Kanwaljit fighting on two battlefronts
Chandigarh, February 1
In the run-up to the February 13 battle royal, the former Finance Minister, Mr Kanwaljit Singh, is struggling on two electoral fronts-Banur and Kharar. The battle in the Kharar Assembly segment ,from where his son Jasjit Singh is locked in a tough contest against Mr Balbir Singh Sidhu of the ruling Congress, will be an acid test for the Akali stalwart's popularity in Punjab politics.


Kanwaljit Singh


Vote for change: Nitish
Jalandhar, February 1
Opposing the concept of special economic zones (SEZs), the Bihar Chief Minister, Mr Nitish Kumar, has sought to change the common perception about Bihar by asserting that unlike in the past, Bihar is a "changed, relatively developed and crime-free state".
The Bihar Chief Minister, Mr Nitish Kumar, makes a point in Jalandhar on Thursday as the BJP candidate from Jalandhar Central, Mr Manoranjan Kalia, looks on. — Photo by S.S. Chopra


power game
Sidhu grows bigger within BJP
Chandigarh, February 1
With less than a fortnight to go for the Assembly elections in Punjab, the Bharatiya Janata Party's Punjab unit is seeing a clear power shift- towards Mr Navjot Singh Sidhu. He is having more and more say in managing the affairs of the party in the state.
I'm the right man for Amritsar: Singla
Amritsar, February 1
The Congress candidate for the Amritsar Lok Sabha byelection, Mr Surinder Kumar Singla, hopes that the charisma of the Prime Minister, who belongs to Amritsar, would help him improve his victory chances. Mr Singla said that if voted to power, he would make this holy city an international tourist hub.
Singla, Sidhu just won't stop
Gurdaspur February 1
The Congress and BJP candidates for the Amritsar parliamentary seat, Mr Surinder Singla and Mr Navjot Singh Sidhu, carried their mudslinging match to Gurdaspur. Batala and Quadian Assembly constituencies of Gurdaspur are part of the Amritsar parliamentary seat.
CPI blames it on Amarinder
Chandigarh, February 1
The general secretary of the Communist Party of India (CPI), Mr A.B. Bardhan, today blamed the Punjab Chief Minister, Capt Amarinder Singh, for the break-up of the alliance between the Congress and the CPI in Punjab.


Sohi joins Rakesh Sharma's campaign
Dera Bassi, February 1
A day ahead of the election rally of the Punjab Chief Minister, Capt Amrinder Singh, in support of the Congress candidate from Banur, Mr Rakesh Sharma, here, the Congress campaign got a shot in the arm today with a senior leader, Ms Seelam Sohi, joining the campaign.

Senior Congress leader Seelam Sohi campaigns for the Congress candidate in Banur on Thursday. — A Tribune photograph

Lawyers put weight behind Sidhu
Mohali, February 1
A large number of lawyers have extended support to the Congress candidate from Kharar constituency, Mr Balbir Singh Sidhu. Attending a meeting organised by Chairman of the Punjab Pradesh Congress Committee (Legal Cell) S.K. Pipat, lawyers decided to go all-out to ensure the victory of the Congress nominee.


Mr Balbir Singh Sidhu addresses a press conference in Mohali on Thursday. — Tribune photo by Vicky Gharu
Ghanaur: Rebels may rock Cong, SAD-BJP boats
Ghanaur, February 1
The rebel candidates may rock the boat of the candidates of the two mainline political parties in the predominantly-rural Ghanaur segment in Chief Minister Capt Amrinder Singh's home district in the coming Punjab Assembly elections.
SAD extends support to Congress rebel in Ropar
Ropar, February 1
While extending his party support to Congress rebel Independent candidate Amarjeet Singh Saini from Anandpur Sahib, the president of SAD (1920), Ravi inder Singh today said that the next government in the state would only be formed with the help of a third front.


Adding colour to campaign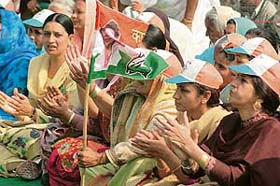 Women activists of the Congress attend an election meeting of party candidate Amrik Singh Dhillon in Samrala on Thursday. — Tribune photo by Vinay Malik
Chautala embarrasses SAD
Amritsar, February 1
In a major embarrassment to the Shiromani Akali Dal (SAD), Mr Om Parkash Chautala, former Chief Minister of Haryana who has come here as a star campaigner for the SAD-BJP combine, has said Chandigarh belongs to Haryana.
Study: Freebies don't sway voters
Chandigarh, February 1
Do women go by the diktats of their husbands who accept intoxicants from political parties to vote in favour of their candidates?
Dialling up support
Chandigarh, February 1
All lines on the election route are busy. Over 500 non-resident Punjabis are busy in long distance canvassing. Back "home" from Canada in a run-up to the poll, they are dialing up support, asking friends across the seas to call up their native villages and seek votes in the name of development.
DIST REPORT
It's neck & neck in Moga
Moga, February 1
With the Congress and the Akalis going all out to woo the voters, and the Left parties gearing up for a spirited fight, the district is all set to witness a neck and neck contest for the electoral mandate.
EC told to rein in Akali leaders: YC
Patiala, February 1
The president of the Punjab Youth Congress, Mr Vijay Inder Singla, urged the Election Commission to intervene and stop the intimidation of bureaucrats by Akali leaders responsible for conducting elections in the state.
Drug trade picks up
Langroya, February 1
The district administration and the police have failed to keep tabs on drug sale, which has shot up here ever since campaigning. Despite the fact that the hub of the drug trade-Langroya village on the Bagroan village road- is barely 4 km from the District Administrative Complex, members of the 500-plus Sansi community continue to operate the business from their homes openly.


Never-say-die Khaira
Bholath, February 1
Despite two defeats in a row, Kapurthala district Congress president Sukhpal Singh Khaira is giving a tough sight to SAD candidate Bibi Jagir Kaur the Bholath Assembly constituency of Kapurthala district. Mr Khaira is trying to make his debut in the Assembly on different development works done in the constituency with his efforts, despite his defeat in the two previous elections.


Sukhpal Singh Khaira

Verma foresees victory
Sangrur, February 1
With a view to giving a boost to the election campaign of the candidates of the Shiromani Akali Dal (SAD) , Mr Sahib Singh Verma, senior BJP leader and former Delhi Chief Minister, along with Mr Parkash Singh Badal and Mr Sukhdev Singh Dhindsa, president and secretary general, respectively, of the SAD, today campaigned in the Sangrur and Dhuri segments.
Vote for the honest, say employees
Chandigarh, February 1
After farmers, it is now the turn of employees to resume their agitation against the Punjab Government. Employees will hold a rally at Dhuri on February 3 and will stage a march in Jagraon the next day after holding a convention there.
SIT to probe Beas violence : CM
Jalandhar, January 31
Rebutting the accusations of Mr Anil Dutta, member of the Punjab Pradesh Congress Committee, the Punjab Chief Minister, Capt Amarinder Singh, at a press conference here today, vehemently denied that money had changed hands for the allocation of the ticket for the Jalandhar( Central) seat.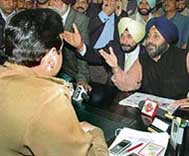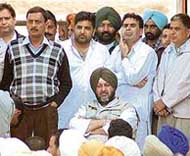 UNDER SIEGE: SAD general secretary Sukhbir Singh Badal and BJP leader Navjot Singh Sidhu gherao Majitha SSP Lok Nath Angra in Amritsar; and (right) Congress MLA Jasbir Singh Dimpa, booked under the IPC and the Arms Act, along with other leaders at a rally in front of his election office at Beas on Wednesday. — Tribune photos by Rajiv Sharma

Beas case: SP told not to leave UT


Deputy EC to visit Beas today
Sukhbir charm fails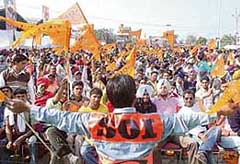 Disabled at rally thrashed by policemen
Patiala, January 31
The charm of SAD's main campaigner Sukhbir Singh Badal failed to work on youths at a Students Organisation of India (SOI) rally at Dana Mandi Ground here this evening, leaving Akalis flummoxed.
Members of the Students Organisation of India at a rally in Patiala on Wednesday. — Tribune photo by Rajesh Sachar
Going tough for Lal Singh


Dakala (Patiala), January 31
Despite the fact that this constituency is represented by minister Lal Singh of the Congress, the Dakala Assembly segment remains one of the most industrially backward constituencies in the state. It is on this issue that the might of Mr Lal Singh-a four-time MLA from Dakala-is being challenged by the SAD nominee, Mr Harmail Singh Tohra.
Poll duty: EC banks on banks
Chandigarh, January 31
Several extension counters and small branches of nationalised banks in Punjab face temporary closure as their employees have been asked to report for election duty.
This young bard sings paeans for Cong
Chandigarh, January 31


Polio is no handicap for this village boy from Faridkot, who has grown into the most sought after traditional campaigner in Punjab.
Roshan Hardialeana at a campaign programme in Faridkot.

BJP Pvt Ltd Co, says Khurana
Gurdaspur, January 31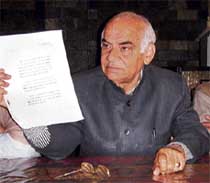 A former BJP stalwart, Mr Madan Lal Khurana, today vented his ire against the party at a press conference held in favour of the Bharatiya Jan Shakti Party in Pathankot. He alleged that the BJP had been converted into a private limited company. BJP leaders, who till about a decade ago, were living in low-income-group flats, had now become billionaires.
Bharatiya Jan Shakti Party leader Madan Lal Khurana addresses a press conference in Pathankot on Wednesday. A Tribune photograph

District Report
Exciting battle in Muktsar
Muktsar, January 31
Considered as a SAD stronghold and Badals' home turf, the district is all set to witness exciting electoral battles with Congress candidates and rebel-turned-Independents giving SAD candidates a run for their money.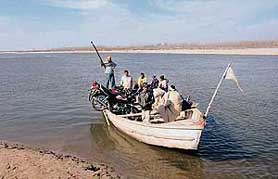 1 boat, 50 villages
Chamkaur Sahib, January 31
The life could not have been worse for the villagers of this Assembly constituency. It is in contrast to claims on development in the state by successive governments. Residents of over 50 villages, situated on the banks of the Sutlej, have only one boat to ferry them across the river.
Residents of 50 villages of the Chamkaur Sahib segment have only one boat to ferry them across the Sutlej. — Tribune photo by Pradeep Tewari

CISF deployed in Chamkaur Sahib
Ropar, January 31
Apprehending a clash between supporters of the different political parties following the death of Ajeb Singh (55) of Hafhizabad reportedly due to excess liquor consumption, the two companies of the Central Industrial Security Force were deployed in Chamkaur Sahib assembly segment of district here this evening.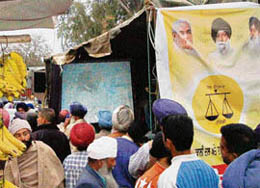 Gen-set go: He is hi-tech
Mohali, January 31
Technology helps the tech savvy, and it holds true for candidates in the electoral fray. And if the candidate is an advertising guru, technology is not limited to the use of mobile phone for campaigning.



Tech Savvy: The SAD candidate from Kharar, Mr Jasjit Singh, has engaged a video-enabled truck for campaign. — Tribune photo by Vicky Gharu
SAD to make Amritsar Vatican
Amritsar, January 31
The Shiromani Akali Dal general secretary, Mr Sukhbir Singh Badal, has said that if voted to power, the SAD-BJP government would develop the holy city of Amritsar as a 'model city' on the pattern of the Vatican.
Candidates hire rickshaws for electioneering in Ropar
Ropar, January 31
Instead of campaigning with a cavalcade of vehicles and in a high tech way, candidates have hired rickshawpullers who play cassettes and announcers boast about candidates to woo the electorate in Ropar and Anandpur Sahib Assembly segments.
SAD promises farmers higher returns on crops
Dera Bassi, January 31
The farmers would be given price of their produce (Atta and Dal) at par with the farmers of Australia from where the country has been importing wheat since long. The country is importing wheat at Rs 1250 per quintal while Punjab farmers are being given a rate of Rs 750 per quintal for their produce.
Sidhu challenges Kanwaljit to open debate on development issues
Mohali, January 31
Mr Balbir Singh Sidhu, Congress candidate from the Kharar constituency, today challenged Capt Kanwaljit Singh, SAD general secretary, for debate on issues related to development in the state during the past five years.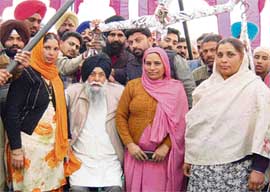 Members of Ravidas Sabha, Mahila Mandal, and panchayat of Devi Nagar village weigh Capt Kanwaljit Singh, the SAD general secretary, against coins during his election campaign on Wednesday. — A Tribune photograph
Jasjit claims industry, doctors' support
Mohali, January 31
The SAD-BJP candidate, Mr Jasjit Singh, who is contesting the Punjab elections from the Kharar constituency, claimed here today that he was being given support by industrial unit owners and doctors.
Mohali industry won't support any party
Mohali, January 31
The President of the Mohali Industries Association (MIA), Mr Balbir Singh, said here today that the MIA would not be supporting any political party in the Punjab elections.
Jagmohan Kang tours villages
Mohali, January 31
As part of his election campaign, Mr Jagmohan Singh Kang, sitting MLA and Congress candidate from the Morinda Assembly constituency, today undertook a tour of Hoshiarpur, Takipur, Kansala, Kartarpur, Dhakoran Kalan, Dhakoran Khurd, Phatwan, Naglian, Kadimajra, Khairpur, Shekhpura, Andheri and Manakpur Sharif villages. He addressed public meetings there.
Ailing Brar campaigns for son
Muktsar, January 31
An ailing Mr Harcharan Singh Brar, former Punjab Chief Minister, today sought votes for his son and Congress candidate from Muktsar, Mr Kanwarjeet Singh Brar, here.
For thrifty voters, it's laddoonomics
Mansa, January 31
While the Election Commission is asking candidates to be economical, clever voters in this district have turned thrifty on their own while showing solidarity with politicians.
Cong expels 16 more
Chandigarh, January 31
The Congress today expelled 16 more rebels for contesting elections against the party's official nominees. With this the total number of those who have been expelled from the party stands at 24.
Notices issued
Mohali, January 31
Notices have been issued to three Chandigarh based printers who have prepared election posters for candidates contesting the Punjab elections from the Kharar constituency without mentioning the name and address of printers.