Give aided college staff salary: EC
Chandigarh, February 8
Teachers of over 100 private and aided colleges in Punjab will get their salary. Taking note of the report published yesterday in The Tribune columns "CEO halts grants; teachers shoot letter to EC", the Election authorities summoned senior officers of the Punjab Education Department and directed them to release their salary.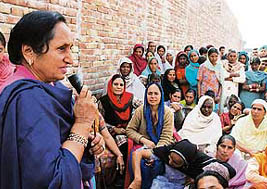 Dutybound, Bibiji goes about her task
Badal (Muktsar), February 8
Mrs Surinder Kaur Badal (Bibiji) has seen it all. Contended, she now wants to spend her time reading about religion and doing path.



Mrs Surinder Kaur, wife of former Chief Minister Parkash Singh Badal, at Chapianwali village on Thursday. — A Tribune photograph

Candidates must pay for VVIP visits: Panel
Jalandhar, February 8
Prime Minister Manmohan Singh and UPA chairperson Sonia Gandhi's visits to Punjab may prove dear for Congress candidates. The Election Commission of India has issued directions to include the money spent on the Congress leaders visit in the expenditure of Congress candidates concerned, Kapurthala DC-cum-DRO Raminder Singh told The Tribune here today.
POLL CHASE
She knows every voter counts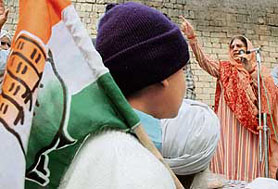 Leharagaga, February 8
A seasoned politician, Deputy Chief Minister Rajinder Kaur Bhattal says the common man is not getting his due. "I am not satisfied as projects are not being implemented at the grassroots level. The delay needs to be checked. Progress has to be made at a faster rate," she says.
Deputy Chief Minister and Congress candidate for the Lehragaga constituency Rajinder Kaur Bhattal addresses a rally at Lehal Kala village. — Tribune photo by Rajesh Sachar

Warrants against Dimpa, brother
Chandigarh, February 8
The decision to defer polling in the Beas Assembly segment has come as a rude shock to the top administrative brass of the Punjab Government as it claims that "law and order situation in the state in general and Beas in particular has been under complete control".

Dhillon, Keetu slug it out in Barnala
Barnala, February 8
For two candidates vying for a predominantly rural constituency, the campaign styles couldn't have been more different.
Cong tottering in Mahilpur
Mahilpur, February 8
The BSP cannot be underestimated in the Mahilpur (Reserved) Assembly segment where its state supremo Avtar Singh Karimpuri can boast of an established mass base.
Games pull in more
Chandigarh, February 8
Elections to the Punjab Vidhan Sabha may be just four days away, but the games people play continues to pull more crowds than the games politicians are playing to wrest power in the state.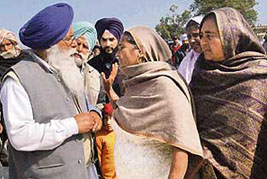 Badali on sympathy wave
Morinda, February 8
Strange, but true. The biggest factor working in favour of the Shiromani Akali Dal (SAD) candidate from Morinda, Mr Ujagar Singh Badali, is that he has lost three elections in a row.



Mr Ujagar Singh Badali, SAD candidate from Morinda, campaigns in his constituency. — A Tribune photograph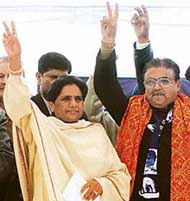 BSP can ensure equality: Maya
Amritsar, February 8
Bahujan Samaj Party supremo Mayawati has said people have a misconception that the BSP only supports the people from lower castes, adding that her party can bring equality in the country.




Bahujan Samaj Party supremo Mayawati at a rally in Amritsar on Thursday. — A Tribune photograph

Badal vows to abolish octroi
Ferozepore, February 8
With less than a week to go for the Punjab polls, SAD president Parkash Singh Badal today promised to abolish octroi in Ferozepore and Jalandhar cantonments if voted back to power.
All in name of the Ghaggar
Sangrur, February 8
For years, politicians have been winning elections by promising to tame the Ghaggar, a river that has been bringing misfortune to vast areas in Patiala, Sangrur, Mansa districts. However, the Ghaggar has remained untamed so far. Again, its streamlining has become an issue in the Assembly elections.
Claims, counter-claims by SAD, Cong
Dera Bassi, February 8
With just three days remaining for the election campaign to end for the Punjab elections on February 13, both the Congress and the SAD-BJP alliance have intensified their campaigns.
He is the face of CPI-ML in Mansa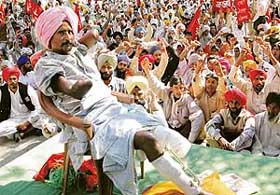 Joga (Mansa), February 8
Remember Bant Singh of Burj Jhabhar village in the Joga Assembly constituency of Mansa district? A Dalit singer, his pictures of amputated arms and a leg, had shaken the sensibilities of the nation. The limbs were cut off by doctors to save his life from injuries sustained after he was beaten up by an alleged group of landlords, against whom he was fighting for the rape of his minor daughter.
Bant Singh who is a star attraction at rallies of the CPI-ML. — A Tribune photograph

Sector 68 residents await voter I-cards
Mohali, February 8
Residents of Sector 68 here are up in arms against the administration for failing to deliver voter identity cards even as the election to the Punjab Assembly is only five days away.
2,000 cops to be deployed on poll duty in Mohali
Mohali, February 8
More than 2,000 police personnel will be deployed on election duty in SAS Nagar district during the Punjab elections being held on February 13.
Ban on sale of liquor
Mohali, February 8
The District Magistrate of SAS Nagar, Mr Tejveer Singh, has imposed a ban on the sale of liquor for three days in connection with the Punjab Assembly elections.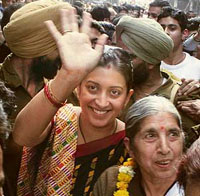 Tulsi gets crowds, loses mobile
Amritsar, February 8
Dislodge the 'arrogant' government of Capt Amarinder Singh by voting in favour the SAD-BJP combine, which can only bring peace and development in the state, said Smriti Irani, famous TV star, during a road show here today. She lost her mobile during the show.
TV actor Smriti Irani with Ms Laxmi Kanta Chawla, BJP candidate for the Amritsar Central constituency, during a road show in Amritsar on Thursday. — A Tribune photograph

Ambala politicians campaign in Punjab
Ambala, February 8
Politicians of Ambala are busy these days campaigning in Punjab.
Surjewala campaigns for Randhawa
Ghanaur, February 8
Alarmed at the presence of the rebel candidates, the Congress and the SAD-BJP alliance candidates are relying on the Haryana bigwigs in the battle of votes, scheduled for February 13, in Chief Minister Capt Amarinder Singh's home district.
Rebel trouble for Cong's Jain
Moga, February 8
The Congress campaign to woo the electorate here has been marred by disgruntled party leaders, who are now either secretly supporting rival candidates or have openly boycotted the campaign and instead levelled serious charges against the official candidate.
Jaitley, Sidhu visit dera
Chandigarh, February 8
The BJP leader, Mr Arun Jaitley, accompanied by Mr Navjot Singh Sidhu, today visited Dera Sacha Sauda at Sirsa in Haryana. Both leaders met the dera chief, Sant Gurmeet Ram Raheem Singh.
Cong expels Behl, son for six years
Gurdaspur, February 8
Chief Minister Amarinder Singh today expelled Gurdaspur MLA Khushal Behl and his son Raman Behl, president of the Gurdaspur Municipal Council, from the primary membership of the party for a period of six years.
Mann: Police terrorising farmers
Sangrur, February 8
Mr Simranjit Singh Mann, president of the Shiromani Akali Dal (A), alleged today that the police had been terrorising the residents of Fatehgarh Chhanna village (Barnala) against holding a protest tomorrow in connection with the "forcible" acquisition of their land. Under such a police terror free and fair elections in the segment were not possible, he alleged.
EC shifts SSP of Faridkot
Chandigarh, February 8
The Election Commission tonight transferred the SSP of Moga, Mr Gautam Cheema, with immediate effect. The SSP, Faridkot, Mr Arun Pal Singh, will hold the additional charge till a fresh appointment is made.
Police station gheraoed
Amritsar, February 8
Communist activists and the Nasha Virodhi Front seized two trucks and a car, carrying liquor allegedly meant for voters, at Karampura here today.
MANIFESTO
Wheat MSP should be Rs 900: CPI
Chandigarh, February 7
The Communist Party of India (CPI) today slammed the Congress government in Punjab for "agrarian distress, failure of industry and burgeoning unemployment". It criticised Prime Minister Manmohan Singh saying "he was spreading the bogey of revival of terrorism in Punjab to create fear in the minds of Hindus".
PM remarks on terror uncalled for: Advani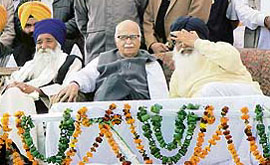 Ropar, February 7
Claiming that there was a strong anti-incumbency factor in the state, a senior BJP leader and former Deputy Prime Minister, Mr L.K. Advani, remained mostly confined to national issues while addressing rallies at Ropar and Nangal here today.


The BJP leader and former Deputy Prime Minister, Mr L.K. Advani, at a rally in Ropar on Wednesday. — A Tribune photograph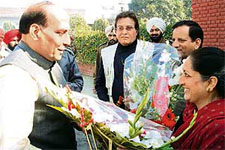 Congress playing caste politics: Rajnath
Sujanpur (Gurdaspur), February 7
The BJP president, Mr Rajnath Singh, today accused the Congress of trying to play caste and religion politics, stating that it was trying to divide the country once again by proposing reservation in jobs for Muslims despite the fact that reservation on the basis of religion was against the spirit of the Constitution.

President of the BJP Rajnath Singh is welcomed at Pathankot. — A Tribune photograph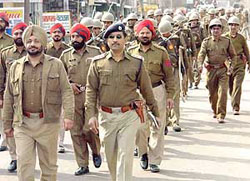 Securitymen hold a flag march in Ferozepore on Wednesday. — A Tribune photograph
BJP a poor photocopy of Congress: Uma
Jalandhar, February 7
Dubbing the BJP as a "poor photocopy of the Congress", Bharatiya Janashakti Party chief Uma Bharti has asserted that "nobody will be allowed to build a mosque in India in the name of a foreign invader like Babar".
Warrants against Dimpa's brother
Amritsar, February7
The ruling Congress received a major setback today when the Special Investigation team issued warrants of arrest against Mr Harpinder Singh, alias Rajan ,younger brother of Mr Jasbir Singh Dimpa, Congress nominee for the Beas Assembly constituency.

Didn't campaign, says Bhajji
Jalandhar, February 7
"Neither did I ever campaign for Congress candidate from Jalandhar (Central) Tejinder Bittu, nor I went door to door seeking votes for him". This is the reply of cricketer Harbhajan Singh to the Election Commission. Meanwhile, the commission has deputed Mr Sukhwinder Pal Singh Marar, Additional Deputy Commissioner, to inquire into the controversy.
Jaitley targets Manmohan, Amarinder
Abohar, February 7
The BJP secretary and in charge of party campaign in Punjab, Mr Arun Jaitley, has said that empty chairs and non-responsive audience at the election rally of Prime Minister Manmohan Singh at Patiala yesterday were indicative of the election trends in Punjab.
SAD-BJP upbeat in Garhdiwala
Garhdiwala, February 7
The Garhdiwala (SC) Assembly segment that was keeping candidates guessing about their prospects has begun to throw up clearer indicators.
Arhtiyas back Kanwaljit
Dera Bassi, February 7
The anti-industry and anti-trader policies of the Congress have forced the industry to migrate from Punjab. This was stated by Capt Kanwaljit Singh, SAD candidate from Banur, at a public rally at Lalru Mandi today.
Support for SAD-BJP combine
Patiala, February 7
An emergency meeting of the All-India Bahawalpur Ekta Samaj was held here today under the chairmanship of Mr Prem Mehta, which was attended by Mr Madan Lal, Mr Mahesh Nagpal and other representatives from Rajpura, Samana and Dakala.
Mill misery for SAD-BJP
Mansa/Budhlada, February 7
Two closed mills in Mansa district may spin out misery for the SAD-BJP candidates in the four Assembly constituencies.
Cong violating law on poll expenses: BJP
New Delhi, February 7
The Bharatiya Janata Party today drew the Election Commission's attention to violation of Section 77 of the People's Representation Act by the Congress and asked the commission to initiate action against the party.
It's between Congress and BJP in Nangal
Nangal, February 7
It's a direct contest between Chief Minister's confidant and sitting Congress MLA K.P.S Rana and BJP stalwart Maddan Mohan Mittal in this Assembly segment of Ropar district. Flags of both parties fluttering on rooftops of houses and shops suggest a keen contest between the two parties.
Virbhadra campaigns in border seats
Gurdaspur, February 7
The Chief Minister of Himachal Pradesh, Mr Virbhadra Singh, today rallied in favour of Congress candidates in border constituencies of the district.
Preneet Kaur warns Congress rebel
Rajpura, February 7
Ms Preneet Kaur, wife of Punjab Chief Minister Amarinder Singh has warned Mr Madan Lal, a Congress worker who is contending election from Ghanaur Assembly constituency as a rebel, that necessary action would be taken against him at the party level.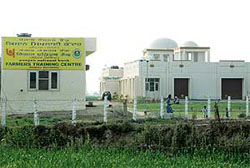 Mehraj can't forget Raja's meharbani
Mehraj (Bathinda), February 7
Delighted over the performance of the son of their soil on the development front, residents of Chief Minister Amarinder Singh's ancestral village of Mehraj are praying for his return to power.
Mehraj, ancestral village of Chief Minister Amarinder Singh, has seen unprecedented development in the last five years. — Tribune photo by Kulbir Beera

Congress candidate's son booked
Mansa, February 7
The Mansa police today booked Mr Vikram Singh Mofar, son of Congress candidate Ajit Singh Mofar, from the Sardulgarh Assembly constituency, his gunman Balbir Singh and Mr Rajesh Garg, vice-chairman, Market Committee, here, for their involvement in a firing incident at Jhuneer village late last night.
Vote against capitalist parties: Pandhi
Amritsar, February 7
The Politburo member of the CPI (M), Mr M.K. Pandhi, today said the ruling Congress and the SAD both are trying to woo votes on false promises. He said if the Congress government wanted to provide subsidised foodgrain why did it not do so in the last five years.
Cong, SAD have failed to check corruption: MP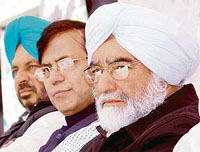 Rajpura, February 7
Mr Mohammad Salim, MP and member of the Central committee of the CPM, said the SAD-BJP alliance and the Congress had failed to control unemployment and corruption in the state.



The CPM candidate, Mr Inderjit Singh Bhagrana, and Mr Mohammed Salim, MP and member, central committee, and Mr Balwant Singh, state president, CPM, at an election rally in Rajpura on Wednesday. Photo: J.S. Virdi


BSP could be decisive factor
Guru Har Sahai (Ferozepore), February 7
Mr Mohan Singh Phallianwallan goes about his campaign with a smile on his face. There is no cavalcade of vehicles accompanying him. On reaching a village or a hamlet, he alights from his vehicle and walks through dusty bylanes meeting people and patting cattle on his way. Men folk of all ages hug him while women fold their hands in respect.

Mohan Singh Phallianwallan
Wide open in Dhuri
Dhuri (Sangrur), February 7
The contest here is wide open. Anybody could be the winner. The SAD and Congress are both talking of development, which seems to be the key issue here.
Respite to voters sans photo cards
Chandigarh, February 7
The Election Commission today clarified that all voters who had been issued electoral pictoral identity cards (EPICs) would have to produce these to exercise franchise in the Assembly elections as well as the bye-election for the Amritsar parliamentary constituency.
Purvanchalis count in 4 dists
Jalandhar, February 7
Come elections, parties start wooing over 15 lakh migrant labourers from Uttar Pradesh. A majority of them live in the districts of Ludhiana, Jalandhar, Amritsar and Patiala.
Ex-Sarpanch's death due to liquor at poll rally?
Mohali, February 7
A former Sarpanch of Bhagomajra village, near Kharar, died last night allegedly after consuming liquor at an election rally even though the police and the hospital authorities have denied allegations attributing his death to the consumption of liquor.
Authorities tighten noose
Put up nakas to curb liquor smuggling
Mohali, February 7
Reacting to the allegations by candidates contesting the Punjab Assembly elections that liquor was being served at poll rallies, the district administration has taken stringent measures.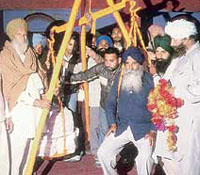 Coins make way for ladoos
Chandigarh, February 7
Coins are passe. Voters and supporters of candidates are now latching on to newer options while showcasing their support to their leaders. So out go good-old coins and in come "ladoos", other sweets and, strange but true, blood.



A candidate of the SAD (1920) is weighed against ladoos at Daomajra village near Kharar on Wednesday. — A Tribune photograph
Bigwigs in big battles



Bathinda, February 6
Big shots like Chief Minister Amarinder Singh, Deputy Chief Minister Rajinder Kaur Bhattal, former Chief Minister Parkash Singh Badal and son of former Chief Minister Harcharan Singh Brar Harkanwarjit Singh Brar (Sunny Brar) are facing the toughest challenge in their respective segments.
Masol makes light of poll
Masol, February 6
A mere 10 km from Chandigarh on the Punjab and Haryana border exists a village where there is no water, no electricity. "We don't want a change in government. We want to change our state," is the refrain of every single household in Masol village, where time seems to have come to a standstill. No politician till date has bothered to get a road constructed to link this village to the outside world.
Tota Singh finds opponent tough


Moga, February 6
Both the Shiromani Akali Dal (SAD) and the Congress have intensified campaigning in this Assembly constituency. Akali stalwart and sitting MLA Tota Singh is finding himself battling against a tough contender, Mr Joginder Pal Jain, Congress candidate who has the backing of Radhaswamis. Though there is no anti-incumbency factor against Mr Tota Singh, a strong faction of the Congress is making the going tough for him.
Chautala's call to oust Cong
Mohali, February 6
Mr Om Prakash Chautala, former Chief Minister of Haryana, today called upon the people to give a crushing defeat to the Congress and vote for SAD-BJP combine which he said, would usher in a new era of peace, prosperity and happiness in the state.
Jakhar wants train to Pak


Abohar (Ferozepore), February 6
Being the son of a famous father is not enough to survive in politics. It is sheer hard work, says Sunil Jakhar as he sips tea and puts forth his idea that can change the economic scenario of the area. "The rail link between Abohar-Hindumalkot in India and Samasatta-Fort Abbas in Pakistan should be reopened as this will be the shortest possible route to the port city of Karachi."
Be wary of SAD-BJP opportunism: Uma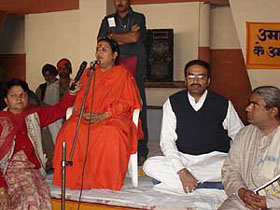 Gurdaspur, February 6
The president of the Bharatiya Janshakti Party, Ms Uma Bharti, today termed the SAD-BJP combine an alliance of opportunism. Addressing a press conference at Pathankot, Ms Bharti said the Ram Temple was the main agenda of the BJP, but questioned whether the SAD would ever support the BJP on this issue.



Bharatiya Janshakti Party chief Uma Bharti addresses a rally in Pathankot on Tuesday. — A Tribune photograph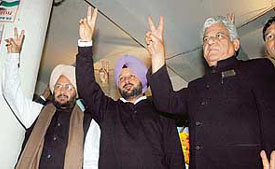 Bollywood star Om Puri and Congress candidate for the Dakala constituency Lal Singh (extreme left) at a rally at Sanour, 6km from Patiala, on Tuesday. — Tribune photo by Rajesh Sachar
BSP extends support to Cong: Sidhu
Mohali, February 6
Mr Balbir Singh Sidhu, Congress candidate contesting the Punjab elections from the Kharar constituency, today claimed that the senior leaders from the Mohali district unit of the BSP had extended their full support to him.
Code uncode
CEO halts grants; teachers shoot letter to EC
Chandigarh, February 6
Members of the Punjab and Chandigarh College Teachers Union (PCCTU) have alleged that the Chief Electoral Officer of Punjab has violated the code of conduct in "stopping" the release of salary grant to over a 100 private aided colleges in the state.
EC team arrives today
Chandigarh, February 6
Close on the heels of the Election Commission (EC) summoning the Punjab Chief Secretary, Mr K.R. Lakhanpal, and the Director-General of Police, Mr R.S. Gill, to New Delhi for a review of the overall situation in Punjab, it is now the turn of Deputy Election Commissioner R. Bhattacharya to arrive on a two-day visit to Chandigarh tomorrow.
DFOs: Govt 'misleading' EC
Chandigarh, February 6
Violating the Election Commission guidelines with impunity, the Punjab government continues to post a large number of forest officials in their home districts or at stations where they have already served for over three years.
Transfers: Govt misleading poll panel
Chandigarh, February 6
Violating the Election Commission guidelines with impunity, the Punjab government continues to post a large number of forest officials in their home districts or at stations where they have already served for over three years.
Give us a chance, Mayawati asks electorate
Dera Bassi, February 6
BSP's fight is against the oppressive "Manuvadi" system and not against any particular section of society, BSP supremo Mayawati said here today.
YOUTH SPEAK
Height of ignorance: Survey bares Generation X
For them, Bir Devinder in fray, Sidhu to be MLA!
Chandigarh, February 6
They know the names of all 12 stars in "Salaam-e-Ishq". They know the names of players in the Indian cricket team. However, the Generation X of Punjab is certainly not interested in politics. For some Capt Kanwaljit Singh is standing for election from Kharar and for some Navjot Singh Sidhu is going to be the next MLA from Amritsar!
Ex-servicemen to support SAD-BJP
Chandigarh, February 6
Retired senior defence officers today pledged their support to the SAD-BJP alliance candidates from Banur, Kharar and Morinda constituencies.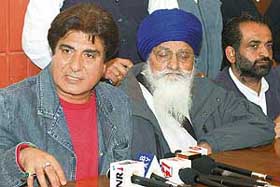 Raj Babbar talks UP in Punjab
Jalandhar, February 6
Actor-turned-politician Raj Babbar's Jan Morcha is not averse to joining hands with the Congress for ousting Mr Mulayam Singh Yadav's government in the forthcoming UP Assembly elections.



Actor-turned-politician Raj Babbar at a press conference in Jalandhar on Tuesday. — Tribune photo by Pawan Sharma

Dayal: Vote for candidates, not parties
Amritsar, February 6
National executive member of the CPI Joginder Dayal has urged the voters to defeat the candidates of the Congress and the SAD-BJP combine and elect true representatives close to people.
I don't lie for votes: Kang
Morinda, February 6
Congress candidate from Morinda Assembly constituency Jagmohan Singh Kang stated today that unlike other politicians he didn't believe in lies to seek votes. Mr Kang today undertook a tour of Salamatpur, Dhodamajra, Bharojian, Rasulpur, Sainimajra, Jhampur, Manana, Thaska, Bhelolpur, Raipur and Daun villages, where he addressed meetings.
Karat: SAD, BJP promoting privatisation
Hoshiarpur, February 6
The big houses and anti-people policies of the UPA government are responsible for the skyrocketing prices of the essential commodities. This was stated by Mr Parkash Karat, secretary of the CPM, while talking to mediapersons at Garhshankar, about 40 km from here, today.
Notice to Harbhajan Singh
Jalandhar, February 6
The Election Commission is still waiting for cricket star Harbhajan Singh's response to a notice served on him last night for "canvassing" in favour of a Congress candidate. He had allegedly canvassed for the Congress candidate from Jalandhar (Central), Mr Tejinder Bittu, despite the fact he being an employee of Indian Airlines, a public sector undertaking.
Poll bytes
Support for Cong rebel
GIDDERBAHA: Rebel Congress candidate Sant Singh Brar on Tuesday got a shot in the arm with party leader Shivkanwar Singh Sandhu declaring to support him.