M A I N N E W S
Don't overstep limit, PM to judiciary
Tribune News Service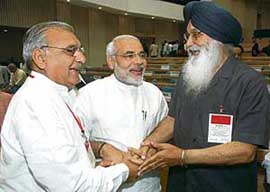 Chief Minister of Gujarat Narendra Modi and Haryana Chief Minister Bhupinder Singh Hooda greet Punjab Chief Minister Parkash Singh Badal at the inauguration of the conference of Chief Ministers and Chief Justices of High Courts at Vigyan Bhavan in New Delhi on Sunday. — Tribune photo by Mukesh Aggarwal

New Delhi, April 8
Pointing out that the dividing line between judicial activism and judicial overreach is thin, Prime Minister Manmohan Singh said today that all organs of the state must respect the roles and functions of others and cautiously exercise powers accorded to them.

Inaugurating a conference of Chief Ministers and Chief Justices of High Courts on 'Administration of Justice on Fast Track,' the Prime Minister said public interest litigations (PILs) have great utility in initiating corrective action but these cannot become vehicles for settling political scores. "We need standards and benchmarks for screening so that only genuine PILs with a justiciable cause of action based on judicially manageable standards are taken up. This will also ensure consistency in judicial pronouncements". He suggested that the Supreme Court could take a lead in framing rules in this regard.

With instances of tension between legislature and judiciary on the rise, Dr Manmohan Singh and Chief Justice of India Justice K.G. Balakrishnan, who spoke before the Prime Minister, dwelt on the role of judiciary and other organs of the state.

Dr Manmohan Singh said judiciary, executive and legislature had an obligation to the Constitution and to the people to work in harmony. "Each one of the organs have their constitutionally assigned roles and responsibilities, and these must be discharged in all honesty. Each organ must respect the roles and functions of the other. Powers accorded to each organ must be exercised cautiously," he said.

The Prime Minister said the dividing line between judicial activism and judicial overreach is a thin one. "As an example, compelling action by the state authorities through the power of mandamus is an inherent power vested in the judiciary. However, substituting mandamus with a takeover of functions of another organ may, at times, become a case of overreach. These are all delicate issues, which need to be addressed cautiously. All organs, including the judiciary, must ensure that the dividing line between them are not breached," he said.

Dr Manmohan Singh said the government accorded high priority to judicial reforms and placed special emphasis on professionalism in investigation. "There is a Bill now before Parliament that seeks to amend the Criminal Procedure Code to deal with the problem of witnesses turning hostile. It also seeks to provide legal

rights and compensation to victims. It will also facilitate the use of modern techniques in investigation. The Bill will make summary trial mandatory in cases with imprisonment up to 3 years," he said.

Expressing concern over arrears of more than 2.5 crore of cases in courts, he said over two-thirds of these were criminal cases. "While there has been some progress in reducing pendency in superior courts, the position in subordinate courts has hardly shown any improvement. Unless the rate of disposal improves, the backlog would keep mounting." Pointing out that a factor causing pendency is the number of vacancies that presently remain unfilled in the subordinate judiciary, he said states and high courts should implement a time-bound exercise for filling up vacancies. Dr Manmohan Singh suggested that the courts may consider having more than one shift to increase the disposal of cases. Hoping that computerisation would help our courts reduce pendency, he said fast track courts were another answer to dealing with the problem.

Drawing attention to family courts, he said such courts had not yet been set up in several states according to provisions of the Family Courts Act 1984.

Union minister for law and justice H.R. Bhardwaj, minister of state for law and justice Shri Venkatapathy, judges of the Supreme Court, Chief Justices of the High Courts, Chief Ministers of the states were among those who took part in the conference.