Sarah Jane crowned Miss India
Mumbai, April 8
Mumbai girl Sarah Jane Dias was crowned 'Miss India World', Puja Gupta 'Miss India Universe' and Puja Chitgopekar 'Miss India Earth' at a glittering awards function of the coveted beauty pageant here tonight.
Signs of non-Cong, non-BJP front visible at SP rally
Bareilly, April 8
The Samajwadi Party cycle will travel from the heart of Ruhel Khand to Lucknow on its onward journey to New Delhi, declared former Haryana Chief Minister Om Prakash Chautala drawing out the political significance of the SP rally today.
'84 riots relief: Centre tells states to take steps
New Delhi, April 8
Upset over the fact that several states, including Punjab, Haryana and Delhi, had taken no action to implement certain points in the Centre's anti-Sikh riot relief package, the Union Home Ministry has asked them to take immediate steps and send status reports.
A Bihar village sans crime for 40 years
Patna, April 8
Even before Chief Minister Nitish Kumar dreamt of a crime-free Bihar, the people of Kosdihra village have already been living this reality.
Spurned lover sets girl's house afire, 3 dead
Mumbai, April 8
A man today set ablaze the house of the girl he was unable to marry, killing her as well as her father and brother.
Quarter Master General gets additional charge of ASC
Chandigarh, April 8
With the Army Service Corps (ASC) remaining headless for months following the indictment of its senior-most officers in corruption cases, the Quarter Master General at Army Headquarters, Lt Gen Sudhir Sharma, has been given the additional charge as Director General Supplies and Transport (DGST).
e-governance centres bring cheer to Bangaloreans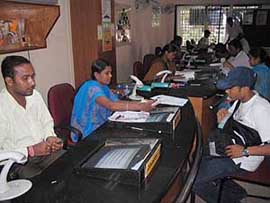 Bangalore, April 8
Santosh Reddy has to fly to London and needs a passport urgently. Application in hand, he feels it will be difficult to submit it in a day at the passport office due to a huge queue until someone tells him of BangaloreOne and advises him to head to the nearest centre to submit his application.


A BangaloreOne Citizen Centre in Bangalore. — Photo by the writer
BJP to protest against second FIR today
New Delhi, April 8
The BJP today said it would hold demonstrations in all state capitals tomorrow against the second FIR filed against party president Rajnath Singh in connection with the controversial CD containing objectionable remarks against Muslims and visuals of Godhra arson and Ayodhya demolition.
EC's diktat: Advantage BSP
Muzaffarnagar, April 8
Colourful posters, banners, large processions and high decibel electoral campaigns are missing this time in the Assembly elections as parties and candidates fear the Election Commission's wrath.


Rs 234-crore electric 'shock'
Chandigarh, April 8
An electricity consumer in Haryana has got a shock heavier than the electric jolt. He has been asked to cough up a bill of Rs 234 crore for the electricity used in his two-bedroom middle-income group (MIG) house.
AMU student shot dead
Aligarh, April 8
An undergraduate student of Aligarh Muslim University (AMU) was killed today in a shootout that erupted between rival groups following a scuffle.
Easter celebrated
New Delhi, April 8
Easter, which commemorates the resurrection of Jesus Christ after his crucifixion, was celebrated with fervour and gaiety across the country today.
Grenade blast in Dehra Dun leaves 1 dead
Dehra Dun, April 8
A boy was killed and three others were injured in a grenade explosion in the Raipur army range of Dehra Dun district, the police said today.
Jaiswal's plane catches fire
Varanasi, April 8
Union minister of state for home Spriprakash Jaiswal had a narrow escape this afternoon when one of the engines of the Jet Airways plane he was boarding started billowing fumes shortly after landing at the Lal Bahadur Shastri airport here.
TN blast: 2 arrested
Villupuram, April 8
The police arrested two persons in connection with yesterday's incident in which a jeep exploded, killing 16 persons at Chendur village.
Girl falls into sewage pit, rescued
Kanpur, April 8
An eight-year-old girl who fell into a 35-foot sewage pit today had a providential escape with the police rescuing her an hour later.

Video
Rahul resumes roadshow.
(56k)