Monday, April 9, 2007, Chandigarh, India
Updated at 3:00 am (IST)

Don't overstep limit, PM to judiciary
New Delhi, April 8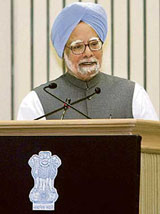 Pointing out that the dividing line between judicial activism and judicial overreach is thin, Prime Minister Manmohan Singh said today that all organs of the state must respect the roles and functions of others and cautiously exercise powers accorded to them.
Prime Minister Manmohan Singh addresses the conference of CMs and Chief Justices of High Courts in New Delhi on Sunday. — AFP photo


All laws open to judicial review: CJI
Plan to improve judicial infrastructure
New Delhi, April 8
The Centre has drawn up a 10-year perspective plan for improving judicial infrastructure under which states will be provided 50 per cent cost of the projects taken up by them.
One killed, 12 hurt in blast as PM arrives in Guwahati
Guwahati, April 8
A blast and boycott by entire Guwahati-based media persons over police highhandedness marred Prime Minister Dr Manmohan Singh's much-hyped two-day visit to the state here this evening.


In video (56k)