Faith echoes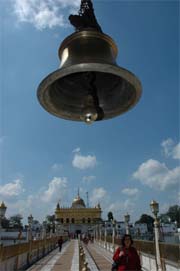 Devotees at Durgiana temple in Amritsar on Tuesday. —Photo by Rajiv Sharma
Weighty Issues
Study: Obesity plagues city women
Amritsar, April 10
More than three per cent of the city's population is suffering from diabetes and the figure is rising at an alarming rate.
Shaurya Divas celebrated
Amritsar, April 10
The Central Reserve Police Force, 134 Battalion, Ajnala Road, observed Shaurya Divas in recognition of the bravery shown by jawans of the battalion during the 1965 Indo-Pakistan war in which its eight soldiers laid down their lives fighting the Pakistani forces.
Rocking Performance
DAV silver jubilee: 'Pardesi' steals show
Amritsar, April 10
Amritsar - Punjabi gazals, bhajans, folk numbers with special flavor of 'Heer' sung by Punjabi singer Didar Singh 'Pardesi' from Kenya called the curtains on the silver jubilee year of DAV public school.
My City
City of historical gardens
Exception is there for Ram Bagh aka Company Gardens, the summer palace of Maharaja Ranjit Singh from where he used to conduct all his administration, its maintenance and development remained under the administrative supervision of the scion.
Hand-painted stuff finds many takers
Amritsar, April 10
A two-day exhibition-cum-sale of exclusive hand-painted fabrics and other materials would be organised at the art gallery on the Madan Mohan Malviya road here from April 11. Kiranreet Singh, popularly known as Bugli, said that her hand-painted creations included unstitched salwar, kameej, shawls, sarees, dupattas, stoles and kurtis.

GETTING ARTY: A woman takes a look at the painted dujpatta at an exhibition in Amritsar on Tuesday.— Tribune photo by Rajiv Sharma
Amritsaris play cool even in hot summers
Amritsar, April 10
Travelling to Amritsar during Baisakhi enables one to mingle with the generous and hospitable residents and relish the local delicacies. A visitor could see Amritsar at its robust best during the warm summer. The smiling residents and sundry vendors exude optimism and the people's never-say-die spirit.



CHILL FACTOR: Schoolchildren enjoying ice-candies in Amritsar on Tuesday. —Photo by Rajiv Sharma
Club felicitates two city doctors
Amritsar, April 10
Rotary Club Amritsar Midtown, honoured two doctors for their invaluable contribution in their respective fields during its 24th charter anniversary.
His holiness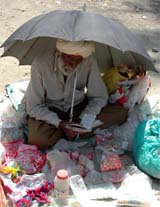 An old man reciting Japuji Sahib under an umbrella near a road outside a private school in Amritsar on Tuesday. —Photo by Rajiv Sharma
Uncertain future worries CWC daily-wagers
Amritsar, April 10
Uncertainty looms large over the future of Central Warehousing Corporation (CWC) employees, who are demanding
Fond farewell to Sobti
Amritsar, April 10
The staff of Government Elementary School, Kotla Doom (Khiala Complex) here gave a warm send-off to physical education teacher Veeran Sobti on her superannuation. She is wife of RP Sobti, director, public relations Guru Nanak Dev University.
Needed: Life skills among students
Amritsar, April 10
Stressing on the development of life skills among students, Vineet Joshi, secretary of Central Board of Secondary Education (CBSE), New Delhi, said the CBSE was now expanding its role from being merely an examining body to developing various life skills among the students.
Good news for heart patients
Amritsar, April 10 The patients undergoing heart angiography with a new technique 'Trans-Radial Coronary Angiography' (TRCA), will be able to play light games just after two hours, said Dr Puneet Verma, senior consultant and chief interventional cardiologist.