Police busts gang of bookies, arrests three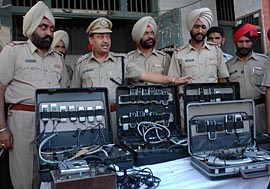 Amritsar, April 27
The police busted a gang of bookies which was involved in betting on the Cricket World Cup semifinal match between Sri Lanka and New Zealand here. Kunwar Vijay Pratap Singh, District Police Chief talking to the media said that on specific information the police raided various areas of the city and was successful in busting the gang which was operating in the posh residential area of the Shastri Nagar.
Police team with the equipment recovered from the accused. — A Tribune photo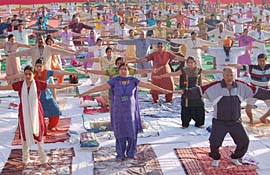 Finding that healing touch
Amritsar, April 27 Yoga is about positive thinking and the entire stressful lifestyle can bring about a makeover with five minute mahayog, chants yog guru Swami Karamvir founder of Peetanjli Foundation Lonawala (Mumbai), as his mantra.
Citizens of Amritsar participate in a yoga camp conducted by Swami Karamvir. — A Tribune photograph


Guard of honour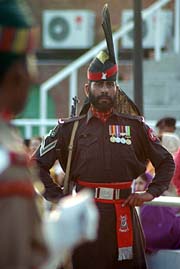 A Pakistan Ranger during the retreat ceremony at Wagah check post in Amritsar on Friday. — Photo by Rajiv Sharma
Cops plan crackdown on 'erring' drugs units
Amritsar, April 27
The Punjab police is planning to launch a crackdown on pharmaceutical manufacturing units suspected to be involved in production of drugs which are eventually pumped into the trade of narcotics and are used by addicts to get a high.
Experts dish out advice to farmers
Amritsar, April 27
In the absence of green fodder, experts from the animal husbandry department are trying out new techniques to ensure quality food for milk animals.
Docs give new lease of life to 62-year-old woman
Amritsar, April 27
A team of top doctors led by Dr Harshbir S Pannu and his colleague Dr Puneet Verma give a new lease of life to Jasmail Kaur, (62), a resident of Moga who was suffering from a 'rare' chronic rheumatic heart condition. She was successfully operated upon at Escorts Heart and Super Specialty hospital here.
Expressing oneself
Amritsar, April 27
Through his compilation of poems, 'Amrit Kinke', Amrit Lal Mannn, has found a medium to share his feelings with the world.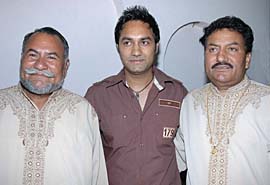 Chip of the old block
Amritsar, April 27
It is indeed a pride moment to sing along side my father and mentor, Padamshri Puran Chand Wadali, says Lakhwinder Wadali who announced the arrival of his second album 'Saanwal Rangiye' which was due to release shortly.
MELODY MEN: (From left) Puran Chand Wadali with his son Lakhwinder Wadali and Pyare Lal Wadali. — Photo by Rajiv Sharma
'Badal govt has unleashed political vendetta'
Amritsar, April 27
The Congress MPs would raise the issue of police excesses and political vendetta by the SAD-BJP government in the state during the next session of Parliament to be held from April 26.
Scholarships for 104 students
Amritsar, April 27
As many as 104 students of class X, who secured above 85 per cent in the CBSE examination, were given scholarships amounting to a total of Rs 84,500, at the prize distribution function (academics) of DAV Public School, today.