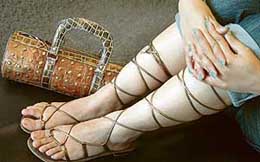 Foot Fetish
Summer is the time to flaunt dainty footwear 'n' fashionable trinkets, writes Purva Grover
It's time to put away high-heel sandals, boots and sports shoes in the closet, and lend a style spirit to sweltering days. This season, walk around in delicate sandals with strings, straps and tie-up threads and add sparkle to your feet. Well, while these are surely the days of dainty footwear, it is also the time when your foot seeks maximum comfort. So, the emphasis is on cushioned soles to let you walk with ease. Also, the popular wedge sole re-appears in a trendy form, in contrasting coloured upper with printed fabric wedge heel.
A tryst with religion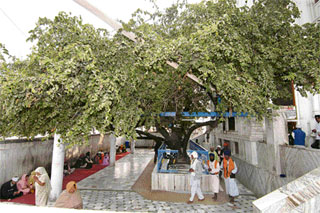 The thought of a photo-exhibition by an IAS snap-shooter doesn't click to begin with. After all, you hardly come across bureaucrats interested in capturing things, other than golf games, in their free time. So the crisp invite in green, asking you to have an enchanting "Tryst with Trees" at the Lake Club, takes you by surprise. But one look at exhibits by Punjab's senior IAS officer D.S. Jaspal is enough to tell you that it's more than just a leisure pursuit. In fact, standing there you realise the hobby of photography has not only grown on him, it has even helped him undertake the mission to preserve holy trees around sacred Sikh shrines across the country, religiously.
A photograph of Gurdwara Ber Sahib by D. S. Jaspal
Mann-made border
Ammotje Mann's latest film Kaafila throws light on cross-border migration and human trafficking
The Katara case, which has brought once the human trafficking issue to fore-front, has generated interest among the film-makers too. "It may be just the tip of the iceberg, and one has to look at the issue from a global perspective," says actor-writer-director-producer Ammotje Mann, whose last film Hawayein critically acclaimed.
Big Picture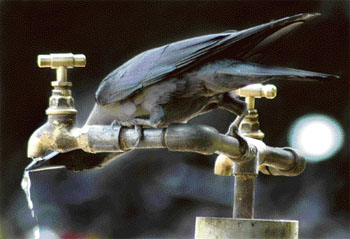 THIRSTY CROW: This determined bird gives the legendary tale a new meaning! — Photo by Vinay Malik
Cool Stuff
Anti-age miracles
Pond's International has kick-started a unique wallet and proof strip promotion activity. The consumer gets a proof strip with every two cream that she buys from the Ponds Age Miracle Range. The strip helps to see visible difference in the skin and within 4 weeks. Any consumer who buys two units from any of the Pond's International Range – Ponds Age Miracle, Ponds Double White and Botanical Hydration, will get a genuine red leather wallet free.
Summer gets cooler now!
The scorching heat definitely calls for a lot to cool stuff. From food to wardrobe, everything needs a complete summer revamp. Celebrating different shades of the season, Priya and Rupa brings to you their exclusive summer collection, 'Megh-Malhar' under their label 'Aastitva' at Hotel Aroma in Sector 22.
Late-night extravaganza
The blazing summers is forcing one and all to stay indoors. No doubt, the days are too hot to move out and shopping sprees take a back seat. And, with trouble comes the way out. Keeping the rising mercury in mind, Reeti Singh and Nikku Sehgal have come up with a unique concept of a 'night bazaar' in the city. Says Reeti Singh, "The days are really hot and hardly anyone is seen outside; the concept of night bazaars is a hit in metros, so we thought of bringing it to Chandigarh."
Chic Shop
Launching in style
Product launches are getting elaborately chic in the city. In fact now you just cannot introduce stuff to the customers without getting twinkling stars from the tinsel world to shine over the city's horizons. If it's not actor-cum-anchor Yana Gupta, it's model Celina to endorse the products!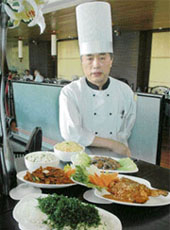 Tea break
The Taj, Chandigarh, has added another jewel to its crown. As the summers are making you sweat, the heat is on at the hotel to make its eating hot spots a chill out zone. To begin with they have come out with a new fangled menu, prepared keeping in mind the summers. The hotel on Friday afternoon launched its new menu in quite a poetic manner. "Just as the flower survives the harsh droughts in the summer and flourishes in the fall, and blooms every year, we at Taj, Chandigarh launch our new menu keeping in mind the guest preferences", was how the hotel introduced the bill of fare. At Black Lotus, Taj's Chinese restaurant, you can savour the magic created by Master Chef Yuan Shee. In fact, he offers you the best of local specialties, along with snacks with their origins steeped in the mists of time. The menu, offering the taste of Beijing presents an elaborate variety in seafood with crabs, lobsters and king-size prawn. You can also ask for trademark Chinese vegetables like snow peas, haricot beans, Dutch asparagus and variety of mushrooms including murals, and shitake.
Book Corner


Born to Cook
For people like me, going through a cookbook means flipping through its pages carelessly and lusting after the displayed dishes without bothering to learn their names. But Bhicoo Manekshaw's Feast of Love came as an eye opener. Not for its romantic title, but for the command the author exerts in her opening line – "If you feel that this section on 'Boring Basics' can be skipped over, shut the book and forget about cooking perfectly. Present it to someone who loves cooking."
Cool dudes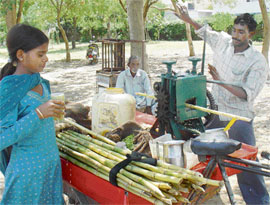 Perfect to combat heat, high on taste, and now on hygiene too; roadside summer treats are not all that bad, finds Purva Grover
The sight of a matka covered with a piece of red cloth, the tinkling sound of the bell of the kulfiwala and the typical call of the gannawala are so characteristic of summers. Healthy or unhealthy, upmarket or low-grade; the debate on these roadside cool delights is not new. While, we rightly keep our children away from them, we have to confess that at sometime or the other we all have secretly indulged in them. And, well if today we have moved from nimbu pani to lemonade; from banta to slush; and from kulfi to gelato; so have the vendors! The roadside summer delights are now prepared only in mineral water and also served in disposable glasses on request. Here is a quick check on what's thanda on the streets.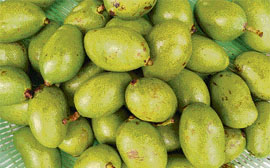 BON APPETIT
Chatpati Chutneys
With the raw, green mangoes making their debut now, this seems a perfect time to talk chutneys. As a genre, chutney is quite similar to the Latino salsa. The Angrezi answer to it would be a relish. The hilarious old Hindi idiom — Kisi ki chatni banana — explains it all. It means to crush beyond recognition. A chutney is exactly that — an amalgam of ingredients, sweet, spicy, hot and tart, crushed together till they lose their identity, resulting in a tangy, tantalising concoction, guaranteed to get us drooling!
Haryanvi bonanza
Riding on the tremendous success of the first weeklong Haryanvi Swang festival held during December last year, the Department of Public Relations and Cultural Affairs, Haryana, is all set to bring alive the richness, vigour and élan of Harynavi folk culture yet again in the musical bonanza.
---