Foot Fetish
Summer is the time to flaunt dainty footwear 'n' fashionable trinkets, writes Purva Grover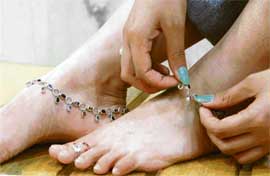 It's time to put away high-heel sandals, boots and sports shoes in the closet, and lend a style spirit to sweltering days. This season, walk around in delicate sandals with strings, straps and tie-up threads and add sparkle to your feet.
Well, while these are surely the days of dainty footwear, it is also the time when your foot seeks maximum comfort. So, the emphasis is on cushioned soles to let you walk with ease. Also, the popular wedge sole re-appears in a trendy form, in contrasting coloured upper with printed fabric wedge heel.
For silky, soft feet

Add honey in your footbath. Apparently, honey forms hydrogen peroxide, which is a great anti-bacterial agent.


Wash your feet in warm soapy water; do not soak them, as the soap will rob your feet off natural oils.


Use moisturiser liberally as severe dry skin may result in deep cracks in the skin's surface, especially in the feet.


Keep hard skin at bay by using a pumice stone.


For clean feet, mix together half water and lemon juice. Dip a paper towel and wipe feet.
The most popular and the one that goes with everything from a straight skirt, cropped jeans, summer dress or an evening dress, is the all-time favourite flat V shaped slippers. Tells Amit Sukheja, manager at Mochi, Sector 17, "We will soon have a fresh range of formal V shaped sandals." Well, the fashion experts too suggest mostly flats or a very small heel for summers.
To give the casual look a fashionable finish, pick on from the wide choice of tie-up sandals available at all the shoe stores in Sector 17. They make the perfect and the most comfortable accompaniment to capris, short pants or even a knee- length skirt. The sandals with delicate strings and braided straps are in vogue. Adorned with appliqu`E9 flowers, bows, butterflies or bold bands of colour, they look fabulous. And, if you are one of those who swear by denim, then pick up a pair of sandals adorned with tattered pieces of cloth from Glich, Sector 8.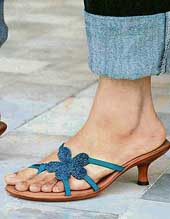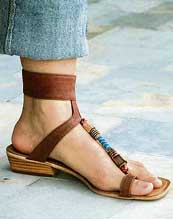 This season, the traditional kohlapuri too gets a contemporary look. At Glich, the usual brown tones getting replaced with bright colours and sequin work. At Mochi, the kohlapuri in metallic sultan colours like pinks, light blues and peach are selling well. Tells Sukheja, "It can be worn with Indian outfits and it takes on a completely new look when worn with jeans."
If kohlapuris are on the racks, then the Punjabi jutti can't be far behind. Glich has in store a dazzling range of juttis in vibrant colours with mirror, sequin and thread work. You can also pick on a jutti with kundan work for Rs 695.
The colour for the season is tones of metallic. Says Ravijit Dhillon, owner, Glich, "This summer metallic colours will be in vogue, right from copper, bronze to gun metal. They can go very well with more than one outfit," chorus the fashionistas. For a formal wear you can slip into ballerina shoes in metallic gunmetal with a frill as adornment. The shoes lend a perfect edge to trousers.
Take your pick
Now, that you have picked up a perfect pair of sandals to go with your outfit, the next step is to adorn them with a piece of jewellery. Head to a jewellery store and you will find a wide range of stylish and elegant foot jewels like anklets and toe rings.
Alluring anklets
The traditional pajeb or payal kick started the trend of wearing an anklet a few years ago; now the trend is to sport a single trinket. The regular anklets with tiny charms, which includes hearts, sun, moon, bells, and leaves rule the roost this season. "The ones with multi-coloured beads in a plain black thread are a fave with young girls," says Raman, owner of Jewels, Sector 10. "The ones woven from fibers or colourful threads look great with casual sandals or flip-flops," he adds. They are priced between Rs75 and 150.
Or still simpler, pick up some interesting stones, beads and sequins and string them in a thread. Strings of gold and silver threads too make a beautiful tandem with fashion shoes and look great for formal events.
You can also pick an oxidised pair for Rs 800 at Silver Haze. Tells Sabby, owner, Silver Haze, "The antique look with coloured stones is most popular." With over 20 varieties to choose from at the store, including plain, carved, charm, floating and stone studded; you will surely end up buying more than just a pair.
Trendy toe rings
To complete the look further, pick up delicate toe rings. For the hip-n-happening party look, you could go in for a crystal heart shaped ring and if it is a salwar kameez you sporting then how about a flower or a tiny cherry toe ring?
You could do away with the metal ring by picking up a toe-ring with an adjustable transparent band. Stone studded toe rings embedded with semi precious stones go well with causal up-turned jeans or knee length skirts.
If you want to keep it simple and stylish then simple silver bands with patterns of waves and strips are a good buy at Silver Haze. And, if it is colour you are in for, then the latest coloured enameled toe-rings at the store is what you'll love. For just Rs 200 a pair, you can pick on from glittery reds, blues and pinks and match it with your outfit.
So, go ahead and pamper your feet!
purva@tribunemail.com