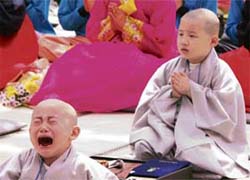 TOUGH TO BE A MONK: A South Korean child "monk" cries during a service to celebrate Buddha's upcoming birthday on May 24 at the Chogye temple in Seoul on Saturday. Nine children entered the temple to experience a monk's life for 22 days.
— AFP
Pay back Rs 300 cr, Nepal court tells group
Kathmandu, May 5
Nepal's Supreme Court has ordered a noted businessman, known for his close links with the royal palace, and his brother to pay back Rs 300 crore to banks and financial institutions as loan and interest.
Kanishka
Ex-official apologises to victims' kin
Toronto, May 5
A former intelligence official, who has stunned the Kanishka bombing inquiry with his statement that he had seen intelligence warning of an attack, has apologised to the families of the victims but ruled out quitting as Ontario's Lieutenant Governor.
Five Iraqi cops found slain
Baghdad, May 5
Five Iraqi police officers were shot dead and dumped in a deserted field in central Iraq, the police said today. The bullet-riddled bodies of the five police officers, who were dressed in civilian clothes, were found last night outside the city of Beiji, the police said.
Maoists vandalise govt offices
Kathmandu, May 5
Maoist activists affiliated with the Tharu National Liberation Front (TNLF) and the Young Communist League (YCL) vandalised and torched two government offices in Bardiya here today.
Paris Hilton to cool off heels in jail
Los Angeles, May 5
Celebrity socialite Paris Hilton was given a 45-day prison sentence by a Los Angeles court here after being found guilty of a parole violation. The 26-year-old heiress to the Hilton hotel empire will begin her sentence on June 5, the court ruled, following a three-hour hearing at the Metropolitan Court House yesterday.
Student shoots roommate, kills self
New Hampshire, May 5
A college student in the USA shot and wounded his roommate in their off-campus apartment, then killed himself as the police tried to enter his bedroom, the authorities said.
Hasina to claim damages from BA
London, May 5
Former Bangladeshi Prime Minister Sheikh Hasina has initiated a lawsuit against British Airways (BA) claiming over a million pounds in damages for denying her a boarding pass on April 23 to return to her country.
Mumbai flight develops another tech problem; returns to Teheran
Teheran, May 5
A Mumbai-bound Turkish Airlines flight with 123 passengers, mostly Indians, made an emergency landing today shortly after take off after an overnight unscheduled landing here following technical problems