Hackers strike Khalsa college
Amritsar, May 15
In a bizarre incident of cyber crime some unscrupulous persons hacked the e-mail of the 115-year-old prestigious Khalsa College by culling out a copy of the email sent by an old student of the college to lodge a false complaint against the Principal and the management with the Guru Nanak Dev University.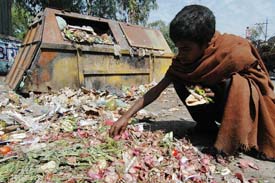 A ragpicker looks for food in a garbage dump in Amritsar. — A Tribune photograph
Recruitment of teachers from July 1
Amritsar, May 15
The recruitment of school teachers for 32,000 vacant posts in the state would start on July 1, and would be carried out in phases, said Dr Upinderjit Kaur, Punjab minister for education.
Faux pas at CBSE PMT entrance test
Amritsar, May 15
Rajat Sethi a local medical entrance student was made to suffer at the hands of the CBSE board for presenting wrong set of identification papers during the PMT test held at Jalandhar recently.
Industry for one-time settlement for sick units
Amritsar, May 15
Until and unless the sick units of Punjab were allowed the opportunity to settle their accounts under the one time settlement scheme the claims of saving he industry of the state would proved to be merely hollow stated Narinder Kumar Jain, president Amritsar Printers and Processors Association.
Information centres pose risk: Goldsmiths
Amritsar, May 15
The goldsmiths have demanded closure of the information collection centres due to fear of life and property. They said disclosing information at these centres has become a security hazard for them.
'Crisis looms over nursing workforce'
Healthcare standards might be severely hit in view of staff shortage, workload and poor knowledge
Amritsar, May 15
International Nursing Council (INC) expressed deep concern over the impending nurses' work force crisis in the existing health care scenario.


Personality development for NCC cadets
Amritsar, May 15
Col L.S. Garewal, group commander, Amritsar Group, inaugurated a personality development programme for 33 NCC cadets.



A free camp for NCC cadets to teach them communication skills in Amritsar. — Photo by Rajiv Sharma
'New knee surgery will lesson recovery time'
Amritsar, May 15
Manuj Wadhwa, senior consultant, orthopedic and adult joint reconstructive surgeon at Escorts Hospital, and who has been trained in UK and USA, said a new knee replacement technique will help patients recover quickly and offer more flexibility.
HP launches new enhanced PC
Amritsar, May 15
Hewlett-Packard India has launched its new Compaq Desktop portfolio with enhanced ergonomic features to make the best out of the PCs. The new Compaq Presario SR5000 breaks away from the traditional 'box' PC, and offers great features such 17" Compaq branded monitors with integrated speakers as at an affordable price.
Lok adalat organised
Amritsar, May 15
The District Legal Services Authority organised a Lok Adalat at district courts under the guidance of Karnail Singh, district and sessions judge.
Dalit front flays Centre's plan on minorities
Amritsar, May 15
Indian Minorities and Dalit Front has condemned the reported move of the Union government to make amendments in the constitution in order to deprive the minorities in the country of their legitimate status.
Upgrade Facilities
Admn to give special attention to addicts
Amritsar, May 15
Due to the tightening of supply line in view of the strict action by district administration against drug peddlers and unscrupulous chemists there was need to upgrade drug de-addiction facilities in the border district for treating the drug addicts.
Tribune scribe bereaved
Amritsar, May 15
Dr. Des Raj, father of Tribune reporter P.K. Jaiswar expired here recently.He was admitted to a local hospital after he fell on the stairs of his house. He was rushed to the hospital in a critical condition where he succumbed to his injuries. He is survived by his wife, two sons and a daughter.