ART & LITERATURE

'ART & SOUL
ENTERTAINMENT

TELEVISION

GARDEN LIFE

NATURE

FOOD TALK

CONSUMER RIGHTS

HOLLYWOOD HUES

BRIDGE

ULTA-PULTA
EARLIER FEATURE

TRAVEL

RELATIONSHIPS

DREAM THEME

TIME OFF
Spiti
Legend & lore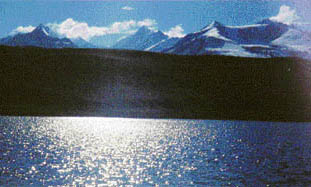 Its starkness leaves you staggering, spellbound and wanting more. The harsh terrain comes as a sharp contrast to its hospitable inhabitants and rich culture and heritage. Kishore Thukral's recently published book captures the spirit, story and form of Spiti, the heavenly valley in the western Himalayas. Exclusive excerpts

Celestial waters: Ripples in Chandrataal mirror the setting sun. — Photo by the writer

A splash in the backwaters
Idyllic setting, tranquil surroundings, therapeutic massages, healing foods and exotic cruises down the Kochi backwaters are the stuff of dreams. Little wonder than it is called a sojourn in paradise, says Anurag Yadav

Hanging marvels
Dhananjaya Bhat
The huge Jai Vilas Palace at Gwalior—with an area of 3,000 square metres ( nearly 75 acres of floor space)—was built within a period of three years in the 1870s and is a grand edifice. Today, 60 years after Indian Independence and 36 years after the maharajahs vanished from the Indian scene, this huge palace stays as a remembrance of the bygone era.
Touching account of love
Aparna Sen's new film in English, The Japanese Wife, marks several firsts for the director. Sen will shoot the film in virgin areas of the Sundarbans and it will have an international canvas, writes Shoma A. Chatterji
'I'm contented and secure'
Lara Dutta awaits her first Yash Raj film Jhoom Barabar Jhoom, which releases shortly. She chats with Vickey Lalwani about the film and her career.
Awards mean little to me: Paresh
Shweta Thakur
Paresh Rawal, one of Bollywood's most versatile actors for whom the shift from villainy to comedy seems to have been a cakewalk, believes this is a good period for Hindi cinema.


Society
Buying water in Cherrapunji
The reason for the water shortage is that the town is so hilly that the downpour just drains off. Owing to heavy rains villagers cannot grow crops because five minutes after it rains, there isn't any water to be seen. Plants rot and the soil needed to sow food is washed away, reports Dhananjaya Bhat
A nose for music
People suffering from physical disabilities, such as cerebral palsy, may now experience the positive effects of music with the help of a computerised instrument that enables one to play music with the tip of their nose.