Hamirpur villages face water shortage
Hamirpur, June 14
With the summer season at its peak, several villages of Hamirpur district are facing acute scarcity of water.
Pre-monsoon showers
Shimla, June 14
Mercury dipped across the state as most parts received pre-monsoon showers over the past 24 hours.
Cloudburst wreaks havoc in Parwanoo
Parwanoo, June 14
A cloudburst wrecked havoc at Kamli village near here this morning. It damaged two tin sheds, including a tea stall, and few slums besides causing severe damage to the Parwanoo-Bhojnagar road.
Students suffer as tussle continues
Hamirpur, June 14
The ongoing tussle between the HP School Lecturers association and the Education Department on the issue of teaching of classes IX and X has now been casting a shadow on the studies of students in senior secondary schools.
Historical rest houses to be eco-tourism spots
Shimla, June 14
Due to the old association with renowned personalities like Rudyard Kipling and the British Viceroys with certain remote places and old rest houses in the state, the State Tourism Department wants to capitalise on them to promote eco-tourism.
Ensure speedy justice: Kokje
Shimla, June 14
Governor V.S. Kokje today said in order to ensure speedy justice there should be more interaction between the Bar and the judiciary so that practical realities could be taken into consideration.
Father commits suicide after girl's abduction
Kangra June 14
Ram Shiv Pal (50), father of a 17-year-old girl, who was allegedly kidnapped by Rajesh of Donga Bazar locality here on Tuesday last, committed suicide by hanging from the ceiling of his house in the Gupt Ganga locality of this town last evening, police said here today.
Short realisation may cost cops dear
Solan, June 14
The munificence of police officials may cost them dearly with the examiner local funds accounts (ELFA) issuing directions to the officials to explain their position for short-realisation of penalties. The penalties were collected in lieu of compounding offences under the Motor Vehicles Act.
Goldsmith robbed
Bilaspur, June 14
Rakesh Soni, a goldsmith and general secretary Himachal State Youth Congress, was found unconscious at his shop at Barmana, 18 Kms from here on Thursday under mysterious circumstances.
11 fined for misusing domestic LPG
Baddi, June 14
During a drive, the district Food and Civil Supply Department yesterday raided various hotels and dhabhas here to check the misuse of domestic LPG cylinders. The drive was launched after repeated complaints over rampant use of domestic cylinders for commercial purposes.
Railway panel inspects track
Shimla, June 14
The Railway Convention Committee headed by Kailash Joshi reviewed the functioning of the Shimla-Kalka section on Thursday. Besides, reviewing the position of staff and the finances, the five-member committee also inspected the Shimla Railway Station. Divisional manager, Ambala, H.K.Jaggi, said the committee was impressed with the amenities and cleanliness at the station.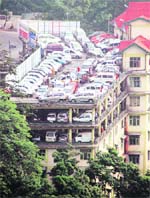 Parking blues
A Tribune Debate
Planning an excursion this summer? Beware of parking problems. It may play spoilsport with your holiday mood. Roads these days have become choked with vehicles leaving little space for visitors to move around freely and enjoy themselves. What should be done to tackle the problem? Send your views — in not more than 300 words — to:

Parking Blues
A Tribune Debate, c/o The Tribune,
Sector 29, Chandigarh 160 030
or email at himachal@tribunemail.com by June 22, 2007