Life not easy along the border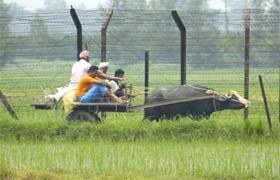 Mine threats, cattle crossing over and flying bullets, border village farmers have to go through the grind everyday. — Photo by Rajiv Sharma
ABVP demands reverting to old system for appointing lecturers
Amritsar, July 3
Akhil Bhartiya Vidyarthi Parishad has decided to launch an agitation if Guru Nanak Dev University failed to abolish the new score card system introduced for appointment of lecturers.
Complaints Under RTI Act
PIC to set up special dist-level counters
Amritsar, July 3
The Punjab Information Commission officials would set up counters at district headquarters across the state to speed up disposal of complaints received under the right to information Act.
Farmers rally against erratic power supply
Amritsar, July 3
Hundreds of farmers of Patti area in Tarn Taran, led by Jamhuri Kisan Sabha, held a rally near the office of executive engineer, Bhikhiwind on Tuesday. They were protesting against irregular power supply by the Punjab State Electricity Board.


Mounting Trouble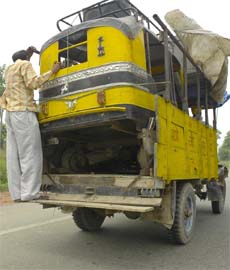 Despite a ban on peter rehraa (an indigeniously assembled vehicle), they are still in vogue in many villages of Amritsar district. — A Tribune photograph
Taking Up Cudgels
Amenities: Undertrial on fast unto death
Amritsar, July 3
Raj Kumar Shaheen, an undertrial prisoner in a murder bid case lodged at the Amritsar central jail, has been on fast for the past eight days to protest against the failure of the jail authorities in providing basic amenities to the prisoners.
Pitch in for HIV patients, NGO told
Amritsar, July 3
"The Positive Network Amritsar, an NGO, should help HIV-AIDS infected people acquire education, health care and other basic facilities," said Punjab health secretary K. B. S. Sidhu while presiding over a meeting of the organisation, here on Tuesday.
Summer camp enthrals students
Amritsar, July 3
Master Mind School organised a summer camp to help students identify their talent and creativity. The participants, between the age group of 3 and 8, tried their hands at various activities, including thumb painting, pottery and bead making.
Poetic compilations to resurrect society
Amritsar, July 3
For him poetry is an instrument to uplift the self, society and humanity. Prof Vijay Vishal has the credit of compiling two books of poems, Speechless Messages (1999) and Parting Wish (2001).