My City
Crop diversification holds key to higher agri growth
Diversification of agriculture to areas other than cereal-based produce is the need of the hour. To achieve higher a growth rate, agriculture needs to be made demand driven rather than supply driven. The crop base can be diversified by including poultry, dairy, fisheries, fruits, vegetables, pulses, oilseeds and livestock.


All Puffed-up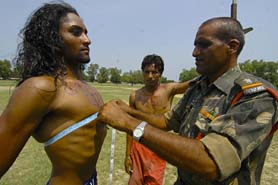 A recruitment rally organised by Army at Rayya near Amritsar witnessed a massive response. — Photo by Rajiv Sharma
Recruitment Rally
'Majha men have good physique'
Amritsar, July 13
'Chal Oye Sardara Laade Jor Ghuma De Bhambeeri' shouted an Army jawan at a Sikh candidate for putting in vitality to win the race during the preliminary screening of the candidates at a recruitment rally held at Rayya near Beas.
Many turn up to see 'Conquerors of sky'
Amritsar, July 13
A three-day photo exhibition, 'SOS - From the Conquerors of the Sky', was organised at the local art gallery, here on Friday. The event displayed work of a young lensman Arsh Rup Singh. Inaugurating the exhibition, eye specialist Dr Daljit Singh said photography of birds is a difficult and time consuming task.
City gets its first cancer super-specialist
Amritsar, July 13
Dr Navdeep Singh, MD (medicine) has done the city proud by becoming the first doctor from the holy city to get doctorate in medicine (DM) in oncology (cancer) from country's most prestigious hospital, All India Institute of Medical Sciences (AIIMS), New Delhi.
'Van Mahotsav' week celebrated
Amritsar, July 13
Impact Group, a real estate business organisation celebrated 'Van Mahotsav week' by planting more than 5,000 saplings of various varieties in the township.
Tarn Taran girl excels
Tarn Taran, July 13 Local girl Navjot has been selected by the Punjab State Council for Science and Technology (PSCST) for their special motivational programme, which is organised for talented students. Navjot is a Class XI student at Baba Gurmukh Singh Uttam Singh Secondary School.