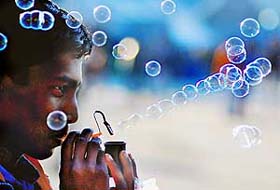 In a bid to attract customers, this vendor blows out bubbles in the air on The Mall in Shimla on Sunday. — Tribune photo by S. Chandan
Shahpur unit of Cong dissolved
Shimla, July 22
Pradesh Congress Committee chief Viplove Thakur today dissolved the block party unit of the Shahpur assembly segment, represented by suspended leader Vijay Singh Mankotia, for alleged anti-party activities.
Scrub typhus fever grips 200 in Kangra
Dharamsala, July 22
Scrub typhus fever has gripped more than 200 persons, including women and children, in Deol, Fatar and Kanarthu villages of Baijnath subdivision during the past few days. Though the medical authorities have claimed to have contained the spread of this disease the fear looms large in people living in the low-lying hill areas of this district.
RTI information expensive in state
Shimla, July 22
Seeking information under the Right to Information Act in Himachal Pradesh is about five times more expensive than the fee charged at the Union government level. After paying an application fee of Rs 10, a person seeking information under the RTI Act has to pay Rs 10 per page for photocopy of A-4 size sheet.
Construction mafia eating into forest cover
Dalhousie, July 22
Unruly and unwarranted skyscrapers fast springing up in the green hills here are eating into the forest cover, thanks to the unbridled greed of the land mafia and the apathy of the authorities concerned The construction activities is even going on in the night.
Private security — a booming industry
Shimla, July 22
With most states failing to ratify and implement the Private Security Agencies (Regulation) Act, 2005, passed 18 months ago, the highly fragmented and unorganised security industry continues to function unregulated, according to Vikram Singh, chairman of the Association of Private Security Agencies of India.
Protect interests of industrialists: BJP
Solan, July 22
Accusing the Congress government for not safeguarding the interest of the pharmaceutical industry, the state unit of the BJP said the proposed move of the government to withdraw tax benefits exemption would lead to shifting of large number of industrial units to other states.
Few takers for short-term technical courses
Mandi, July 22
With students preferring to enrol with industrial training institutes (ITIs) and polytechnic colleges for job-oriented technical degrees and diplomas instead of 250 institutes offering vocational courses, these institutes now face closure.
Staff wants HPU autonomy restored
Shimla, July 22
Demanding amendment to Section 35-A of the University Act to restore autonomy of the institute, the University Non-Teaching Employees Union said it would launch a strike in case its demands were not accepted within 15 days.
CM: Road to Kupvi soon
Shimla, July 22
Chief Minister Virbhadra Singh has said that the landlocked Kupvi area of Chopal will be connected from three sides with a motorable road and a Rs 800-crore cement plant set up at Gumma to generate employment.
'Probe misuse of circuit houses'
Chamba, July 22
Former district president of the BJP K. K. Gupta has sought a probe into the misuse of circuit houses and rest houses by political parties for their political meetings and other related activities.
Drive against social evils
Shimla, July 22
The state government will launch a campaign to eradicate social evils like untouchability and check atrocities on SC and ST categories. Addressing a seminar on the Protection of Civil Rights Act, 1955 and the SC/ST Prevention of Atrocities Act, 1989.
Union to oppose HPSEB division
Bilaspur, July 22
The Himachal Pradesh State Electricity Board Employees Union would sternly oppose any attempt to bifurcate or trifurcate the state board and would not allow it to happen here in the state as the board was already earning profits, while actually the Electricity Act, 2003, was meant for boards which were incurring repeated huge losses beyond any redemption.