Four days to go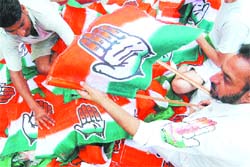 The demand for flags, buntings and other poll material has shot up in Amritsar. Photo by Rajiv Sharma
Prof courses grip young minds
Amritsar, August 3
As students everywhere get more an more conscious of professional viability of their course of study popularity of basic theory courses like history and economics is fast going down. The trend threatens the existence of these courses at college level.
Class VII boy gets stick for humming film tune
Tarn Taran, August 3
A seventh standard student of a private school here was brutally beaten up by a teacher for singing a song in the classroom.
Extra security for smooth conduct
Amritsar, August 3
Nearly 7,25,457 voters would go to poll for the 65 wards in the city on August 8. Elaborate arrangements would be made to ensure peaceful and fair conduct of elections, which would begin at 8 am.
Stars to hit campaign trail
Amritsar, August 3
Campaigning in the city is all set to get a major boost with the star campaigners of the three political parties - Congress, BJP and SAD - expected to hold a series of programmes from tomorrow onwards.
Reserved Seats
It's left on mothers, wives to save day for leaders
Amritsar, August 3
In most of the 22 seats reserved for women candidates, the aspirants from the Congress, BJP or SAD, who were eyeing the seat of councillor from that area, have now fielded their family members. On many seats, the mothers and wives of political leaders or even sitting councillors are contesting the elections.
Poll Campaign
Candidates go into overdrive
Amritsar, August 3
With candidates for the forthcoming municipal corporation elections getting only five days to campaign, they are working overtime to woo voters in their wards. The campaigning, which formally kicked off on August 2, would comes to a close at 4 pm on August 6.
| | |
| --- | --- |
| | |
| Cong candidate from Ward 21 Kulbhushan Kumar Duggal campaigns in the city. | BJP's Avinash Kumar Shaila, who is contesting from Ward 63, seeks public support. |
Book on Nihangs released
Amritsar, August 3
An exclusive book on the role of Nihang Singhs in the Sikh history, their contribution to the promotion of Sikh religion, their life-style, etc, was released recently.
City doc attends world congress
Amritsar, August 3
Dr Navneet Grewal, head of the department of pedodontics and orthodontics, Government Dental College, was invited as a guest speaker by the scientific committee of the 21st congress of the International Association of Paediatric Dentistry held at Hong Kong recently.
Eco issues: Spring Dale sets up 'go green' club
Amritsar, August 3
Taking up environmental issues and projects initiated by the rotary club, Spring Dale Educational Society has set up Interact Club to support the 'Go Green' campaign in the holy city.
GNDU authors talk about concept of 'Kapaal'
Amritsar, August 3
A book titled 'Prem Prakash Dian Kahanian Vich Kapaal' by Dr J.S. Rahi and Dr Raminder Kaur was released here. The idea of Kapaal is intricately linked with the philosophy of Ardhanarishwar, the androgynous god, rooted in myths depicting male-female relationship of Lord Shiva and Parvati. It has been exhaustively discussed in the first chapter of the book.