Rules are meant to be flouted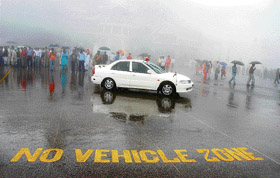 The Chief Minister's vehicle is parked at the no-vehicle zone on The Ridge in Shimla on Thursday. The area is restricted for any kind of vehicles, including emergency ambulances, because of the underground water tank there. However, the Chief Minister's convoy passes through this zone almost every second or third day.— Tribune photo by S. Chandan

Gastro cases reported from Kullu areas
Kullu, August 9
Areas around Archhandi village near Naggar village have reported about 12 cases of gastroenteritis in the past two days and more than 24 cases of acute diarrhoea. Four cases were admitted to the government Aurvedic Hospital, Katrain, yesterday and seven were admitted to a private clinic, Chand Medical Centre (CMC), Patlikuhal.
HC directive on holding poll to 3 tribal seats
Shimla, August 9
The Himachal Pradesh High Court today directed the Election Commission of India and the state government to hold a meeting and discuss the issue of conducting Assembly elections in the three tribal constituencies of Himachal Pradesh simultaneously with the rest 65 seats.
HAS officers to be special secys after 18 yrs
Shimla, August 9
Himachal administrative services officers will be designated as special secretaries on completion of 18 years of service, while posted in the state secretariat and the state public service commissions.
Girl washed away
Nurpur, August 9
The washing away of a part of the inter-state Chakki bridge in this subdivision due to flashfloods, has caused extensive damage in various parts of the district due to torrential rain last night. According to sources, seven-year-old Shilpa was washed away in a seasonal nullah near Harnota Fatak.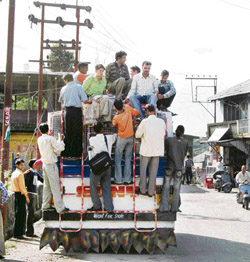 Commuters perch precariously on a bus on its way to Palampur from Dharamsala on Thursday, putting their lives to great risk.— Photo by Shailesh Bhatnagar
CM favours cap on loan repayment
Shimla, August 9
Concerned about the unending debt burden on poor farmers the government will consider proposals to put a cap on the maximum amount to be paid back towards the repayment of a loan.
3 cops, retired SHO convicted
Kangra, August 9
A former SHO of Palampur Police station, present SHO Kullu and two head constables of the Himachal Pradesh police were today convicted under different sections of the IPC for a three-month imprisonment and fine of Rs 2,500 each in a case of assaulting an advocate for trespassing, keeping him in wrongful confinement with criminal intimidation, besides for intentional insult with an intention to create breach of peace.
NSS doing commendable job
Hamirpur, August 9
Thousands of National Service Scheme (NSS) volunteers have been doing commendable work in the district by carrying out campaigns on social issues and also doing manual work for bringing a change in rural areas.
One held for murder
Nahan, August 9
The Renuka police said, Surat Ram(65), resident of Mina Village ,about 100 km. from here, was allegedly murdered with a sharp-edged weapon in Chishoti village of the area after an altercation with Mam Chand, while playing cards.