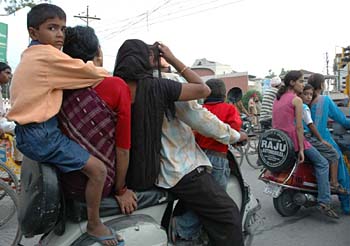 A family mounted on a scooter waits for the traffic light to turn green in Amritsar on Friday. — A Tribune photograph
Total revamp in offing for GND varsity
Amritsar, August 10
Listing a host of measures taken by the Guru nanak Dev University, the vice chancellor Dr Jai Rup Singh has said the university is in for an overhaul in fields of education, infrastructure, sports and research.
Wives of officers celebrate Teej
Amritsar, August 10
Amritsar Officers Wives Club celebrated the festival of Teej at Heritage Club here. The celebrations began with the traditional jaago with the ladies dressed in their brightest best.
Rare honour for Pal College principal
Amritsar, August 10
Jaswinder Kaur Sethi, principal of Pal College of Women has been conferred with the 'Jewel of India' award by the Indian Solidarity Council, New Delhi for her contribution in making higher education available to the the ruralites, especially women.
Science exhibition
Amritsar, August 10
CBSE-conducted regional science exhibition kicked off at Spring Dale Senior School in Amritsar on Thursday. Inaugurating the event, Dr Jairup Singh, Guru Nanak Dev University vice-chancellor, along with Munjal, who is a resource person from CBSE, Delhi and a part of the jury, said schools are suitable place to spread awareness.
Fake currency seized
Amritsar, August 10
The Special Narcotics Cell (SNC) today seized Pakistan-made fake Indian currency notes of Rs 1 lakh in the Sultanwind area here and arrested Lakhwinder Singh, alias Lakha, a resident of Mane Mali village in this regard.