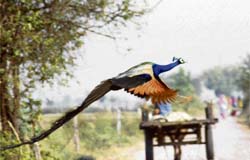 I BELIEVE I CAN FLY: A peacock seems to enjoy the monsoon as it flies across a road near Pundri village in Karnal district. — Tribune photo by Ravi Kumar
Tipplers on new high
Illegal home delivery of liquor
Yamunanagar, August 16
Getting tipsy with your favourite whisky or scotch was never so easy, quick and cheap. Thanks to the unauthorised home delivery system prevalent in the district, which promises liquor on your doorstep even faster than your pizza. The system is fast spreading due to the intensive competition among liquor vends, which have mushroomed after the government brought changes in the excise policy. Information gathered by the Tribune reveals that there are more than 50 bootleggers in the district, who are not only delivering liquor free of cost but also charging less.
Medical varsity likely in Rohtak


Rohtak, August 16
In an ambitious move, the Haryana government has decided to set up a medical university in the state. A committee has already been constituted to work out the modalities in this regard.
Encroachment — it's HUDA this time
Hisar, August 16
While HUDA does not permit alterations in its colonies, it has illegally altered its own building by covering the verandahs by erecting walls. The building is located in the Urban Estate II area here and housed the office of its estate officer.


The verandah of a showroom in Urban Estate II, Hisar, which has been encroached upon and illegaly altered by HUDA. — Tribune photo by P.L. Munday
Bhiwani slums in for better times
Nod to Rs 41 cr development plan
Bhiwani, August 16
As many as 30 slum colonies of Bhiwani and its subdivision Charkhi Dadri will soon have access to better living. The central government, under its Integrated Housing and Slum Development Programme, has sanctioned Rs 32.82 crore for the development of these colonies.
Property may get freehold in Ambala
Ambala, August 16
Efforts are on to make Ambala Sadar a freehold area that is expected to solve various problems being faced by property owners here. But the task is easier said than done. Even as the state government is currently considering converting Ambala Sadar into a freehold area, property owners are running from pillar to post for getting various documents completed.
Naorang Rai tank renovation
Slow progress irks devotees
Ambala, August 16
The slow progress in the renovation work of historical Naorang Rai tank in Ambala City has irked thousands of devotees, as they were expecting that the construction would be completed before Baman Dwadshi Mela, which begins on September 9 this year.


The historical Naorang Rai tank in Ambala city. — A Tribune photograph
CITIZEN FIRST
Rising crime graph
Crime like murder, theft, robbery, rape and hooliganism has gripped the state these days. No one is feeling secure in the wake of the failure of the police to restrict the criminal activities. It seems that anti-social elements are no longer scared of the police. That is why, the crime rate is enhancing day by day. It is high time that the police should wake up and tighten the noose to nab the criminals. And if the police department complains that the public is not cooperating, the department itself is to blame for this. It must also change its rough attitude towards the common man so that public faith in the law enforcement agency can be restored.
Citizens' Grievances
Unfair practice
I have subscribed to Airtel lifetime prepaid scheme (mobile phone no. 986682166). The use of this phone is exclusive only to access internet through GPRs. I never use the phone for outgoing/incoming voice calls and hence no question of using "hello tunes".
Inside Babudom
Another reshuffle on the cards
Chandigarh, August 16
By next month, the state will witness another administrative reshuffle. Not only the state will get a new chief secretary, there may also arise a number of vacancies at the senior level.
MDU centre project revived after 18 yrs
Rewari, August 16
After getting stuck in limbo for over 18 years, Rewari's Postgraduate Regional Centre (PGRC) of Maharshi Dayanand University, Rohtak, has found a true patron in none other than Chief Minister Bhupinder Singh Hooda. The centre was started in October, 1988. Since then, it has been functioning from rented accommodation with no new appendage of classes/courses of study to its existing four departments of English, mathematics, history and commerce in the past 19 years.
'Hariyali' to colour Fatehabad green
Fatehabad, August 16
The state government has formulated various schemes for improving the plight of poor farmers. Hariyali is one such scheme, which, if implemented in letter and in spirit, can improve the lot of the farming community. The scheme aims at harvesting rainwater for the purpose of irrigation, plantation, horticulture, floriculture, pasture development and fisheries etc.
Samalkha's 'toka' units dying off
Samalkha (Panipat), August 13
Once the flourishing market for manufacturing "toka," or fodder-cutting machines, the small-scale industry of this sleepy township is dying fast. Against 80 manufacturers a few years back, there are only 15-16 units left in the town.


A labourer at work in a 'toka' foundry at Samalkha in Panipat. — Tribune photo by Ravi Kumar
Khadi all set to wear new look
Exclusive plaza to come up in Panipat
Panipat, August 16
The traditional khadi is all set to wear a modern look with the Punjab Khadi Mandal (PKM) proposing to set up an exclusive khadi shopping complex in Panipat. The proposed multi-storey plaza would be the first complex in the country dedicated exclusively to khadi.
Executive panel of state NCP dissolved
Chandigarh, August 16
President of the Nationalist Congress Party (NCP) Sharad Pawar has dissolved the executive committee of the Haryana unit of the party with immediate effect.
Pvt security to guard Manesar
Gurgaon, August 16
The Haryana State Industrial Development Corporation (HSIDC) and Industrial Model Town (IMT), Manesar, have chalked out a proposal to hire a private security agency for providing safety to the residential and industrial units in Manesar. This is for the first time that any state government is planning to provide private security in any industrial estate.