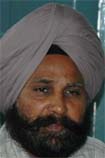 CPI up in arms against removal of vendors
Amritsar, August 17
The Communist Party of India (CPI) has decided to launch an agitation against the district police chief for forcibly removing small time vendors from near Guru Nanak Dev University campus. Amarjit Asal, district secretary CPI, has demanded the transfer of SSP Kunwar Vijay Pratap Singh. He said they would hold protest rallies in the city near the university and in front of SSP's office if he was not transferred.
New facets of Maharaja Ranjit Singh's reign revealed
Amritsar, August 17
The new book on Maharaja Ranjit Singh describes him as a peace icon. The author Manveen Sandhu, who has conducted a detailed research on the legendary king, has brought to the fore some fascinating facets of Maharaja's reign in her book 'Maharaja Ranjit Singh —- Personalitas Extraordinaire'.
10-hr job: At 83, this club manager's going strong
Amritsar, August 17
After putting in 65 years of service in Lumsdon Club, the 83-year-old Krishan Kumar is still yearning to lead a dignified life by doing hard work. He believes in dignity of labour. While old people are considered to be a vulnerable part of the society and most of them land up in old age homes, Krishan Kumar, manager of the club, still works for more than 10 hours a day. For him work is worship.
UK students go gaga over Gatka
Amritsar, August 17
Describing the martial art of 'Gatka', practised for self defence as awesome, a group of students from UK on a visit to the city have said it was a new experience for them. Thrilled and excited are the reactions that Emily Corran, Laura Watts, Sophia Preuss and Maria Patoczka, students from Oxford University UK, expressed after watching a performance of 'Gatka' here.

Students from Oxford University take Gatka tips in Amritsar on Friday. — A Tribune photograph
GND varsity youth fest schedule out
Amritsar, August 17 Guru Nanak Dev University released the schedule of youth festivals for men and women for the year 2007 today. Baljit Singh Sekhon, director youth welfare of the University, said the A-zone youth festival for men comprising the districts of Amritsar, Gurdaspur and Tarn Taran would be held from October 5 to7 while women's A-Zone youth festival would be held from October 12 to 15 at the university campus.
Play tries to revive Gandhigiri among kids
Amritsar, August 17
City-based Shri Ram Ashram Public school honoured freedom fighter Shamsher Singh Verka during the 61st Independence Day celebrations at school premises.
Seminar to highlight Sikh issues
Amritsar, August 17
The Dal Khalsa will hold a seminar on "60 years of Sikhs in independent India" touching upon various issues, including increased migration, robbing of river waters, youth trimming their beards, drug abuse and mushrooming of "living gods," on August 22 at Jalandhar.