Prince of dawn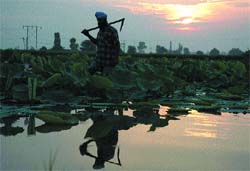 A farmer in a border village of Amritsar walks through his lotus field at dawn.— Photo by Rajiv Sharma
DAV students make hay while sun shines
Amritsar, August 21
The DAV Public School hosted "CBSE India heritage quiz 2007-2008", district-level "Hindi poetry composition" contests and a meeting of the Punjab State Council for Science and Technology to chart out programmes for its annual activities.
No salaries; teachers worried
Amritsar, August 21
Resentment prevails among government school teachers as they have not been paid for the past five months. The decision of the state government to stop benefits to the close relatives of the deceased employees has added to their woes.
Applications invited for atta-dal
Amritsar, August 21
The district administration has decided to receive fresh applications under the Atta-Dal scheme launched by the state government till August 31.
Bank defrauded of 8 lakh, 12 booked
Tarn Taran, August 21
Twelve persons defrauded of Rs 8 lakh from the Patti branch of State Bank of Patiala by using forged documents. The accused include the field officer of the bank and an advocate working with the bank branch.
'NGOs can bring about social metamorphosis'
Amritsar, August 21
NGOs can play a very useful role in supplementing and complimenting the efforts of the government in socio-economic development of the people.
'Techno Travel' heads for Delhi
Amritsar, August 21
A science model on "Techno Travel," prepared by students and staff of Shri Ram Ashram Public School, has been selected for the national science exhibition to be held in Delhi. The model was selected from over 192 entries from 127 schools at the fourth CBSE regional science exhibition held recently.


Science model on display. — A Tribune photograph
Docs bat for nuke medicine in diagnosis and treatment
Amritsar, August 21
Nuclear medicine has many applications in diagnosis and treatment of some dreaded diseases like cancer, said Dr Atul Pathak, head of the department of nuclear medicine, Escorts Heart and Super Speciality Institute.

Gymnastics gets boost; new centre set up
Amritsar, August 21
A gymnastics training centre was inaugurated at the BBK DAV College for Women here on Tuesday. The centre will train players from the various schools, colleges and clubs of the district. Inaugurated by director of sports Pargat Singh, the centre has been established by the district gymnastic association in collaboration with the state government. Equipment here has been provided by the government through the district sports officer.
'Punjabi cinema needs govt support'
Amritsar, August 21
The Punjabi film industry, which had been in the doldrums for quite some time, has made considerable progress during the past few years and managed to create waves in the overseas market due to strong Punjabi diaspora, said Punjabi film star and singer Harbhajan Mann.

Harbhajan Mann during the launch of Big FM radio channel and to promote his next film 'Mitti Awajan Mardi' in Amritsar. — A Tribune photograph
Clean and green
Amritsar, August 21 The Rotary Club, Civil Lines, under a project to make areas of the city clean and pollution free planted 1,150 saplings in the Beant Singh Park and Ranjit Avenue here. President Vikram Singh Uppal said the club had selected the site along the outer wall of the SR Government College for Women and the area had been cleaned by removing garbage. The whole area has also been fenced using steel barbed wires. A watchman-cum-gardner has also been employed. — OC


Police Medal for ASI
Amritsar, August 21
The government has conferred the Police Medal on Sukhwinder Singh, assistant sub-inspector, CID. He has been currently posted with AIG, CID office. — OC



Sukhwinder Singh

Neki elected VP
Amritsar, August 21
Dr N S Neki, Professor of medicine, Government Medical College and Guru Nanak Dev Hospital, has been elected vice-president of the Geriatric Society of India for the year 2007-08 for his outstanding contribution in the field of geriatric medicine.

Dr N S Neki