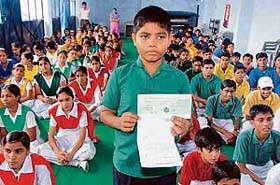 CHILD PRODIGY: Shailendra, who recently cleared MCA examination at the age of 14, with the cheque for Rs 1.95 lakh, given to him by Maharashtra Congress MLA Kripa Shankar Singh for further studies, in Lucknow on Wednesday.
— PTI
WB Twin Murder
HC orders re-arrest of MP, wife
Kolkata, August 29
The Calcutta High Court today ordered the re-arrest of Congress MP from Behrampore in Murshidabad district Adhir Chowdhury in connection with the twin murder case of father and son on July 24, 2004.
No reinstatement claim after taking VRS: SC
New Delhi, August 29
An employee, who has voluntarily retired, cannot claim his reinstatement as a matter of right, the Supreme Court has ruled. Moreover, courts cannot intefere with penalties like reduction in pay or pension imposed by the employer, unless it is found to be "shockingly disproportionate" to the charge, a Bench of Justices G P Mathur and P K Balasubramanyan, said.
Case against Karunanidhi's son transferred to AP
New Delhi, August 29
The Supreme Court has ordered the transfer of T. Kiruttinan murder case, in which M.K. Azhagiri, son of Tamil Nadu Chief Minister M. Karunanidhi, is the main accused, from Madurai in Tamil Nadu to Chitoor in Andhra Pradesh.
Fresh probe into Monica Bedi photo episode
Bhopal, August 29
Facing attack from Congress, which has accused the Central Jail authorities here of clicking 'objectionable photographs' of former Bollywood actress Monica Bedi during her imprisonment, Madhya Pradesh government has ordered a fresh probe into the alleged incident.
Lava, hot gas clouds erupt in Arunachal, alert sounded
Kimin (Arunachal Pradesh), August 29
The authorities in Arunachal Pradesh have sounded an alert after lava and hot gas clouds began erupting from the side of a hill, officials said on Tuesday. A government spokesman said a rare geological occurrence was reported from a hill slope near Kimin village, about 75 km north of state capital Itanagar.
Toll climbs to 115
Cholera claims 31 more lives in Orissa
Bhubaneswar, August 29
Notwithstanding the Orissa government's claim to have successfully checked the spread of cholera, another 31 died today with the toll rising to 115. Official sources said the fresh deaths were reported from Koraput, Kalahandi and Rayagada districts.


In video (56k)

Manipur ultras 'violating' ceasefire rules
Guwahati, August 29
Fed up with the unrelenting extortion drives by underground outfits, the United Committee of Manipur (UMC), a conglomerate of several people's organisations, has fired a broadside at the central government for remaining mute spectators even as militant groups in truce are violating ceasefire ground rules.
'Corrupt civil servant is same as rights violator'
Dehra Dun, August 29
Uttarakhand Governor Sudarshan Agarwal has called upon serving bureaucrats to be ethically committed administrators as a corrupt public servant is in reality a human rights violator and should be perceived and treated as such.
Now, Harry Potter series in Braille!
Bhopal, August 29
Visually impaired kids who may have missed the thrills of the famous Harry Potter series, need not worry anymore. Thanks to the Bhopal-based NGO Arushi, the escapades of Harry Potter from part I to VI are now available in Braille.
11 SPOs feared killed in ambush
Jagdalpur (Chhattisgarh), August 29
At least 15 security personnel, including 11 special police officers, were feared killed and six severely injured after an encounter with Maoists today in the dense forests near Sarmetla village in Dantewada district's dense forest.
Bhagalpur beating: NCM seeks report from govt
New Delhi, August 29
The National Commission for Minorities today sought a report from the Bihar government on the police beating of a Muslim in Bhagalpur. NCM member Harcharan Singh Josh, who chaired a meeting with his colleagues on yesterday's incident, said the commission believed Mohammad Aurangzeb was treated like an "animal and a slave" by police who joined the mob to punch, kick and drag him down a street after he allegedly tried to steal a gold chain.
Low turnout at Jamshedpur election
Jamshedpur, August 29
About 30 per cent polling was reported till noon for Jamshedpur Lok Sabha by-poll amidst poll boycott by two villages in the Maoist dominated areas of the constituency.
SC may have woman judge soon
New Delhi, August 29
The Supreme Court collegium headed by Chief Justice of India K.G. Balakrishnan has cleared the name of Justice Gyan Sudha Mishra, currently a judge of the Rajasthan High Court, for her elevation to the apex court.
Liberhan panel report soon
New Delhi, August 29
The Liberhan Commission, inquiring into the circumstances leading to the demolition of the disputed structure in Ayodhya, was expected to submit its report to the government before August end, the Rajya Sabha was informed here today.



Videos
India invites bids for fighter jets.
(56k)
The New Jai's 'Different'.
(56k)
Vivek to learn Turkish for 'Mission Istanbul'.
(56k)
A unique cycle to feature in a Bollywood flick.
(56k)
Daring stunts on bike and car.
(56k)