Apple production likely to exceed target
Shimla, September 20
With 1.80 crore boxes of apple already sent to markets from various parts of the state, the total production was likely to overshoot the estimates for the season.
Hospital inauguration delayed again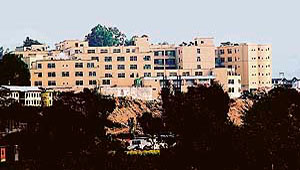 Kangra, September 20
Inauguration of the Dr.Rajender Prasad Govt. Medical College at Tanda was again deferred in view of the staff and equipment deficiency and now has been pushed to next month.




A view of the Dr Rajender Prasad Government Medical College building
at Tanda.

Eco-Tourism
Plea to adopt Uttarakhand pattern
Shimla, September 20
The Himachal Pradesh State Forest Employees Federation has urged the government to introduce the concept of eco-tourism on the analogy of the Uttarakhand Forest Corporation so that other activities like mining and mineral extraction can also be taken up.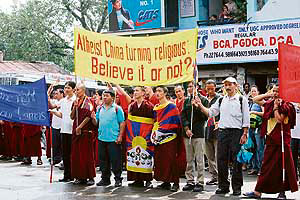 Tibetan youths hold a rally against the China Government for arresting Tibetans in Tibet and disallowing them to select any reincarnation without its consent, in Dharamsala on Thursday. — Tribune photograph
Kaushik's Accident
Absconding driver arrested
Solan, September 20
The Dharampur police today managed to arrest Suraj Pal, the absconding driver of a pick-up van, from Mohali Sector-56, six days after his vehicle had collided with the car of a former additional advocate-general, Sandeep Kaushik, who died in the accident.
Virbhadra exhorts workers to strengthen party
Mandi, September 20
Chief Minister Virbhadra Singh held fort in the Mandi district Congress as all the prominent and would-be contenders including the two ministers IPH minister Kaul Singh Thakur and the excise and taxation minister Rangila Ram Rao made their presence felt here at the District Congress Committee meeting in which he pulled up the party office bearers for not working hard to take the government's achievements to the common men in the state.
2 nominated
Chamba, September 20
The state government has nominated P. C. Oberoy and Kuldeep Singh Jasrotia as the members of the state joint consultative committee of the HP State Pensioners Welfare Association.
Women gram sabhas on Sept 23
Dharamsala, September 20
For the first time in the history of the hill state, rural women will hold gram sabhas in their respective villages on September 23 and will discuss issues related to them.
Rs 2,000 cr for railway project
Bilaspur, September 20
Forests, youth services and sports minister Ramlal Thakur has said that the Central Government has allocated Rs 2,000 crore for the implementation of railway project from from Bhanupali to Bilaspur and further to Rampur.
7 lakh pilgrims take holy dip
Chamba, September 20
Nearly 30,000 devotees of Lord Shiva, including tourists from different parts of the country this morning, took a holy dip in the Manimahesh Lake in Chamba district.
Freedom fighter dead
Bilaspur, September 20
Kanshi Ram Upmanyu (89), a freedom fighter of the Praja Mandal Movement, died at his village Bhandwar in Chandpur area near here last night. He had been ailing for some time.
Stone of housing complex laid
Chandigarh, September 20
BBMB chairman U.C. Misra laid the foundation stone of a housing complex constituting 90 flats for the BSL project in Sundernagar today. He directed the senior officers of the project to complete the construction in time by adopting high standards of construction norms.
No-trust move against MC vice-chief
Mandi, September 20
Seven councillors, six of them claiming to be pro-BJP, today moved a no-confidence motion against vice-president of the Mandi Municipal Council Yog Raj and submitted a signed statement to deputy commissioner Subhasish Panda, demanding his removal from the post.
3 dead, 3 injured in industrial mishaps
Solan, September 20
Two construction labourers were electrocuted and three others sustained burn injuries in Paras Pharmaceutical factory at Thana village under the Baddi police station in this district, today morning.
3 die in accident
Bilaspur, September 20
Vinod Patial (42) of Dugga village, Hamirpur district, who was driving a Maruti car, was killed and two others Amarchand and his daughter Mina of Dandiyar village, Una district, who were in the same car, were injured seriously when this car had a head-on collision with a truck at village Awari near Kandraur near here today on National Highway — 88.