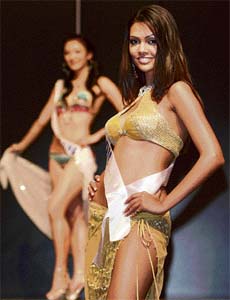 Miss India Esha Gupta (right) strikes a pose during the Miss International Beauty Pageant press conference in Tokyo on Wednesday. The 47th Miss International Beauty Pageant final will be held in Tokyo on October 15. — AFP
Interpol seeks update on Bhutto's 'wanted' status
Islamabad, October 3
A day after Pakistan agreed to grant former Prime Minister Benazir Bhutto an amnesty from prosecution in corruption cases against her; the Interpol has put the government in a fix by enquiring about her status.
Musharraf to shed uniform by Nov 15
Islamabad, October 3
President Pervez Musharraf today said he would shed military uniform by November 15 after getting re-elected as the President on Oct 6.
Musharraf wants to drop cases against Sharif
Islamabad, October 3
Less than a month after packing off Nawaz Sharif to Jeddah on his brief return from exile, Pakistan President Pervez Musharraf today expressed readiness to drop the cases pending against the deposed Premier.
Pleas against Mush's candidature
SC admits 2 petitions for regular hearing
The Supreme Court on Wednesday admitted for regular hearing two petitions challenging the acceptance of Gen Musharraf's nomination papers as candidate for the presidential election and issued notices to the President, the Federation and the Attorney-General to respond on Thursday.
Lal Masjid re-opened
Islamabad, October 3
The Lal Masjid, which was freed from occupation by radical elements in a military operation in July, was today reopened to the public on the orders of the Supreme Court with President Pervez Musharraf asserting that militants would not be allowed to take over the shrine again.
Myanmar junta releases 229 monks, nuns
Yangon, October 3
Myanmar's junta released 80 monks and 149 women believed to be nuns who were rounded up last week in a crackdown on the biggest anti-government protests. Five local journalists, one of whom works for Japan's Tokyo Shimbun newspaper, were also released.


North Korea agrees to disable nuclear facilities by December 31
Beijing, October 3
North Korea has agreed to disable all its nuclear facilities by December 31 in exchange for diplomatic sops and energy aid, according to an agreement reached during six-nation talks on peacefully dismantling Pyongyang's atomic programme.


South Korea's President Roh Moo-hyun (left) and North Korean leader Kim Jong-il shake hands at the inter-Korean summit in Pyongyang, the capital of North Korea on Wednesday. — Reuters photo
Time is right to address Kashmir issue, says Pak
United Nations, October 3
Pakistan and India must seize the opportunity provided by the conducive international and regional environment to address the Kashmir issue, Pakistan foreign secretary Riaz Mohammed Khan has said.
'Indo-US ties do not hinge on N-deal'
India hopes Pak will overcome current problems
Washington, October 3
The bilateral Indo-US ties will not fall apart if the civilian nuclear deal does not move forward, external affairs minister Pranab Mukherjee has said. "I'm afraid that I do not pin hope only on this particular arrangement (nuclear deal). We have had good relationship with the USA from the very beginning.
Pak voices concern over Indo-US nuke deal at UN
United Nations, October 3
Voicing concern over the "incipient" Indo-US civilian nuclear deal, Pakistan has said any endorsement of a selective approach will "fatefully damage" the existing consensus on disarmament and non-proliferation.
N- deal will be done: Burns
Washington, October 3
A top Bush administration official has expressed the hope that the civilian nuclear deal with India will be done and that Americans, in about 20 years, will be able to look at India as being one of its two or three most important relationships in the world.
Anti-Sonia demonstration held near UN building
New York, October 3
UPA chairperson Sonia Gandhi faced a strong protest from a section of the Indian-American community, under the banner of 'Saving Gandhi Heritage,' shortly after the conclusion of her speech in the UN General Assembly.
Media watchdog raps Nepal Maoists over violence
Kathmandu, October 3
An international media watchdog rapped Nepal's Maoists on Wednesday over attacks by workers affiliated with the former rebels that disrupted the publication of the country's two leading newspapers.
Pak security forces kill 10 militants
Miranshah, October 3
Pakistan's security forces today killed 10 pro-Taliban militants after they attacked a military check post in North Waziristan region, an army spokesman said. Militant attacks on Pakistan's security forces have surged since July, following the collapse of a pact and the storming of a radical mosque in Islamabad by commandos.
Obesity is a world problem, says study
New York, October 3
The world is growing together. Yes, obesity is not just a problem in the West, the whole world is becoming overweight, according to a new study by researchers in the United States.
Virtual walk for a cause
Los Angeles, October 3
Want to walk for a good cause but find yourself strapped for time or physically incapable? Welcome to the "virtual walk" where you can raise money for charity without ever stepping out the front door.
Queen was to abdicate, Diana told lawyer
London, October 3
Days before her death, Princess Diana told her lawyer that the Queen had planned to abdicate to make way for Charles and that both she and Camilla would be "put aside" to allow the Prince to marry his sons' nanny.
British climber conquered Everest 30 yrs before Hillary
London, October 3
A mountaineering expert today claimed that Sir Edmund Hillary was not the first man to scale Mount Everest, and that the feat was achieved three decades before the New Zealander by British climber George Mallory.
Chinese youth crazy about Ash
Shenzhen (China), October 3
Bollywood actress Aishwarya Rai is among the few current Indian actors to have a considerable following among the young Chinese in this sub-provincial district. Just opposite the majestic hotel Pavilion on the Huaqiang Road is a huge L'Oreal hoarding featuring Rai.
Photo exhibition on Gandhi
United Nations, October 3
A photo exhibition, which takes viewers through the various phases of Mahatma Gandhi's life and accentuates his message of peace, non-violence and brotherhood opened at the United Nations' headquarters here.
Indian's ear sliced by Kuwaiti employer
Dubai, October 3
An Indian was admitted to a hospital after his Kuwaiti employer allegedly cut off his ear. Annoyed with the victim, his sponsor cut off his ear and left him in a pool of blood on a road in Farwaniya, a media report said.



Video
Nuclear assets are for defence, say Pak.
(56k)