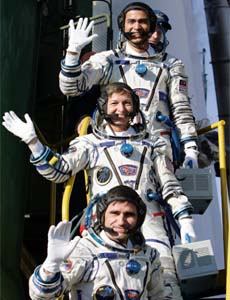 Malaysian astronaut Sheikh Muszaphar (top), Russian cosmonaut Yuri Malenchenko (bottom) and US astronaut Peggy Whitson wave before boarding a space capsule at the Baikonur cosmodrome in Kazakhstan on Wednesday. — Reuters
12 yrs later, Malaysian court gives relief to Indian
Kuala Lumpur, October 10
An Indian man, blinded in one eye after his employer splashed acid on his face, is set to receive a compensation running into lakhs of rupees following an order by a Malaysian court after a 12-year legal battle.
Ertl wins Nobel for chemistry
Stockholm, October 10
German scientist Gerhard Ertl won the 2007 Nobel Prize for chemistry for his work in surface chemistry, the Swedish Academy of Sciences said. The coveted 10 million Swedish crown ($1.54 million) award recognised his studies on what happens when molecules hit solid surfaces, an important process in the modern world.
6 in 10 UK women flirt with colleagues: Study
London, October 10
A new study has revealed that almost six in ten women in the UK have had a secret affair with a colleague. The survey also showed that having a relationship with a co-worker was not at all objectionable, with 89 per cent of women saying that the concept was "not frowned on at all."
Cambridge students 'working as call girls'
London, October 10
Students of the Cambridge University are "working as call girls and strippers" to make ends meet. According to a report published in the institution's student newspaper Varsity, a large number of "cash-strapped" students were selling their bodies to make money.
Pak MPs given condoms
Pakistani MPs have received a unique gift of 100 condoms each on the eve of Eid-ul-Fitr from the ministry of population in a bid to encourage population control at the top-level. "Yes, the condom packs have been distributed among the male parliamentarians. Each MP has been gifted a pack of condoms containing 100 condoms," said an official of the ministry.
6 Indians abducted in Nigeria
Lagos, October 10
Six Indians working for a steel firm in central Nigeria's Kogi state have been abducted by protesting workers demanding pay increases, state media reported today. The whereabouts of the Indians who were seized at Ajaokuta Steel Company yesterday, were still unknown, the News Agency of Nigeria (NAN) said.
Top Al-Qaida leader killed in Algeria: Reports
Algiers, October 10
Algerian security forces identified a radical-Islamic militant slain over the weekend as the No. 2 leader and explosives expert of Al-Qaida's north Africa affiliate, reports said. Sofiane el-Fassila, alias Hareg Zoheir, was an alleged mastermind of several recent suicide bombing attacks in Algeria that were claimed by a former insurgent group calling itself Al-Qaida in Islamic North Africa, newspaper reports said yesterday.
Camilla is grandmother
London, October 10
Prince Charles' wife, Camilla, became a grandmother after her son's wife gave birth to a girl, the palace announced. The Duchess of Cornwall's son, Tom Parker Bowles, and his wife, Sara Buys, have named their daughter Lola.
Junta, Suu Kyi move towards talks
Yangon, October 10
Myanmar's ruling generals and detained democracy icon Aung San Suu Kyi appear to be paving the way towards talks, as the two fiercely opposed sides take cautious, conciliatory steps to end a two-decade-long deadlock.