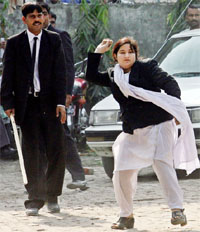 A Pakistani woman lawyer throws stone towards police during a protest in Lahore on Monday. — AFP
Emergency a 'short-term' arrangement
Islamabad, November 5
Pakistan government has assured foreign envoys that the emergency clamped by General Pervez Musharraf is a "short-term arrangement" and the country will soon be put on "a normal constitutional course"
Sacked CJ vows to fight back
Deposed Chief Justice of Pakistan Justice Iftikhar Muhammad Chaudhry has vowed to launch another phase of his struggle to uphold the Constitution, the rule of law and independence of judiciary.
Four judges take oath
Islamabad, November 5
Pakistan President today administered oath to four judges of Federal Shariat Court under the Provisional Constitutional Order (PCO) here at Awan-e-Sadr.
Netherlands suspends aid
The Hague, November 5
The Netherlands has suspended aid to Pakistan after PresidentMusharraf imposed emergency rule, Dutch Development Aid Minister Bert Koenders said today.
Pak frees 25 militants
Islamabad, November 5
The Pakistan government has freed 25 militants, including some convicted by anti-terror courts, in exchange for 211 soldiers who were being held hostage by rebels in the restive northwestern tribal areas.
Bhutto seeks poll under independent caretaker govt
New York, November 5
Former Pakistan prime minister Benazir Bhutto today asked President Pervez Musharraf to lift the emergency, revive the Constitution and hold elections under an "independent caretaker government".
Mush had got Bush nod
Islamabad, November 5
Pakistan President Gen Pervez Musharraf proclaimed emergency in the country only after receiving a nod from the Bush Administration, a diplomatic source has claimed. Though the USA was averse to the idea of imposing emergency, it gave the go ahead to Musharraf because of the sporadic violence across the country, especially in the troubled Swat region and other tribal dominant areas, the source further revealed.
China, USA agree on defence hotline
Beijing, November 5
Amid US apprehensions on China's military modernisation, the two countries today agreed to establish a defence hotline and deepen military-to-military dialogue, including on nuclear policy strategy and doctrine.
Sri Lanka kills 7 rebels ahead of leader's funeral
Colombo, November 5
Seven Tamil Tigers and a soldier were killed in fresh fighting in northern Sri Lanka, the military said today, hours before the funeral of the rebels' political wing chief. Clashes between the two sides continue unabated in the north of the country. The Indian Ocean island remains on a high security alert after S P Thamilselvan was killed in a bombing raid by the Sri Lankan air force on Friday.
3 charged in Fiji for alleged plot
Suva (Fiji),November 5
The Fijian police today charged three suspects and rounded up others over an alleged plot to assassinate coup leader Voreqe Bainimarama and other political and military leaders.
Sikh religious fervour sweeps Yuba City
Yuba City, November 5
In a unique display of religious solidarity, nearly 100,000 Sikhs, cutting across all barriers of caste and political affiliation, yesterday participated in the 28th Sikh Parade, an annual feature in this American city for over a quarter-century.
Hasina granted bail
Dhaka, November 5
The Bangladesh High Court has granted bail to former prime minister Sheikh Hasina in a graft case filed by the powerful Anti-Corruption Commission (ACC) though the Awami League chief would remain in detention to face charges in several other cases.
Nepal sends DNA, viscera of Indian scribe
Kathmandu, November 5
The DNA and viscera of the body, suspected to be that of abducted Indian journalist Birendra Kumar Sah, has been sent to Hyderabad for identification.
Hillary ahead among Democrats
New York, November 5
US President hopeful Hillary Clinton continues to lead her rivals by a substantial margin among the Democrats but finds herself trailing behind Barack Obama and John Edwards among the independent voters, shows a new poll released a year before the election.
Rice meets Palestinian leaders
Ramallah (West Bank), November 5
US secretary of state Condoleezza Rice met Palestinian leaders today to prepare for a Middle East conference after vowing to defend Israel's security but urging bold efforts to make peace.
Drugs found in parcel from India
Melbourne, November 5
Several people were being probed after Australian Customs seized a parcel from India containing about 1 kg of pseudoephedrine priced around $1.5 million hidden in a package of tablets at the Sydney Mail Centre.