Mr Singh International: Pre-final on Nov 24
Amritsar, November 20
In the zonal competition of the second Frankfinn Mr Singh International, 25 Sikhs have been selected out of 110 contestants from Punjab, Haryana, Chandigarh, Himachal Pradesh and Jammu and Kashmir. The event organised by Akal Purakh Ki Fauj concluded here last evening at the Khalsa College for Education.

Head Turners: Participants during the Mr Singh International contest in Amritsar. — Photo by Rajiv Sharma

Focus on speeding up devp, says new MC commissioner
Amritsar, November 20
Amritsar's new municipal commissioner DPS Kharbanda has put behind the controversy sparked off by his appointment for the coveted post. He is on the job with enthusiasm, holding meetings and getting informed.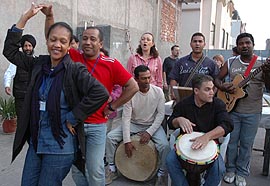 Smitten by Punjab, this Czech troupe loves to perform here
Amritsar, November 20
About 26 members of the Groupe Folkflorique Canne D'Edau from San Paul Reunion (French Island) and belle troupe of Czech Republic arrived in the city to perform at Guru Nanak Dev Auditorium on November 20.
Members of the troupe in the holy city on Tuesday. — A Tribune photograph

Fully Equipped
527 Khalsa College students get degrees
Amritsar, November 20
BJP MP Navjot Singh Sidhu exhorted the degree holders to live up to the expectations of society at the 52nd annual convocation of the Khalsa College of Education held here recently.


Sandeep, Gurdev enter 'Voice of Punjab' finals
Amritsar, November 20
Pop singer Malkit Singh enthralled the audiences with his famous hit "Tutak tutak tutian" and other numbers at the north zone semi-finals of the "Coca Cola Voice of Punjab" held here recently. Sandeep Singh from Kapurthala and Gurdev Tohfa from Tarn Taran have entered the finals of the "Coca Cola Voice of Punjab" to be held in Chandigarh on December 5.
Punjabi pop singers Malkit Singh (L) and Balkar Sidhu perform during the semifinals held in Amritsar. — Photos by Rajiv Sharma

Personality devp camp for school students
Amritsar, November 20
A group of students from Government Senior Secondary School, Narli (Tarn Taran), comprising 15 girls and 25 boys from classes X to XII have been participating in a personality development camp organised by the Spring Dale Educational Society.
Head constables write test
Amritsar, November 20
To improve the functioning at police stations, a written test of head constables was conducted at the Amritsar (rural) police line at Daburji here today.
NCC cadets told how to control traffic
Amritsar, November 20
A traffic control camp was organised for the NCC cadets of Dayanand Industrial Training Institute at in the busy crossings, including Lawrence Chowk, Crystal Chowk and Customs Chowk of the holy city.
Cops get tips to bust stress
Tarn Taran, November 20
Social worker Vijay Sharma delivered a lecture to policemen to live a tension-free life, in a seminar organised at Police Lines here today.
NTSE Print Error
Students complain to SCERT
Amritsar, November 20 The students of the holy city, who appeared in the National Talent Search Examination, through an open letter to coordinator of State Council of Education Research and Training lodged a complaint about the difficulties faced by them during the test.