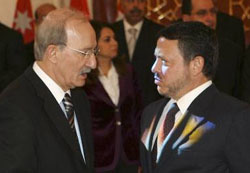 Jordan's King Abdullah talks with his new Prime Minister Nader Dahabi during the swearing-in ceremony in Amman on Sunday. Dababi, a former air force chief who transformed the special economic zone in the Red Sea port of Aqaba into a haven for multi-billion dollar investments, was appointed by the king on Thursday. — Reuters
Mush concerned over foreign terrorists
President General Pervez Musharraf has said Pakistan faces no external threat to its security but justified his November 3 declaration of emergency saying that foreign terrorists based in Pakistan were source of terrorist attacks inside Pakistan and at a global level.
Pak Sikh procession shelved
Islamabad, November 25
A traditional Sikh procession in Pakistan was shelved after intelligence reports said terrorists planned to attack the gathering, including over 4,000 pilgrims from India.
30 pro-Taliban militants killed, claims Pak Army
Islamabad, November 25
At least thirty militants have been killed in an operation launched by security forces in Pakistan's north-western Swat valley to regain control of villages and towns that were over-run by armed followers of a pro-Taliban cleric.
Taliban threaten to blow doc's clinic
Islamabad, November 25
The Taliban militants have threatened to blow up the clinic of a doctor in Peshawar, if he did not slash his fees.
Quake rocks Indonesian coast
Jakarta, November 25
An earthquake measuring 6.7 hit off the coast of Indonesia's Sumbawa island, the country's meteorological agency said late today. The quake hit 50 km (30 miles) northwest of Raba in Sumbawa, at a depth of 50 km, the agency said in a text message. The agency also issued a tsunami warning.
Lankan jets bomb strategic LTTE location
Colombo, November 25
Sri Lankan war planes today bombed and destroyed a secret satellite communication centre of Tamil Tigers in a rebel-dominated territory as security forces killed at least 10 guerrillas in the island's embattled northern region.
50 anti-Putin protesters detained in Russia
Moscow, November 25
The Russian riot police today beat opposition activists, detaining about 50 persons ahead of a march against President Vladimir Putin in St Petersburg, a Reuters reporter said.
India should protect Taslima: Lord Desai
London, November 25
NRI academic Lord Meghnand Desai today said India should protect the controversial Bangladeshi writer Taslima Nasreen from extremists Muslim forces.
Bipasha, Arshad racially abused in UK
London, November 25
Less than a year after Shilpa Shetty became the victim of the racial slur in the Britain, two of Bollywood's leading actors have also claimed that they were racially abused while filming in the country.

Brett Lee to feature in Bollywood movie
Melbourne, November 25
Australian pacer Brett Lee's much-talked about Bollywood career is all set to take off next year when he lands in India to shoot for a cameo in a film titled 'Victory'. Although the details of the film are not yet known, a report in the Sunday Telegraph said the tearaway pacer will do a day-long shoot for the movie next year. "There's no question Brett is among the most marketable athletes in Australian sport," Lee's agent Neil Maxwell, who is himself a former cricketer, was quoted as saying by the newspaper.
Nepal's Maoists threaten revolt
Nepal's Maoist chairman Prachanda has threatened that his party would launch a revolt against the government with a new strategy if the latter fails to address their demands.
Carter asks Nepalese parties to review electoral Act
At a time when Nepal's major political parties are not being able to sort out the existing political dispute and end the political deadlock, former US President Jimmy Carter has suggested the political parties to review the existing act related to the electoral system and go for fresh elections to end the political impasse.
Sobhraj's Case
Nepal SC postpones verdict again
Kathmandu, November 25
Nepal's Supreme Court put off its verdict on an appeal filed by suspected international serial killer Charles Gurumukh Sobhraj against a lower court's decision to convict him on the charge of killing an American national, Connie Jo Bronzich, said Hemanta Rawal, assistant spokesperson for the SC.
Indian woman raped
Dubai, November 25
An Indian woman, has filed a case with the police accusing a 'stranger' of raping her, reports Al-Watan newspaper in Kuwait.
Earth remained molten for years before formation: Study
New York, November 25
A research which sheds new light on the early formation of Earth says it remained molten for tens of millions of years before it cooled slowly.