Residents cheer as govt intends to upgrade Moga to MC
Moga, December 9
Residents are pleased over the Punjab government's intention of elevating the town from nagar council to municipal corporation. Chief minister Parkash Singh Badal recently chaired a meeting in Chandigarh to work out the modalities in this regard.
City saw 152 fire incidents in 9 months
Bathinda, December 9
The haphazard growth of the city has resulted in a proliferation of fire-prone establishments and indifference of the people towards fire safety measures.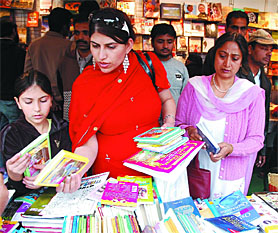 Bathinda Book Fair concludes
Books worth Rs 42 lakh sold
Bathinda, December 9
The organiser of Bathinda Book Fair- 2007, Baldev Singh Baddan, chief editor and joint director, National Book Trust, India, is a happy man. And why not! For the first time ever in the history of book fairs organised by the NBT in Punjab, books worth Rs 42 lakh were sold at this ten-day long book fair, which concluded here today.
Visitors having a look at the books on the last day of the Bathinda Book Fair on Sunday. — Tribune photo by Kulbir Beera

Paash emerges poster boy
Bathinda, December 9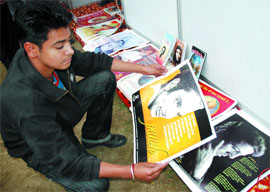 Would you like to buy a poster of Avtar Singh Sandhu? I suppose not? But what about Paash? Of course yes! But few people know that Paash's real name was Avtar Singh Sandhu. Can anyone believe that in the posters of the likes of Shahrukh Khans and Sachin Tendulkars to Dhonis and dashing cars, pasted on the walls of rooms of people, might get replaced by those of Paash, Amrita Pritam, Shiv Kumar Batalvi, Surjit Patar and Gurdas Mann. Why not?
Sale of posters of Punjabi poets was more than those of Punjabi singers at the Bathinda Book Fair. A tribune photograph
Measures to streamline functioning of govt schools
Fazilka, December 9
The education department, Ferozepur, has launched a three-pronged strategy to improve the functioning of government schools in the district.


Victory of love mesmerises all
Shakespeare's wisdom gets Punjabi touch
Muktsar, December 9
When the sweeper at the Red Cross auditorium here picked up rags early this morning, the last night's show was still on his mind as he understood the victory of love on the stage. And that's Shakespeare, who brought the theatre close to the layman's heart some four centuries back.
Saudagar, the Punjabi adaptation of William Shakespeare's 'Merchant of Venice,' was staged in Muktsar on Saturday. — A Tribune photograph

Sonia seeks quota for women: IYC
Ferozepur, December 9
While advocating one-third reservation for women in parliament, secretary IYC (Indian Youth Congress) Yogita Nandolkar said that AICC president Sonia Gandhi was making earnest efforts to get the women's reservation bill through in both Houses of parliament.
Dharna on Dec 13
Congress chalks out strategy
Bathinda, December 9
To discuss the strategy for staging dharna against the government policies on December 13, the district Congress committee held a meeting here today.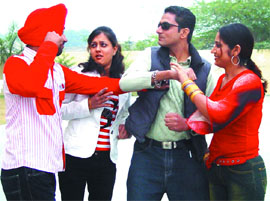 Shooting of Preet Punjabi's song 'Gumaan' in progress at Bathinda on Sunday. — Tribune photo by Malkiat Singh

Jawan killed in accidental firing
Bathinda, December 9
An army jawan, Ramesh Kumar (27), was reportedly killed when three bullets from his rifle accidentally went off at the cantonment here late on Saturday evening. He was cleaning his rifle, sources said.
Free legal aid planned for abandoned elderly
Abohar, December 9
Welcoming the Bill passed by the Parliament on ensuring social security to the aged parents, Lt. Col. (retd) Onkar Nath Chopra, chairman of the Land Grabbing Victims Association, today said that three such cases have been brought to the notice of the NGO and the association has resolved to arrange free legal assistance for such parents.
Tributes paid to Ram Singh Chahal
Mansa, December 9
Eminent writers paid tributes to the famous Punjabi writer Ram Singh Chahal on his Bhog ceremony here today. Speaking about the achievements of Chahal, Editor of Punjabi Tribune Sidhu Damdami said Chahal would always be remembered for his contribution in poetry, especially his writings for the farmers.
Training Programme for Teachers
'An enriching experience'
Abohar, December 9
For the B.Ed students of DAV College of Education, Abohar, a 15-day teaching experience in different schools under a teacher's training programme was enriching.
Markfed chief criticises Punjab govt
Barnala, December 9
Expressing concern over the halting of development projects in the state, Markfed chairman Harminder Singh Jassi said though 10 months had passed since the SAD government came into power, it had done nothing to meet the promises it made to the electorate.
One killed, 13 injured in mishaps
Abohar, December 9
One person was killed and thirteen others were injured in separate mishaps in the neighbouring Sriganganagar region on Saturday.
Night train demanded
Barnala, December 9
Lok Chetna Manch (LCM) has demanded a night train for New Delhi, which could cater to the needs of the residents of Barnala and Rampura area.
3 flee with vehicle, 1 held
Abohar, December 9
The police on the other side of the inter-state border recovered the Scorpio van that three miscreants had taken away forcefully from its driver last night.
Tractor stolen from Haryana recovered
Abohar, December 9
The Anti-goonda staff headed by Chhinderpal Singh has seized a tractor that had been stolen from Sonepat area of Haryana.
Missing Dalit boy found dead
Abohar, December 9
Less than 24 hours after water supply was suspended to the Dangarkhera sub-canal near here, the body of a missing Dalit youth, Monu, a resident of Arya Nagar, was recovered here today.