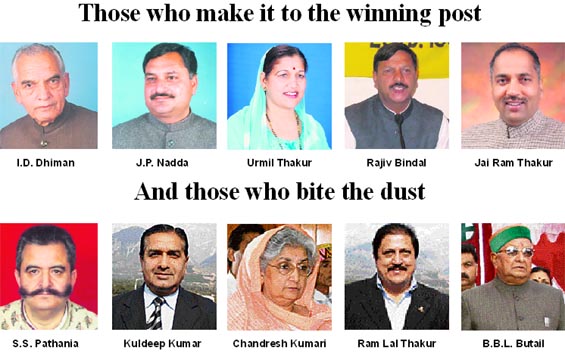 Lobbying on for Cabinet berths
Mandi, December 28
With BJP chief ministerial candidate Prem Kumar Dhumal set to take oath in a couple of days at Shimla, more than 12 BJP leaders from lower, middle and upper belts, divided along caste and regional lines, have started lobbying for the 12 ministerial berths in the new House.

Mankotia's CDs did work, but not for him
Kangra, December 28
Major Vijay Singh Mankotia (retd), former tourism minister and chief ministerial candidate of the BSP, today failed to make it to the Assembly from Dharamsala. He remained at the third place in a five-cornered contest. He had engineered the Congress debacle by circulating the controversial CDs allegedly exposing the conversations of Chief Minister Virbhadra Singh and MP wife Pratibha Singh regarding certain bribes.
BJP gets 3 seats, Cong one in Bilaspur
Bilaspur, December 28
The BJP won three seats out of total four here in the district and the Congress could manage to win only one Ghumarwin seat.
Dhumal wins by record margin
Hamirpur, December 28
The BJP chief ministerial candidate Prem Kumar Dhumal, who has trounced Congress candidate B. C. Lagwal in his pocket borough in the Bamsan assembly constituency in the district, has created history.
CM wins from Rohru
Shimla, December 28
Chief Minister Virbhadra Singh defeated his traditional BJP rival, Khushi Ram Balnatah, in the Rohru constituency by 14,137 votes.
4 Hamirpur seats for BJP
Hamirpur, December 28
The BJP won four of the five assembly seats in Hamirpur district. BJP chief ministerial candidate Prem Kumar Dhumal trounced his Congress rival B.C Lagwal by 26,007 votes in the Bamsan assembly constituency.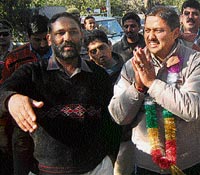 BSP salvages pride in Kangra
Kangra, December 28
It was last-minute unexpected victories of two Congress candidates from Pragpur and Jaswan that the party managed to bag five seats out of 16 in this district with the BJP winning nine. The BSP emerged victorious in the Kangra seat and the only victorious independent in the district was BJP rebel Rakesh Pathania from the Nurpur constituency.

Sanjay Chaudhary, the only BSP winner, greets people after his victory from Kangra. — Photo by Ashok Raina

Pathania wins from Nurpur
Nurpur, December 28
After a long gap of 35 years, an Independent candidate has repeated victory from Nurpur, a Congress bastion represented in the Assembly by octogenarian leader and revenue minister of the outgoing Virbhadra Singh government Sat Mahajan.