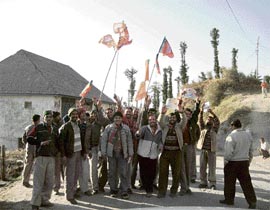 Residents of Jai Devi village, near Sundernagar, celebrate the BJP victory in Gujarat on Sunday. — Photo by Mahesh Chander Sharma
Dhumal greets Modi on victory
Shimla December 23
Former Chief Minister Prem Kumar Dhumal said today that the election results of Gujarat had proved beyond doubt that more and more people were reposing faith in the BJP.
State should be IT destination, say Himachalis
Kumarhatti, December 23
In an effort to peep inside the hearts of Himachalis, a NRI NGO, held an open debate here recently, in which people from all over state took part. Those who participated in the debate were keen to see the state as a major IT destination.


A shopkeeper gears up for Christmas at one of the shops on The Mall in Shimla. — Tribune photo: S. Chandan
Chopper landing a violation of Blue Book norms
Shimla, December 23
The investigating agencies have yet to verify the authenticity of the permission to Air Deccan for landing a helicopter at Bilaspur while Prime Minister Manmohan Singh was still there, but as per the Blue Book for the Prime Minister's security, there seems to have been a clear-cut violation.
Naturopathy attracting people from abroad
Palampur, December 23
Bhisham K. Agnihotri, chancellor emeritus in the University of Laws, USA, has come to Palampur to have naturopathy treatment for his wife at the Himalayan Institute for Yoga and Naturopathy here. The institute is run by the Vivekanand Medical Research Trust (VMRT). The doctors in the USA have disappointed him and he had come to India with a new hope.
Govt 'ignoring' demands of pensioners
Bilaspur, December 23
Kesh Pathania, a retired employees' leader and member of the BSP's state executive committee, has criticised the government for its failure to look into long-pending grievances of about 90,000 retired employees of the state. He has demanded that the government should look into their genuine demands and remove their difficulties.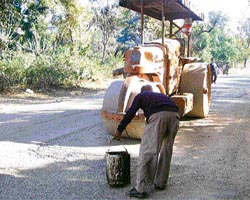 Newly laid road, old problem
Nurpur, December 23
A question mark has been put on the quality of reconstruction and resurfacing of roads in this subdivision. The bitumen surface of the newly laid Jassur-Pongdam-Talwara highway had started eroding some time ago and now a 3-km stretch of the National Highway (NH)-20 has started eroding. It was laid just a month ago.

A labourer repairs the eroded bitumen surface of a 3-km stretch of the National Highway No. 20. — Photo by Rajiv Mahajan

Govt 'spending less' on farm sector
Shimla, December 23
The Himachal Gyan Vigyan Samiti today expressed concern over the fact that the government spending on the agriculture sector had been on the decline as a result of which agriculture, especially for the marginal and small farmers was no longer profitable.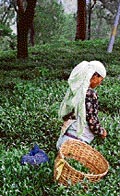 Kangra tea loses buyers due to high prices
Palampur, December 23
The tea industry in the Kangra valley has been passing through a serious crisis as tea growers are finding it difficult to maintain plantations in view of few buyers for their produce. The cost of production has almost doubled in the past three years but the prices of tea in the national and international markets has come down by 30 to 50 per cent since the signing of the WTO pact by India. Tea made in India has failed to compete with the that made in African countries, Sri Lanka and China. In these countries the production cost is mush less than in India.
A woman worker plucks tea leaves from a garden in the Kangra valley. — A Tribune photograph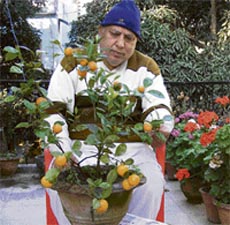 Retired Agriculture Department official V. N. Behal proudly displays his bonsai orange plant at his house in Bilaspur. The plant has produced 22 fruits within one year of its planting in an earthen flower pot. — Photo by Jai Kumar
Fire-prevention panel
Bilaspur, December 23
DC Devesh Kumar here has drawn attention of all district officers towards prevention of fire accidents and untoward incidents in the offices with the view to save and protect precious government record kept there.
School gets CBSE nod
Nurpur, December 23
The 16th annual prize distribution function of the local CBSE -affiliated Nurpur Public School was celebrated today. It was presided over by SDM I. S. Bhardwaj.
One killed, 4 hurt in road mishaps
Bilaspur, December 23
Surjan Singh (35) of Khungan village was killed on the spot while driver Raj Kumar (35) of Kapahra village and Ajay Singh (17) were injured when their truck fell into a gorge near Kallar crossing in the Papplah panchayat area last night.
MLA's son held for attacking BSP candidate
Nahan, December 23
The police has arrested Vinay Kumar, son of Congress MLA from the Renuka Assembly segment in Sirmour district on the charge of attacking Prithvi Singh, BSP candidate from the constituency.
One dies in road accident
Shimla, December 23
A 26-year-old person was killed ;ast night after being allegedly run over by a vehicle at Sanjauli, a saburb of the state capital.
Beggar dies due to cold
Nahan, December 23
An unidentified beggar having unsound mental condition died last night near the Paonta bus stand.