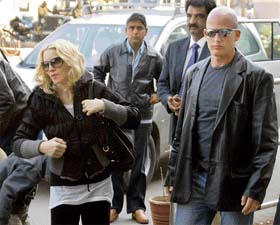 Pop star Madonna (left) arrives at the airport in Jodhpur on Sunday. The pop star is on a vacation with her family in Rajasthan. — Reuters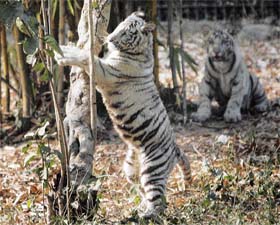 A white tiger cub plays as its sibling looks on at Delhi zoo on Sunday. — PTI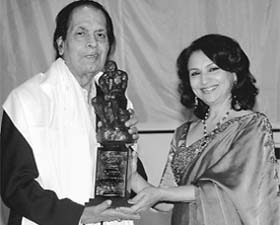 Chairperson of the Central Board of Film Certification Sharmila Tagore presents lifetime achivement award to director Shakti Samanta in Mumbai on Saturday. — PTI
BSP for quota to poor among upper caste
Hyderabad, January 6
The Bahujan Samaj Party (BSP) would provide reservation to the poor among upper castes and also fulfill the demand for a separate Telangana state if voted to power at the Centre, party chief Mayawati said today.
Kandhamal Violence
Congress for all-party meet
Bhubaneswar, January 6
Demanding an immediate all-party meeting on the Kandhamal violence to help restore quick normalcy in the riot-torn areas, the Congress today asked the Orissa government to allow political parties and other fact finding bodies to visit the district.
Fog delays 30 flights
New Delhi, January 6
Foggy conditions in the Capital this morning delayed as many as 30 flights, while one was diverted to Jaipur when the low visibility procedures were implemented at the Indira Gandhi International Airport.
Poor patients denied treatment
Madras HC orders inquiry
Chennai, January 6
The Madras High Court has ordered an inquiry following reports of indigent and unattended patients being denied treatment by government hospitals in Tamil Nadu or even dumped outside the premises.
Guv for improving quality of education
Dehra Dun, January 6
Uttarakhand Governor B. L. Joshi has urged the teaching community to keep their minds open to the creative impulses and ideas of the modern era.
Chatterjee elected head of conference of speakers
New Delhi, January 6
Lok Sabha Speaker Somnath Chatterjee was on Friday elected chairperson of the Conference of Speakers and Presiding Officers of Commonwealth for two years. The election was held in London on Friday.
'Cyber crime on decline in country'
New Delhi, January 6
Contrary to popular belief that cyber crime is on the rise, statistics show that the cases of the "new age" crime have declined with the most noticeable difference seen in Gujarat.
Biodiversity plan to identify threats to conservation
New Delhi, January 6
The ministry of environment and forests has prepared a draft of the National Biodiversity Action Plan (NBAP) to identify threats and constraints in bio-diversity conservation.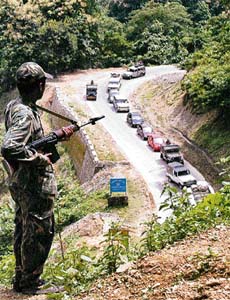 A paramilitary soldier watches over traffic on the Assam-Agartala national highway 44, on the Atharamura Hills, some 65 km east of Agartala, on Sunday. — PTI photo
Koda confident of Cong support
Ranchi, January 6
The January 15 deadline set by the Congress for the Jharkhand government to 'perform or perish' has lost its sheen after the drubbing the Congress received in the Gujarat elections.
Senior leaders should be brought back to Cong: Karunakaran
Thiruvananthapuram, January 6
Back in the Congress after a three-year break, veteran leader K. Karunakaran feels that NCP chief Sharad Pawar and other senior leaders, who had left the party, should be brought back to face a resurgent BJP.
JD(S) poll campaign from Jan 18
Bangalore, January 6
Janata Dal (S) chief H.D. Deve Gowda yesterday said his party would launch its poll campaign for the Assembly elections in Karnataka from January 18.
Sonia discharged from hospital
New Delhi, January 6
Congress president Sonia Gandhi was discharged from Sir Ganga Ram hospital here today after she fully recovered from her illness. She was admitted to the hospital on January 1 following chest infection.
Haneef may work in West Asia
Bangalore, January 6
It seems to be a case of once bitten twice shy for Mohammed Haneef, the city-based doctor who has been cleared of terror charges in Australia. He is now contemplating working in West Asia rather than returning to Australia.
Centre exempts Arunachal from delimitation process
Itanagar, January 6
In a significant development, the Centre has decided to exempt Arunachal Pradesh from the delimitation of its Assembly constituencies, considering the demand of the people of the state.
Canvascope for young artists and sculptors
Guwahati, January 6
Canvascope. The name sounds strange and is not found in any dictionary of the English language. The venture too is one of its kind in the trouble-torn but culturally rich Northeast.
Nitish: ID move discriminatory
New Delhi, January 6
Apprehending harassment to illiterate or semi-literate wage earners from Bihar on the identity proof issue, Bihar Chief Minister Nitish Kumar said today it smacked of "discrimination" against outsiders.
Basu assailed over pro-capitalism remark
Kollam (Kerala), January 6
In a sharp reaction to veteran CPM leader Jyoti Basu's statement that capitalism was essential for economic development, the Revolutionary Socialist Party (RSP) general secretary K. Pankajakshan today said he was surprised to hear such remarks from senior Communist leaders.
Promote sustainability science: experts
Visakhapatnam, January 6
Highlighting the need for realising the UN precepts on sustainable development, experts at the ongoing 95th Indian Science Congress today said sustainability science should be promoted in a big way.
Slain Brigadier gives life to two
New Delhi, January 6
In another case of multi-organ donation in the armed forces, a retired Brigadier, who was shot dead at his residence in Meerut, has given new life to two persons while his other organs have been preserved for saving more lives.
Inventor of Jaipur foot dead
Jaipur, January 6
Dr P.K. Sethi, renowned orthopaedic surgeon and inventor of Jaipur foot, an artificial limb used all over the world for physically challenged, today died of cardiac arrest at a private hospital here, the family sources said. He was 80.



Videos
Halla Bol is a big-budget venture
(56k)
Akshay Kumar just might be the highest taxpayer
(56k)
Mumbai's Chor bazaar is antique shopper's paradise
(56k)