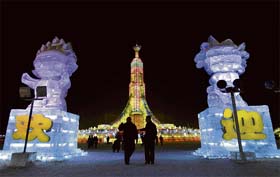 Tourists walk past the 2008 Beijing Olympic mascots made of ice bearing words 'Welcome' during the 24th ice and snow festival in Harbin, northeastern China's Heilongjiang province, on Saturday. The annual festival marks the peak of tourism to the northern region of China. — AP/PTI



Bull rider Orivaldo Cruz of Brazil rides a bull during the International Tournament of Bull Riders at the Plaza bullring in San Jose on Saturday. — Reuters
Bhutto's medical report fraught with lacunae: Experts
Islamabad, January 6
The medical report of slain Pakistani leader Benazir Bhutto, a crucial evidence in the probe into her assassination, is fraught with lacunae and a proof that the doctors acted "unprofessionally", experts have said, with some even suggesting foul play.
Safe from hackers, Pak electoral rolls in Canada
Islamabad, January 6
Pakistan's electoral rolls with the names of over 80 million eligible voters have been stored behind firewalls on a secure computer system in Canada to prevent hackers from accessing them.
UK sleuths interview cops posted at Bhutto rally
Islamabad, January 6
The Scotland Yard sleuths probing Benazir Bhutto's assassination today interviewed policemen, who were posted at the rally ground, where she was attacked, and doctors, who attended on the former premier.

In video (56k)
Democrats agree on right to pursue Osama in Pak
The Democratic presidential candidates agreed in a debate on Saturday night that the USA has the right to pursue Osama bin Laden in Pakistan regardless of whether it had permission from the government in Islamabad.
LTTE intelligence chief killed
Colombo, January 6
In a body blow to the LTTE, the head of its military intelligence 'Colonel' Charles was killed by the Sri Lankan Army in northwestern Mannar, as fighting escalated following the government's decision to dump a 2002 ceasefire.
Lanka in urgent need of monitors, says rights group
Colombo, January 6
A London-based minority rights group has underlined the need for an international monitoring mission in Sri Lanka following Colombo's decision to scrap the ceasefire agreement with the separatist Liberation Tigers of Tamil Eelam (LTTE).
37 LTTE men, 2 soldiers killed
Colombo, January 6
Two soldiers and 37 LTTE fighters were killed in the restive northern Sri Lanka today just days after the Sri Lankan government announced that it was ending the Norwegian-brokered cease-fire pact with the rebels.
UN agencies to provide aid to displaced Kenyans
New York, January 6
United Nations agencies are moving in to provide aid to about one lakh persons displaced by the violence, which erupted after President Mwai Kibaki was declared a winner in a presidential election in Kenya.
'Corrupt US officials helped Pak steal N-weapons secret'
London, January 6
Senior US officials helped Pakistan to steal atomic weapons secrets through Turkish agents in exchange for money and other benefits, with ISI passing on the sensitive information to the now disgraced nuclear scientist A.Q. Khan, a media report claimed here today.
14 killed in Baghdad blasts
Baghdad, January 6
A spate of bombings, including a suicide attack on Iraqi soldiers attending an Army Day ceremony, rocked Baghdad today, killing at least 14 persons and wounding 32 persons, Iraqi officials said.
Britney released from hospital
New York, January 6
The US pop star Britney Spears has been released from a Los Angeles hospital, hours after losing custody of her two young sons to ex-husband Kevin Federline. The troubled star was discharged from Cedars-Sinai Hospital, where she was admitted as a "special needs" patient, yesterday even though celebrity psychologist Phil McGraw.
Brown hints at taking 'tough' decisions
London, January 6
British Prime Minister Gordon Brown has earmarked 2008 as a year of "tough decisions" on a range of issues encompassing nuclear power, planning and housing, a media report said today.
Hindu Temples in Malaysia
Councils to be set up in all states
Kuala Lumpur,January 6
Amidst reports of demolition of some Hindu temples, the Malaysian Indian Congress (MIC), a key constituent of the ruling coalition, will set up councils in all states to protect the holy sites and resolve any related problems through the local governments.
Malaysian employers mistreated us: Indians
Kuala Lumpur, January 6
Two music and dance teachers from India have accused their Malaysian employers of physically abusing them since the day they were hired three years ago. S. Rajendra and M. Sangeetha, both 27, claimed that they were being beaten up by their employers, a couple, from the day they arrived at the music and dance school here.
Nepal army chief against Maoist fighters in army
At a time when the Communist Party of Nepal-Maoist leaders have been urging the government and other coalition partners to integrate their combatants into the Nepal Army, chief of army staff General Rookmangud Katawal today hinted that he was against integrating politically indoctrinated Maoists cadres into the army.
Sex Tape
Malaysian police makes more arrests
Kuala Lumpur, January 6
The Malaysian police has made two more arrests over a sex tape featuring the health minister who was forced to resign over the scandal last week, reports said today.
Fresh offensive against militants in Swat
Islamabad, January 6
The Pakistan Army today launched a fresh drive against pro-Taliban militants in the northwestern Swat region amidst indications that the security forces would adopt a tougher approach against the ultras in the tribal areas bordering Afghanistan.
US storms claim 3 lives
Fernley (Nevada), January 6
Heavy snow covered the northern California mountains and rain and wind hit the US west coast as third day of winter storms left at least three persons dead and thousands of homes and businesses in California, Oregon and Washington without power.