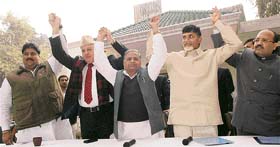 (From left): Indian National Lok Dal general secretary Ajay Chautala, National Conference patron Farooq Abdullah, Samajwadi Party chief Mulayam Singh Yadav, Telugu Desam Party chief Chandrababu Naidu and SP general secretary Amar Singh pose during a press conference of the United National Progressive Alliance in New Delhi on Monday. — A Tribune photograph



Tribal persons from Arunachal Pradesh perform a traditional dance during the Namdapha eco-cultural festival in Maio, around 700 km from the state capital Itanagar, on Monday. — AFP photo
Taking holidays depends on habit: PM
New Delhi, January 7
A known workaholic, Prime Minister Manmohan Singh feels taking holidays depends on one's habits. "Habits vary," was his cryptic response when asked about his tight work schedule and not availing a single holiday since he took over as Prime Minister in 2004.
Molestation victims fail to move cops for 40 hours
New Delhi, January 7
The Delhi police has once again proved itself of being hostile towards the women residents of the city as the police took more than 40 hours to finally listen to two victims of molestation.
Upgraded version of BrahMos within 7 years
Mumbai, January 7
India and Russia are jointly developing an upgraded version of the BrahMos missile that will be ready in five to seven years' time, according to sources.
Barak Missile Deal
Probe's status against Nanda sought
New Delhi, January 7
The Supreme Court today directed the CBI to apprise it within three days of the status of investigation into the controversial Barak missile deal involving arms dealer Suresh Nanda who has been restrained from leaving the country.
Scientist: Akash ready for induction
Hyderabad, January 7
Surface-to-air missile Akash is ready for induction into the defence forces, a top scientist of the Defence Research and Development Organisation (DRDO) announced here today.
Rampur suspect made calls to J&K before terror attack
New Delhi, January 7
A CRPF personnel from Jammu and Kashmir, under scanner for his alleged role in the terror attack on the para-military force's group centre at Rampur in Uttar Pradesh on New Year day, had made several calls to his home state before the militants struck.
People's democracy will lead to socialism: Karat
CPM defends Basu's remarks
New Delhi, January 7
With veteran party leader Jyoti Basu's remarks, on limitations of enforcing socialism in an overall capitalist set up, evoking reactions from political parties both within the Left front and outside, the CPM today sought to clear the air, saying the party's goal was to set up people's democracy as a step towards the eventual goal of socialism and it cannot be done by the three state governments ruled by the Left.
NGOs aiding Maoists in Kandhamal
Orissa government to probe allegations
Bhubaneswar, January 7
The Orissa government today said it would probe allegations that foreign funds were going to the Maoists through NGOs operating in violence affected Kandhamal district.
Ramdev accepts IMA's challenge on cancer
Nagpur, January 7
Popular yoga guru Ramdev has accepted the Indian Medical Association's (IMA) challenge to cure cancer patients and allow clinical trials of his treatment within three years.
Delimitation Panel's Order
Apex court gives centre 4 weeks to clear stand
New Delhi, January 7
The Supreme Court today granted the Centre four weeks' time to apprise it of the government's stand on the implementation of the Delimitation Commission order redrawing the maps of constituencies and holding the next round of Assembly elections and the Lok Sabha polls accordingly.
'84 riots: Witness Jasbir not to appear before CBI today
New Delhi, January 7
Jasbir Singh, key witness of the 1984 anti-Sikh riots, will not appear before the CBI tomorrow, though the agency had asked him to through a notice last week. Jasbir, who is in the US, wants to testify against Congress MP Jagdish Tytler, but not in India, as he fears for his life.
Shahnaz Hussain's son falls to death
Patna, January 7
Patna residents today woke up to the shocking death news of Sameer Hussain, 34, the only son of the renowned beautician, Shahnaz Hussain. Sameer succumbed to his injuries in a city hospital here after he fell from the third floor balcony of the sixth-storeyed Maqbool Hussain apartment under mysterious circumstances yesterday.
Poisoning of tigers raises alarm
Guwahati, January 7
The Assam Wildlife Department has faced a new challenge of protecting the endangered tiger from poisoning by villagers living on fringes of wildlife habitats, including the famous Kaziranga National Park (KNP).
Uttarakhand facing acute power shortage
Dehra Dun, January 7
The image of Uttarakhand as Urja Pradesh has taken a knock as the state is facing acute power shortage. The gap between demand and supply has so widened that unusually long cuts are being imposed in the whole state.
Sena wants permits for 'outsiders'
Mumbai, January 7
A proposal by the Lieutenant Governor of Delhi to make it compulsory for all residents of the capital to carry identification cards at all times has been seconded, albeit in a different manner, by the Shiv Sena in Mumbai.
Basu's remarks distorted, says CPM
New Delhi, January 7
The CPM today came out in support of its leader Jyoti Basu's comments on the capitalism issue, saying that his remarks on the role of the Left Front government had been "confused" and reported in a "contradictory" manner.
Toshi attacked, out of danger
Mumbai, January 7
Toshi of the Voice of India fame was attacked by a hammer yesterday at around 11.30 pm by four unidentified persons. He sustained a head injury and was rushed to Nanavati hospital by his brother and well-wishers.
Cong flays SGPC remarks on Indira killers
New Delhi, January 7
The Congress today condemned of the SGPC for declaring former Prime Minister Indira Gandhi's assassins as martyrs. "We condemn the shocking statement by the SGPC that Indira Gandhi's assassins are martyrs of the Sikh religion," Congress spokes-person Jayanti Natarajan said.
Academics deplore shooting
Kolkata, January 7
Academics and litterateurs today expressed concern over the gunning down of a girl student at the Viswa Bharati University in Santiniketan, saying "the incident is an instance of an intolerant society".
Rural jobs scheme: Centre calls meeting
New Delhi, January 7
The Rural Development Ministry has called a meeting of state secretaries of rural development on January 17 to review the implementation of the UPA government's ambitious National Rural Employment Guarantee Programme.
IAF locates missing ITBP patrol
New Delhi, January 7
Four days after an Indo-Tibetan Border Police (ITBP) patrol went missing near the Chinese border in a blizzard, an Indian Air Force (IAF) helicopter today located them and rescued an officer.
Minor raped, burnt alive
Ahmednagar, January 7
A 13-year-old girl was allegedly raped and burnt alive at Shelkewadi village in Sangamner taluka of the district. The police has arrested Deepak Gopinath Wayaal.



Videos
Orange production increases in Assam.
(56k)
Imtiaz Ali chooses Deepika over Kareena.
(56k)
Bipasha turns 29.
(56k)