100 yrs of deep frying
Jalandhar, January 8
Every city has a history. It is remembered by the people who created it or lived in it. The biggies are remembered at "high-level" functions and birth or death anniversaries, with the city glitterati doling out formal, "micro-phonic" and commemorative speeches for them. There is, however, another type of people who are remembered. No statues are built for them but somehow their memories are imprinted, deeper than the latter, in the hearts of the townspeople.
Dhanne Di Hatti has been producing lip-smacking snacks for the last 130 years. — Photo by S.S. Chopra
Rain mars Bhangra Olympiad
Jalandhar, January 8
Bhangra Olympiad organised by the International Punjabi Folklore Academy at Guru Gobind Singh stadium today had to be stopped midway owing to incessant rain here this afternoon.
Ward off winter blues in style
Jalandhar, January 8
Preet Aman, a designer from Chandigarh is in town with her latest collection of formal and informal wear. She presents her collection at an exhibition at the Shangrila hotel here. A NIFD pass out, Preet says she wanted to be a designer right from her childhood.

Designer Preet Aman shows her collection of colourful suits at an exhibition in Jalandhar on Tuesday. — Photo by S.S. Chopra
Jumbo Cover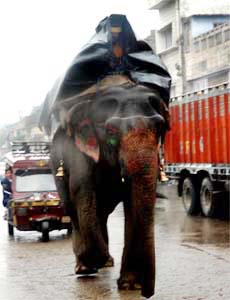 Moderate showers lashed city on Tuesday, bringing the mercury further down. — Tribune photo by Pawan Sharma
Bye Bye 2007
The year that was
Lo! The bell has tolled and we are in the novice and novel year 2008. New Year is ready to sprinkle its warmth, felicitation, sparkle and boundless joy. Just get prepared to inhale the fragrance of the wonderful gift that New Year is going to bestow upon you. Year 2007 was a combination of excellent and rancid activities. The year brought a frenzy of activities in political, social and personal lives. It was thumps up for many in different strata of life but too ghoulish for others. The year 2007 was full of unforgettable disdainful events that really plugged off our faith in goodness of humanity.
Samandeep, Ramandeep are Karate champs
Jalandhar, January 8
Chief trainer of the Renbukan Karate-Do Association Punjab Lachhman Singh Bashera organised an inter-club martial art fighting championship.