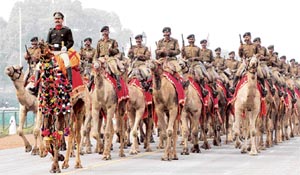 Soldiers from the BSF ride camels during a rehearsal for the upcoming 59th Republic Day parade in New Delhi on Thursday. — Tribune photo by Mukesh Aggarwal
Rs 1800-cr job scheme for disabled gets nod
New Delhi, January 17
With employment opportunities in the state sector becoming lesser by the day, the Centre today gave approval to a scheme that envisages incentives to employees in the organised sector who provide regular employment to physically challenged persons.
Army seeks more funds
New Delhi, January 17
Seeking to further modernise the force, the Army has asked for more funds from the Ministry of Finance in the forthcoming budget.
Bundelkhand
Separate state only solution: Rahul
Jhansi, January 17
The demand for a separate Bundelkhand state received further impetus today when AICC general secretary Rahul Gandhi declared it to be the only solution to the problems being faced by the people of the region.
Rahul picks 2 secretaries
New Delhi, January 17
The suspense has finally ended. The Nehru-Gandhi scion and AICC general secretary Rahul Gandhi has finally picked two party secretaries for his team.
Koda grounded
Patna, January 17
Even before the Congress translates its threat, with regard to reviewing its support to Madhu Koda, into action and his related downfall, the Jharkhand Chief Minister is already forced to take to roads.
Prem Bhatia scholarships
Chandigarh, January 17
The Prem Bhatia Memorial Trust has invited applications from Indian journalists, working in India, for two scholarships offered for research in media-related subjects.
Lok Ayukta's office turns good Samaritan
Bangalore, January 17
Lok Ayuktas do not fight corruption alone, they can be good Samaritans too. The Karnataka Lok Ayukta's office, which has recently started a helpline to report on the corruption, is now set to initiate the new helpline - one which will address the needs of the distressed people in the state.
Snow eludes Mussoorie
Mussoorie, January 17
Mussoorie seems to be the last on the mind of weather gods as its date with snow is getting delayed even as other famous tourist places in Himachal Pradesh and Jammu and Kahsmir already have had their share of the tourists' rush and the business that comes along.
2 sharp shooters arrested
Muzaffarnagar, January 17
Two sharp shooters of the Ravi Pujari gang in Mumbai were arrested, the police said here today.
Wildlife Crime Control Bureau gets operational
New Delhi, January 17
The much-awaited Wildlife Crime Control Bureau has finally started functioning and hopefully its workplace will also become visible to the public within next couple of weeks.
Additional funds for waiver of overdue interest
New Delhi, January 17
The Union Cabinet today gave its approval for an additional release of Rs 530.06 crore towards waiver of overdue interest in the 31 districts of Maharashtra, Andhra Pradesh, Karnataka and Kerala.
8 killed in militancy-hit Manipur
Imphal, January 17
Eight persons were killed in various insurgency-related incidents in Manipur, official sources said today.
Bihar jails to hold cricket matches
Patna, January 17
At a time when the Indian team takes on Australia, the Bihar government has come up with an innovative idea to cool down tempers in Bihar jails by making the inmates play cricket.
Extortionists kill man with AK-47
Patna, January 17
An upgraded version of AK-47 rifle was reportedly used today to kill an employee of the construction company of Irkon in Siwan district, besides injuring two others by a village 'mukhiya' to settle the score on extortion issue.
Guinness Record
Youth breaks 250 tiles on head
Rajapalayam (Tamil Nadu), January 17
In a bid to etch his name in the Guinness Book of World Records, a postgraduate student broke 250 tiles non-stop on his forehead in a record time.
They smashed heads of women to get rich
Bangalore, January 17
The police has arrested five men who smashed the heads of two women as part of a bizarre sacrifice to facilitate finding of a "hidden treasure" as promised by a tantrik.



Videos
Dish TV seeks ties with Indian Railways.
(56k)
Taare Zameen Par sets the box office tills ringing.
(56k)
Aditya Chopra to direct Rani Mukherjee.
(56k)