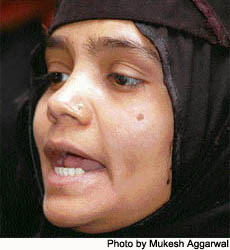 A profile in courage
Staying away from the media strobes, she overcame fear, and with exemplary tenacity refused to give up. On January 21, a Mumbai court awarded life sentences to 11 persons who sexually assaulted Bilkis Bano in March 2002. She had witnessed 13 of her relatives being burnt alive and her daughter being murdered, while she, her mother and sister were sexually assaulted. The court's verdict was a victory not only for her but also a blow for all those who were killed and violated in Gujarat. Shiv Kumar reports the extraordinary case of Bilkis Bano

Bilkis Bano & Zaheera Shaikh


Justice eludes Gujarat's Muslims
Netaji: The mystery deepens
What happened to Subhas Chandra Bose in 1945? Maj Gen Himmat Singh Gill (retd) says many questions remain unanswered if we buy the story that he died in the plane crash at Taipei
I have survived it all — Kabir Bedi
Shweta Thakur
Actor Kabir Bedi, who has marked his presence in Western cinema and is set to host a chat show on television, feels proud when he looks back at his career spanning over three decades, three continents and three mediums.
Building marvels
BBC World celebrates buildings and designs around the globe in World's Skylines today at 5.10 pm as it looks at architecture around the world. It goes through the history of tall buildings and examines the 14 medieval towers of San Gimignano in Italy's Tuscany region as also the twentyfirst century's Gherkin building that has become as important a landmark of London as St Paul's Cathedral.
Mouli in man's world
As Shaina Sikand, the lead star in Kahin Kissi Roz on Star Plus, Mouli Ganguly was one of TV's top eyeball grabbers. But she quit the role at the height of her popularity. "I had reached a point of stagnation playing Shaina Sikand and wanted a life outside Kahin Kissi Roz."
Past forward
With Ashutosh Gowarikar's Jodhaa-Akbar due for release soon, Shoma A. Chatterji looks at a few historical films
Historical romance across the world holds a special charm for literature and cinema. For Indian mainstream cinema, there is the added attraction of the 'period' feel, the lavish sets, the grand costumes, beautiful actors and last but never the least, scintillating songs and a memorable musical score.
Documentary evidence
Ervell E. Menezes checks out the films for the 10th edition of MIFF
The Mumbai International Film Festival (MIFF) for Documentary, Short and Animation Films is being held at the prestigious National Centre for the Performing Arts at Nariman Point in Mumbai from February 3 to 9, an event held every other year and eagerly awaited by filmmakers and cine-buffs alike.
Starry affairs
The highs and heartbreaks of filmstars has been a favourite theme with directors, writes M.L. Dhawan
Affairs in the film industry have always held fascination for movie buffs. Set in the 1950s, Prakash Jha's Khoya Khoya Chand directed by Sudhir Mishra is the story of writer-director Zafar (Shiney Ahuja) and an actress Nikhat (Soha Ali Khan), an extra who becomes a superstar.


A healthy model
There is urgent need for a massive investment in healthcare, particularly in the northern states. The world-class hospitals in the South which cater to the needy and provide free services could serve as models for setting up medicities in Chandigarh and Punjab, writes Ram Kumar