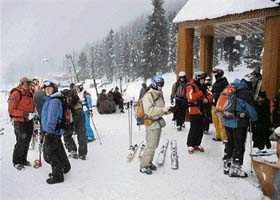 Foreign skiers throng Gulmarg. Heavy snowfall has attracted tourists to the ski resort. — Tribune photo by Mohd Amin War
Power supply restored in 80 pc areas of Kashmir
Srinagar, February 10
Power supply and road connectivity in 80 per cent areas of snow-bound Kashmir valley has been restored, top Jammu and Kashmir officials today said.
Restore essential services in Kashmir: Minister
Jammu, February 10
Minister for transport and public grievances, Hakeem Mohammed Yaseen today expressed concern over the loss of public property due to the heavy snowfall in the state especially, in Kashmir division.
Permanent base camp for Amarnath pilgrims soon
Jammu, February 10
At last a full-fledged permanent base camp for lakhs of Amarnath pilgrims in the winter capital, who throng holy cave shrine in south Himalayas every year, may become a reality. Every year four to five lakh pilgrims from different parts of the country visit the cave shrine, which in turn also gives an impetus to the state economy.


Top Hizbul militant, aide shot dead
Srinagar, February 10
In a setback to Hizbul Mujahideen outfit, the police today shot dead one of its top self-styled commander along with his aide in an encounter in Pulwama district.


Kashmiris carry the body of the Hizbul commander, during his funeral in Noorpora Tral village, 35 km south of Srinagar, on Sunday.
— Tribune photo by Mohd Amin War
3 Pak soldiers arrested
Jammu, February 10
The Border Security Force arrested three Pakistani soldiers in Ranbir Singh Pura sector near Indo-Pak border in Jammu and Kashmir today. The three soldiers belonging to Chenab Ranger entered into Indian territory and were apprehended near border fencing on zero line inside Indian territory at Suchetgarh border outpost, official sources said.
Bird flu: Chicken sales drop
Srinagar, February 10
Even though there was no report of any bird flu case from any part of the Kashmir valley, the sale of chicken has come down by 35 per cent. Still there is enough chicken stock in the valley, which remained cut off from the rest of the country for six days due to snowfall and landslides, poultry dealers said.
Gujjar forum seeks Beigh's resignation
Jammu/Rajouri, February 10
Taking a dig at Jammu and Kashmir Deputy Chief Minister Muzaffar Hussein Beigh regarding his statement over grant of Scheduled Tribe status for the Pahari speaking people in the state, the Gujjar Bakerwal Joint forum has demanded his immediate resignation.
Gujjars oppose ST status for Paharis
Jammu, February 10
Gujjar leaders of the state have opposed any move to confer Scheduled Tribe (ST) status to Pahari-speaking people in the state. Reacting to the statement of deputy chief minister, Muzzaffar Hussain Baig, who is also vice-chairman of the Jammu and Kashmir Pahari Advisory Board, prominent Gujjar leaders today alleged that this would be opposed by them "tooth and nail".


State lok adalats earn CJI pat
Jammu, February 10
Chief Justice of India Justice K. G. Balakrishnan today said that the mediation and reconciliation mechanism could help in speedy disposal of cases and also settling the pending backlog of cases across the country.
Justice Mohammad Nazir Fida, principal district judge Kupwara, welcomes Chief Justice of India K.G. Balakrishnan at the valedictory function of the 3-day judiciary seminar at Zorawar Singh Auditorium in Jammu on Sunday. — A Tribune photograph
Former assistant commissioner in VO net
Srinagar, February 10
The Jammu and Kashmir Vigilance Organisation (VO) has registered a case against former assistant commissioner, development, Kupwara, under the provisions of the Prevention of Corruption Act.
Custodial death: 4 cops suspended
Jammu, February 10
The Jammu and Kashmir government today ordered a probe into the custodial death of a villager in Samba district yesterday and suspended four cops including a station house officer and two special police officers in connection with the incident.
Purchase of nutritional items decentralised
Jammu, February 10
The Department of Social Welfare has decentralised the purchase of nutritional items meant for children to the district level to make the process transparent. Moreover, the government has also said it would incur Rs 40 crore on supplementary nutrition for the children.
Relief to Ultras' Kin
Morcha flays govt
Jammu, February 10
Vice-president of the state Bharatiya Janata Yuva Morcha Narotam Sharma has strongly criticised the coalition government's move to provide relief to the families of militants.