Sports Carnival
SSD Girls College
Heena, Kiranjeet emerge best athletes
Bathinda, February 15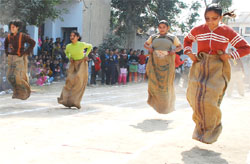 It was an all women's show at the SSD Girls College here today. It was the 40th athletic event at the walled college of Bathinda. The SSD college was established in 1966 and at present, around 800 girls from Bathinda and neighbourhood are studying here. Such sports events have also produced national and state-level players.

Sack race in progress at the sports meet of SSD Girls College, Bathinda, on Friday. Tribune photo: Kulbir Beera

Govt Rajindra College
Lakhvir, Geeta shine on tracks
Bathinda, February 15
While Lakhvir Singh won the 200 meter race for boys, Geeta Devi got the first position in the girls 400 meter race category on the first day of the two-day 55th annual sports meet of the Government Rajindra College here today.
'Revoke transfer of teachers'
Bathinda, February 15
The Democratic Teachers Front, Punjab, has demanded to revoke the transfer of school teachers of SAS Amarpura and Lal Singh Basti . In a press statement, the union said that the director-general of school education verbally asked district education officer (elementary) to tranfer teachers on finding poor sanitation of toilets in these schools. And then the district education officer transferred three teachers to far-fetched areas without giving any chance for clarification. The union further clarified that neither sweeper was available to elementary schools, nor there was any grant for them.
SAD gears up for rally
Joint panels with BJP in pipeline
Faridkot, February 15
Going a step ahead of Congress, its principal adversary, the SAD (B) has chalked out an ambitious project to take the voice of the 'Aam Admi' to the corridors of power.
Genset removed, traders relieved
Abohar, February 15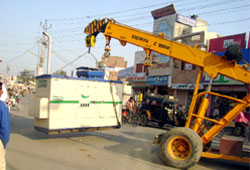 In a joint operation, the city police and the municipal council today accorded relief to shopkeepers near the Shaheed Bhagat Singh Chowk here by removing the high power generator that had been placed by a government- owned bank on the road. People in large numbers stopped there to "enjoy" the scene.
A Sigh(t) of relief: A crane acquired by MC removes a high-power generator that had been a source of trouble for the shopkeepers near the Shaheed Bhagat Singh chowk in Abohar on Friday. A Tribune photograph
Two killed in mishap
Bathinda, February 15
Two persons were killed in a head-on collision between a jeep and a trailer on the Bathinda-Dabwali road near Sangat crossing today.
Clash over Land Dispute
19 booked, no arrests yet
Abohar, February 15
Nineteen persons have been booked under various sections of the IPC and the Arms Act in connection with Thursday's clash over land in Bakayanwala village, Balkar Singh, SHO, Khuyiansarwar, informed today.
35 KAC men released
Bathinda, February 15
Around 35 activists of the Khalsa Action Committee (KAC), who were arrested on February 10 from the Chhota Gurusar Mehraj village, were today released from the Central Jail, Bathinda.
Rape accused on police remand
Muktsar, February 15
A local court today sent Sukhjinder Singh alias Shakki Badmash to police remand for a day following his arrest on Thursday. He was an accused in a rape case and two cases pertaining to attempt to murder.
Two killed in mishap near Moga village
Moga, February 15
Two persons, both drivers, were killed following a head-on collision between a truck and a canter near Sangatpura village here late last night.
Bhadaur Clash
Supplementary challan stayed
Barnala, February 15
What could be termed as a major setback to the police attempt in the Bhadaur gurudwara clash case, the High Court stayed today the presentation of supplementary challan in the Barnala court till further orders.
Murder trail leads to Punjab
Abohar, February 15
The three accused arrested in connection with Kapil Muni's murder revealed that bombs recovered during raids on Wednesday and Thursday from two different places had been procured from Punjab. The police parties were rushed to Punjab this morning, to nab one Najam Singh, who was allegedly instrumental in arranging the bombs, the sources added.
Farmers, workers stage dharna
Mansa, February 15
Farmers and labourers of the Tamkot village staged a dharna in front of the deputy commissioner's office, Mansa, today to protest against the acquisition of common land of the village measuring 17 acres. The acquisition was made at the rate of Rs 2.80 lakh, which the villagers termed as quite low.