Dinning Den
Of Hot hut and Million-dollar treats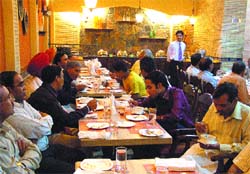 Jalandhar, March 18
To say that Punjabis are great foodies would not be wrong. And if they are served with the best of cuisines, then eating food becomes all the more enjoyable. There has been an addition in the list of the favourite hangouts of the Jalandharites as the city has got its first Hot Millions outlet. With the opening of one of the preferred eating joints in the city, the people, especially youngsters, are really happy.
It's party-time at Hot Millions in Jalandhar.
Turf Tale
Amidst gloom, good news comes from 'Maple land'
Jalandhar, March 18
Though the Indian men hockey team failed to qualify for the upcoming Beijing Olympics and disheartened the Indians across the globe but Indo-Canadian hockey player Bindi Kullar has virtually given a reason for Indians to cheer by keeping the name of Sansarpur village, near Jalandhar, also known as mecca of the Indian hockey, alive.
Nightmare on city streets: Low cables
Be wary of this wire trap
Jalandhar, March 18
It's a mess which needs immediate fixing. The streelights on the 3 km-long stretch of Bhagwan Mahavir Marg, extending from the BMC Chowk to the Workshop Chowk, are being used by cable operators for networking. However, the wires are either clustered together or hanging dangerously low from the poles.
Woman empowerment still a far cry
Celebrating and glorifying women as "power women" have not assuaged yet. Much hype was created by the Women Oriented Organisation, Ministry of Women and Child Development and various NGOs during the week preceding International Women Day. A lot of discourses and discussions were held by the eminent scholars on the status of women but that was mere a drop in the ocean.
Young World
IT events steal show on day 2 of Techkriti
Jalandhar, March 18
The day two of Techkriti, a three-day technical festival being held at DAV Institute of Engineering and Technology, saw IT events stealing the show. SD Omchary, senior executive director, DCM Shriram Consolidated Ltd, presided over the function. He held an interactive session with the students and told them about the importance of seting goals in life. Arvind Dixit, director, advance technology, delivered a talk on 'advancement and applications of embedded systems'.
WAC badminton tourney begins
Jalandhar, March 18
The Western Air Command (WAC) inaugurated its four-day inter-area badminton championship at Air Force Station, Adampur today.
Market Buzz
Now, natural vanilla in Amul drinks
Jalandhar:, March 18
Amul chocolates and health drinks would soon feature natural vanilla, a product of Vanilco, a Kochi-based Vanila India Producer Company, to boost the prospects of natural vanilla in the country.
Sikh assembly today
Jalandhar, March 18
Sikhs based in France and other countries of the world will be holding an assembly at Hotel Sekhon Grand here tomorrow.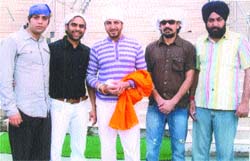 Speed OXL Films signs up Gurdas Mann for debut flick
Jalandhar, March 18
Renowned Punjabi singer and actor Gurdas Mann has been signed to play the lead role in a movie to be made by Speed OXL Films. Balwinder Singh, partner of Speed Records and Dinesh Sood of OXL Films, said Punjabi video director duo Rimpi-Prince would direct the movie.

Mann is set to play the lead protagonist.