Death Certificate
Delay costs SDM Rs 10,000
Jalandhar, March 20
In the first-ever case related to the registrar (births and deaths) decided by the District Consumer Disputes Redressal Forum, the SDM of Phillaur has been asked to pay Rs 10,000 as compensation to a resident for delay in issuing the death certificate of his mother.
Young World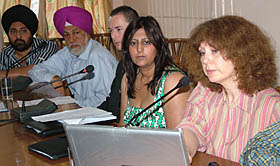 Derby College members to give training on e-learning
Jalandhar, March 20
Three faculty members from Derby College, Derby, are on a visit to the CT Group of Institutions as a part of an exchange programme. The delegates, Lynn, Rosy and Oliver, have come to train 30 students who have been selected for the pilot phase of this project for an e-learning course.
Faculty members from Derby College, Derby, at a press meet in Jalandhar on Thursday.
Photo by S.S. Chopra

Retirement Rues
Retd lecturer's plea for arrears remains unheard
Jalandhar, March 20


Tarlok Singh Sangha, a former HoD (head of the department) of the mathematics department in Lyallpur Khalsa College (LKC), has been running from pillar to post to get his arrears of revised pay scale of senior college lecturers amounting to Rs 37,200. Even the college authorities, director, public instructions (DPI), colleges, Punjab, and the state information commission have turned a blind eye to his repeated requests.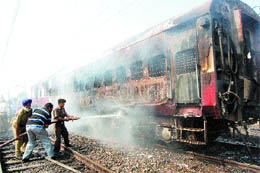 Rail traffic disrupted as DMU coach catches fire
Jalandhar, March 20
Down line railway traffic between Jalandhar and Ludhiana remained disrupted for a few hours today afternoon as an empty coach of the diesel multiple unit (DMU) train caught fire between Jalandhar cantonment and Chaheru railway stations.
Efforts are on to extinguish fire which broke out in a DMU coach. Photo: S.S. Chopra

Rural doctors hold protest
Jalandhar, March 20
Protesting against the reported decision of state health minister Laxmi Kanta Chawla to recruit only MD or MS doctors through PPSC, the Rural Medical Services Association held a protest outside the zila parishad here on Wednesday afternoon.
Gold's Gym honours Bhajji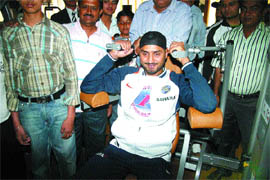 Jalandhar, March 20
The management of Gold's Gym honoured cricketer Harbhajan Singh at their outlet here on Wednesday. MD Amolak Singh Gakhal welcomed Bhajji and presented him with a life membership of the gym. Gakhal said Harbhajan was not only the pride of Punjab but also of the nation. "We are proud of the fact that Punjab has such a major contribution towards the nation." Manvinder Singh Bal, a director of the gym, was also present.

Cricketer Harbhajan Singh tries a workout machine at a gym in Jalandhar. — A Tribune photograph
Man booked for bid to commit suicide
Jalandhar, March 20
The police has booked Kuldip Singh Bhatia of Model House for an attempt to commit suicide.
Woman's body found, 2 held
Phagwara, March 20
Following recovery of the body of missing woman Davinder Kaur from the bushes in Beer Puad village, the police booked her in-laws for her murder and nabbed her sister-in-law Davinder and mother-in-law Surinder Kaur.
Sports
Srinagar to take on Bathinda in WAC badminton final
Jalandhar, March 20
Teams of Srinagar and Bathinda have reached the finals of the Western Air Command (WAC) inter-area badminton championship being held at Air Force Station, Adampur.
Two vehicle lifters arrested
Jalandhar, March 20
The police claimed to have busted a gang of vehicle lifters with the arrest of two of its members and recovery of six stolen motorcycles from them.
State-level convention of SC/BC officers
Jalandhar, March 20
The Punjab Joint SC/BC Officers Association will organise a state-level convention on March 21 at Dr BR Ambedkar Bhavan.
Market Buzz
Hip replacement
Jalandhar: Orthonova Hospital claims to have conducted the maximum number of metal-to-metal total hip replacements (THR) in the region.
Letters
Loot at ISD booth
I made an ISD call on phone 0061260247625 from the booth of Sify i.Way in Model Town on January 13, 2008, at serial No. 0290. The call cost Rs 6. But immediately thereafter I made a repeat call on the same number at serial No. 0291.