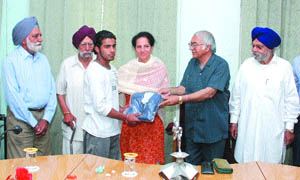 Khalsa College wins Samundri trophy
Jalandhar, April 3
Lyallpur Khalsa College won the "Teja Singh Samundri trophy" for 2007-2008 at the recently concluded inter-college sports championship at Guru Nanak Dev University.

A student gets a prize from college governing council chief Balbir Kaur in Jalandhar. — Photo by S.S. Chopra
1,245 cr earmarked for loans
Kapurthala, April 3
A sum of Rs 1,245.44 crore has been earmarked for providing loans for encouraging tourism, industry and skilled development training during the current financial year. Deputy commissioner J.M. Balamurugan stated this while presiding over a meeting of the district advisory committee here on Wednesday.
Junkyard Games
'Blitz' - a swanky car made of scrap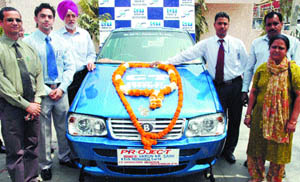 Jalandhar, April 3
The event was a car launch. The ceremonious unveiling of the only specimen of the model anywhere. In fact, swanky big car "Blitz" was a mix 'n' match of spare parts of various makes procured from the junkyard that cost its owner and designer Rs 1.6 lakh.

Varun Kumar Saini poses with "Blitz" — the car he made using parts from different cars lying in junkyards. — A Tribune photograph
Midnight Munch
Paranthas on platter, the party goes on all night
Jalandhar, April 3
It's 12 in the night, the streets wear a deserted look, except for the occasional honk of a passing vehicle or an anxious howl by a dog lying huddled up under a streetlight. A bad time for hunger to strike, but unfortunately it does. What do you do? Wait for the morning? Not really. Calling all night crawlers and midnight maniacs, "wrong-hour hunger" in the city has an answer.


Ashoki serving tea to his customers at Milap Chowk; and (right) Naseema aunty making paranthas at her stall at Jyoti Chowk in Jalandhar. — Photos by S.S. Chopra
What a Relief!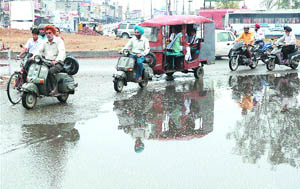 Rain that lashed the city early on Thursday morning leaves puddles on roads. — Tribune photo by Pawan Sharma
Young World
NRI offers free education to 100 poor kids
Jalandhar, April 3
NRI Jatinder Singh Uppal has offered to provide free education to 100 poor, bright students of Sri Guru Arjan Dev Senior Secondary School, Kartarpur, from classes I to V. The students will be selected on the basis of an oral and written test on April 11 on the school campus.
Telecom employees hold dharna
Jalandhar, April 3
Members of the National Federation of Telecom Employees (NFTE) staged a dharna to protest against the unilateral decision of the Telecom Authority of India (TRAI) to abolish access deficit charges (ADCs) to the BSNL from April 1.
Budding talent: Trials for players start
Jalandhar, April 3
In an attempt to provide a platform to budding players at the grassroots level, the Punjab sports department started its selection trials for the sports wings in schools at Olympian Surjit Singh Stadium, State Sports School and Hansraj Stadium here on Thursday. The 16-day-long selection trials will continue till April 18.
LG products on display
Jalandhar: LG is showcasing its wide range of products at a four- day exhibition - LGs good home show - that began at Kings Hotel here on Thursday. Harkirat Singh Kondal, a representative of the company, said all new products had been displayed at the venue. A zero per cent loan facility was also available on the spot in case customers wished to buy anything, he added. — TNS