4 killed, 32 hurt in road mishaps
Jammu, April 30
At least four persons were killed and 32 injured in separate road accidents in different parts of this division in Jammu and Kashmir since yesterday, police sources said here today.
SC Muslims being deprived of benefits
Jammu, April 30
The People's Democratic Party (PDP), has alleged that Scheduled Caste Muslim Jullas are being deprived of benefits as per SRO 294. PDP zonal vice-president of Billawar, Akhtar Ali has alleged that only 'blue eyed' people from the Muslim Julla community have been given certificates to avail benefits under SRO 294.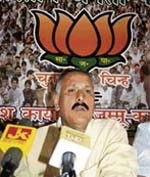 Countrywide BJP bandh on May 2
Jammu, April 30
The Bharatiya Janata party will observe a countrywide bandh on Friday, May 2, to protest against the economic policies of the Congress-led UPA government at the Centre. Addressing a press conference here Shamsher Singh Manhas, state general secretary of the BJP, said, "Our leadership has decided to observe a nationwide bandh on May 2.
Shamsher Singh Manhas, state general secretary of the BJP, addressing mediapersons regarding countrywide bandh, in Jammu on Wednesday. — A Tribune photograph
Fruit export sees downward trend
Jammu, April 30
The fruit export in Jammu and Kashmir has been on a decline over the past two years owing to the challenge posed by Himachal Pradesh and lack of transportation facilities.
Ex gratia relief for Ongai fire victims
Jammu, April 30
The Jammu and Kashmir Government has announced ex gratia relief for the affected families whose houses were damaged in a devastating fire at Ongai village in Kishtwar district a few days back.
Harkat top gun killed
Srinagar, April 30
A top militant of Harkat-ul-Mujahideen outfit was killed in an encounter with the police in Sopore town of Baramulla district last night. One policeman was also injured in the gun battle.
PM's package misleading: Kashmiri Pandits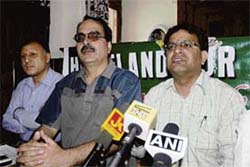 Jammu, April 30
Various organisations of the displaced Kashmiri Pandit community have strongly denounced the relief package announced by Prime Minister Dr Manmohan Singh during his two-day visit to the state last week. Addressing a joint press conference, leaders of the Panun Kashmir, a frontline organisation of the displaced community said, "The package announced by the Prime Minister for displaced Kashmiri Hindus is misleading.
Leaders of the Panun Kashmir address mediapersons in Jammu on Wednesday. — A Tribune photograph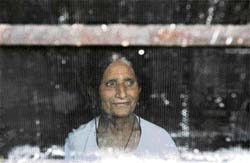 A Kashmiri Pandit woman looks
through the window of her house at the Muthi Migrant Camp on the outskirts of Jammu. — Reuters photo
SHRC issues fresh notice
to police
Srinagar, April 30
The Jammu and Kashmir State Human Rights Commission (SHRC) has issued a fresh notice to the inspector general of police, Kashmir range, to submit a detailed report about the killings of Kashmiri Pandits in the valley during the past 17 years.
Leh may find itself on BPO map
Jammu, April 30
Even as the state grapples with serious issues concerning education and employment, Leh is expected to find a mark on the BPO map soon. Plans are underway to connect the district on the information technology enabled services (ITES) net.
37 officials suspended in valley
Srinagar, April 30
Thirtyseven officials of different departments in the Kashmir valley were suspended for remaining absent from duty, official sources have said. More than 100 officials have also been placed under suspension by the authorities during the past one month.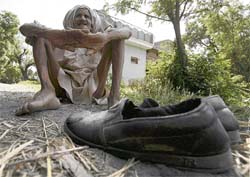 A farmer takes a break in a wheat field on the outskirts of Jammu. India unveiled a series of measures on Tuesday to tame inflation and secure food supplies. — Reuters photo
Centre to carry forward talks with Pak: Soz
Srinagar, April 30
Union Minister for Water Resources, Saifuddin Soz, has said that the Centre would carry forward its talks with its neighbouring country, Pakistan, to settle all issues.
Blind murder case solved, 3 arrested
Srinagar April 30
The police here today claimed to have solved a blind murder case and arrested three persons in this connection.
Black marketeer held
Jammu , April 30
The police arrested a black marketeer of kerosene oil in Doda district on Wednesday, official sources said.
Use 'invisible' zebra crossing
Srinagar, April 30
People have been advised to use ''invisible'' zebra crossing to avoid accidents here as repair of roads and painting of footpaths and bridges have been going on a war footing to receive the darbar move offices, reopening here on May 5.
Capt Chataniya' s judicial custody extended
Jammu, April 30
A local court has extended the judicial remand of Captain Chataniya Bhatwadaker, husband of 26-year-old army officer Capt Megha Razdan, whose body was found hanging at their official residence on the city outskirts here last year.
Special package for unemployed soon
Srinagar, April 30
The Jammu and Kashmir Government is formulating a special package for unemployed youth of the state, social welfare minister Abdul Gani Vakil said today.
One killed
Srinagar, April 30
A 15-year-old boy was killed when he was hit by a CRPF vehicle in Budgam district yesterday. The police said a CRPF vehicle hit and injured a boy, Irshad Ahmad Bhat, 15, of Chadoora at Gopalpora Wathoora in Budgam district yesterday.